Should the graffiti in Libya be erased?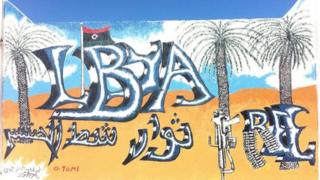 The former Libyan regime stifled voices and the arts in all its forms for decades. But the explosion of graffiti that has followed the fall of Colonel Gaddafi has presented the country with a dilemma - should the murals, many of which are political, be erased or celebrated?
In many parts of the world, graffiti or public art is regarded as a form of artistic rebellion against the norms of public order - but not in Libya.
With a newly-appointed cabinet and a fresh beginning on the horizon, is there space for all the new colours and messages drowning the city?
Some of the works on display in Tripoli and elsewhere in the country are at times funny, shrewd or beautifully conceived.
But it is very difficult to avoid the misery or hardship many people have suffered here. A street artist you arrange to meet may turn out to be a former inmate of Libya's notorious jails under the Gaddafi regime.
Sadeq Gashout paints a bearded man's profile with a traditional head dress on the inner wall of a playground at a nursery school along Tripoli's coastal road.
He is experienced and quick with his paintbrush, and clearly relishing the moment, as the baking heat from the sun's rays fends off the cold chill of the winter's wind.
For men like him, there's a lot of pain behind the swift strokes - the emotion behind his work is as mixed as Libya's climate.
In his neighbourhood in Tajoura, a district on the outskirts of Tripoli, he points to other murals. One of them is pock-marked with bullet holes.
"One of Gaddafi's loyal men lived here," he says, pointing to a dirt road alleyway adjacent to his sprawling street art.
Sadeq was one of 13 people arrested in February 2007, following plans to hold a peaceful demonstration in Tripoli, calling for reforms.
The planned march did not make it beyond an announcement on the internet; he and his fellow activists were taken by state authorities two days before the scheduled date of the protest. They had prepared 22 posters for the event.
Sadeq tells me he drew scales on them to reflect a justice that was absent under the now deposed regime. "It was to protest against the absence of laws in our country," he recalls bitterly.
He says he was kept in solitary confinement for 58 days, then later transferred to Ain Zara prison, and finally released late in 2008.
Sadeq says his daughter was punished at her school when he was taken. "They tied her feet together and elevated them, so they could do the falaka," he explains. Falaka or falanga is a torture method widely used in the Arab world, in which the soles of the feet are severely beaten.
His eyes shielded by his sunglasses, he removes them for a moment as he wipes away tears of frustration with the past when he speaks of the new Libya he hopes to see. There is a lot of pain behind his brush strokes but optimism as well.
"I would not be painting if I didn't believe the future is ours now," says Sadeq.
The graffiti and street art in post-revolution Libya is a constant reminder of what most fought for this year - to topple 42 years of tyranny.
Some of the picturesque artistry in bright and warm tones depicts nature and Libyan traditions. There are also caricatures mocking the late Muammar Gaddafi - no longer a symbol of fear.
Then there are the calls for freedom, the intricate images of a people at war and the spray-painted messages of fighters and regional brigades marking the walls around the city to declare their presence in the capital.
Some of these writings have been painted over in recent weeks by a group of young volunteers. True, they're not appealing but it appears as though there are efforts to remove traces alluding to loyalties to a city, town, or district like the "Zintan brigade", the "Misrata brigade", or the "Rebels of Souk al-Joumha".
This is a country looking towards unity and some argue that the messages should reflect unity instead.
But the war is over, the regime - in most ways - dead. Some Libyans would like to see the explosion of talent on display remain because it expresses a voice that was long suppressed. Others think they may not hold as much meaning in a few years.
One young Libyan woman simply says: "Some of the drawings are pretty or funny and should remain, but I think the ones that are just rubbish should be whitewashed."
The pain may not be far behind, but for the first time in decades a new portrait of the country, its people and its hopes are on display.
It is embodied by the blend of street art and graffiti which adorn the concrete walls of this city, where unmarked spaces now stand as potential canvasses for a population eager to paint a new picture of Libya.