Profile: Herman Cain, Republican presidential candidate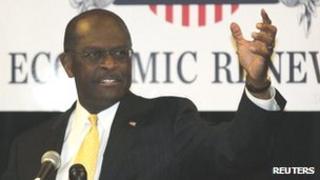 Herman Cain, a businessman from the US state of Georgia and early Republican presidential front runner, has announced he is suspending his bid for the White House after a slew of allegations of sexual harassment and an extramarital affair have seen his popularity plummet.
Mr Cain, 65, stormed to the front of the pack of candidates after a series of lively performances in televised debates in the autumn.
A so-called Tea Party candidate with the support of the evangelical Christian community, Mr Cain appealed to social conservatives in the US as a radical alternative to the more mainstream former Massachusetts governor Mitt Romney.
He has no electoral experience and a CV which includes Baptist minister, mathematician, pizza executive, director of the Federal Reserve Bank and radio talk show host.
His sudden rise in the polls followed similar spurts of favour enjoyed by rival candidates Texas Governor Rick Perry and Minnesota Congresswoman Michele Bachmann.
But Mr Cain has seen his position as a leading candidate slip in recent weeks after allegations of sexual harassment and a 13-year-long extramarital affair came to light.
In October, reports emerged that Mr Cain had reached financial settlements with at least two women who had complained of sexual harassment during his tenure as head of the National Restaurant Association, during the 1990s.
Karen Kraushaar, who now works at the Department of the Treasury, confirmed through her lawyer that she had received a settlement from the restaurant lobby group.
In the days that followed, two more women came forward with similar accusations. One of them, Sharon Bialek, went public with her story, saying that Mr Cain tried to grope her when she asked him for help finding a job.
Mr Cain maintained the accusations were baseless and a smear campaign designed to sabotage his bid for the White House.
But opinion polls showed his popularity was beginning to slide, while rival candidate Newt Gingrich, formerly speaker of the House of Representatives, was gaining momentum.
However, the most damaging accusation against Mr Cain came from a 46-year-old woman in Atlanta, Ginger White, who claimed to have had an extramarital affair with the businessman over the course of around 13 years.
Mr Cain categorically denies that he ever had sexual relations with the woman but told US media that he was nevertheless "reassessing" his campaign and would be deciding whether it would be possible for him to remain in the race with diminishing funds and support.
Accent on jobs
Born in Tennessee to a janitor and a cleaner, his parents' hard work enabled him to go to college to study for a maths degree and a Master's in computing.
In his 30s he was running hundreds of Burger King stores in the Philadelphia area and then took over the reins at Godfather's Pizza, reversing its fortunes and earning himself a place on the board of directors at the Federal Reserve Bank of Kansas City.
For many years, he hosted a radio talk show in Atlanta, an experience that experts say has helped him in recent weeks.
Mr Cain's central policy proposal is the 9-9-9 tax plan that would reduce federal income tax and corporate tax code to 9% but - most controversially - introduce a 9% national sales tax that many from within and without his own party have ridiculed.
His straight-talking is part of his appeal, but some of his statements have drawn sharp criticism, particularly his comments in the past about Muslims. He has also implied that the unemployed only have themselves to blame.
He is most comfortable talking about jobs. And a glance at his website underlines his central message - that his success in business equips him to solve the country's severe economic problems.