Why we quit Australia for the UK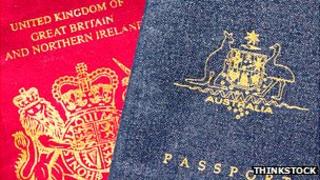 We received hundreds of emails in response to our story about the large numbers of British people giving up on life in Australia. Some readers have been sharing their experiences of leaving - and staying - Down Under.
Despite Australia's booming economy, more than 7,000 British people left the country for good in 2009-10 - the largest emigration recorded in recent memory - according to figures from Australia's immigration department.
The same is happening in the other direction, with more Australians leaving the UK and heading home.
Here are 10 stories from readers who gave up in Australia, and 10 more from those people having too much fun to leave.
Why we quit Australia...
I stayed in Perth for 15 years after my parents emigrated there when I was seven. At 24, I came back to England and have been here ever since. The dullness and isolation of living somewhere like Perth can't be explained unless you experience it. There are so many reasons why England is preferable to Australia for a lot of people such as being able to buy groceries past 6pm, local shops and pubs, having Europe on your doorstep, comedy and culture. Even when I am stuck on the M25 it is preferable to driving on dull empty roads at mind numbingly low speeds. This will probably be perceived as "whinging pom" by any Aussies as they can't understand why anybody wouldn't want to be them but it simply isn't for everyone.
Richard White, Hemel Hempstead, UK
I moved from Oxfordshire to Canberra with my husband in 1990 after our children had grown up. He had been offered a job there. We later lived in the bush for 13 years. It was a fascinating experience to live in a house we built, with only solar power and rainwater, in an unspoiled area where wild flowers and animals could be studied close up. We both loved it but our families were back in the UK. We were also retired and British state pensions are frozen if you retire in Australia. We returned in 2008 from our wonderful 100 acres of forest in New South Wales to a bungalow in Oxfordshire. No regrets.
Dian M Elvin, Witney, UK
I moved to Australia when the economy was booming in 2002. Initially, I enjoyed the backpacking lifestyle, but when I got permanent residence there, due to my trade, I found that it was a very difficult place to integrate. I didn't miss the UK, but I got fed up of being an outsider and missing out on work because of my accent, so I decided to go back to the UK. Australia is a beautiful country, but at the end of the day you need constant employment and the opportunity to integrate socially and just because you achieved both these things in the UK, it doesn't mean that you definitely will in Australia. To sum up, I found them friendly (especially when you were buying stuff from them) but they don't want to be your friend. Give it a go, by all means, but don't sell your house in the UK until you have given it a couple of years there.
Sean, London
We were lured to Australia to work in a health centre in Victoria with great promises. The health system turned out to be a nightmare of rules and regulations, many flouted by health professionals there - "It's what you do mate". There are some good aspects to it, but many bad. We couldn't stomach it after a year of unkept promises from the employer so returned to work in the good old NHS. We enjoyed our experience of exploring Australia but would not swap it for the UK on a permanent basis.
Trudi Cornish, Bedford, UK
I had been living in Melbourne for almost a year with my then wife, when I received a phone call from my sister to say that our father had been rushed into intensive care. I literally got on the next plane to fly home and three months later, I was still in the UK. He was stabilising but I had no idea if I should go back to Australia or not. I decided to and was only back a week when he'd taken another bad turn so I returned to the UK. He died three days later. On the flight home, I was devastated and could not see how my life would pan out. It did, however, bring a lot of issues to a head - missing my own family and my then wife not wanting children. She left me and I returned to the UK. I have never looked back. I never really had a sense of belonging and I certainly came to the realisation that after losing my father, nothing can replace your loved ones.
Chris Morris, Harrogate, UK
I moved to London in 2004 and had a great job, did lots of travel and had an amazing life-changing experience. After three years I thought "I've done my stint" and moved back to Australia but I never settled back in. I missed the seasons, the food, the cultural attachment to Europe, the weekend breaks and the different languages. In the end I felt Australia was a like a library with a dozen or so books I'd read, and re-read and read again. In London and Europe, I feel like I'm in a library that I'll never get to the bottom of. Australia is a great country, but I feel isolated and frustrated living there.
Justin Knock, London, UK
After migrating to Australia in 1995, I moved my family back to the UK 18 months ago so my kids could know their grandparents. Now I feel obliged to stay, but am incredibly homesick for Queensland. Life was simple there. Here, it is harder and very consumption-oriented while people are more tense and noticeably less optimistic. There is also a wider social divide here. It's nice to see old friends and extended family but the sacrifices overall are not worth it. I wish I had the money to take my parents back to Australia. As it is, I am thankful that my Aussie-born kids will be able to return and that I will be able to retire there.
Isobel McRae-Morris, Gloucester, UK
I moved to Australia in 1987, got married and had three children. The lifestyle was great, camping boating almost any weekend that you felt like it, but the downside was that one of our children was diagnosed ASD [autistic spectrum disorder]. We found out how little support there was for him in the Australian education system. Although I have heard things have improved since we left, at the time it was dreadful. After contacting different education authorities around Australia we found that the lack of support was pretty much countrywide. We returned to the UK and were blown away with the support he has received. Now, instead of having to take him to school bawling his eyes out, he now loves his school and is a completely different child. The best move we ever made. We were never homesick and had not thought of returning to the UK before this happened. We do miss the wonderful lifestyle though.
Richard, Penzance, Cornwall, UK
Unfortunately work is the reason we are returning to the UK as we cannot earn enough to pay the mortgage. The cost of living here is scandalous and the wages don't reflect this. I am a fully qualified plumber and I came out here on the "demand list", however no one tells you that your qualifications do not mean anything here and that you have to return to college (and pay a fortune) to restudy your trade. When you are trying to get on your feet in a new country, you can't afford to start studying again because you can't get a job in the area you were accepted into the country for. Shame as we love the landscape. We have loved camping, four-wheel driving, beach visits and BBQs but with no money to pay the mortgage, you can't survive.
Steve, NSW
My wife and I just returned from Australia and we have also been to England/Europe on several occasions. As an outsider I would venture to say that the Australians have become less British and more Australian. They also remind me more of my American friends than the British do. It has to do with the wide open country that they have - the connection to the automobile - their great weather and the cinema/celebrity market (more like the USA than England). It is probably an evolution of Australians being Australians. They are cultivating their own culture - bully for them.
Robert Muniz, US
And why we stayed Down Under...
My family and I moved here from Northern Ireland five years ago. The biggest pull to Australia was having a lifestyle we could never afford in the UK. That means going from living on a few acres with some livestock to having 25 acres and have a small herd of goats. It took two wages to have our own house and one car, now we manage on one wage. Home is where you make it. It's all about getting to know folks and embracing the place you live. Yes, we miss family and friends but we have made new friends and the internet keeps you close to those who matter.
Rosie Toms, Tinonee, Australia
I came to Australia as a backpacker in 2002 and have been here ever since. I don't miss my friends. They were still sitting in exactly the same places in the pub when I went back to visit after my first year here. At that point, I realised I'd moved on and made far more lasting friendships in Australia. Now I'm married to a local and about to get my citizenship. I do get annoyed with the high cost of living compared to the UK, plus I miss decent chocolate. But Australia is home, and unless something miraculous happens in the UK, I doubt I'll ever go back for much more than a couple of weeks.
Dave, Melbourne, Australia
We made the decision to move because we wanted a better life for our children and we have succeeded. My kids love the outdoor life. To make sure we spend quality time with them we decided to take up a sport together which also helps us make new friends and keep fit. We made use of the resources around us and four years down the line we now call Perth home.
Raksha Gorasia, Perth, Australia
I moved to Australia 10 years ago. I would only return to live in the UK if dragged, kicking and screaming by a naked Daniel Craig covered in honey and waving thousands of GBPs [British sterling] in my direction. And that isn't really going to happen, is it? I love the warmth here, the sunshine, the pace of life and the laid back, easy living. It beats the cold North East!
Sheila Deal, Mareeba, Australia
You think it is hard being British and trying to connect with Australia? Try being British-Asian. It's a hundred times more difficult! Having said that, I've always been glad my family moved us to Australia. The standard of living and proximity to Asia - where the real adventure of travel still exists - make it perhaps the most desirable place to live. Poisonous snakes and spiders, however, are not so great.
Sukhpreet Dhaliwal, Sydney, Australia
My wife and I left the UK in 2001, when our children were 7 and 8 years old. We left behind a terraced house in Yorkshire for a house on five acres of land in the country about half an hour from Perth. We have a lifestyle that would simply never have been possible had we stayed in the UK. Not one of us has any regrets about leaving the UK.
Pete Wynne, Perth, Australia
I moved to Australia with my family in 2009, when I was 21, due to my dad's job. I can't imagine having the life I have here back in the UK. I only work part-time and manage to afford a mortgage, something I could never dream of doing back home. Yes there are a lot of "pommy" jokes made, and I have to constantly check my vocabulary, but the friends I have made here have been exceptionally welcoming. Of course, there are days that I miss my friends and other family members, it is hard to leave behind years of fun and shared history, but those days are getting further and further apart, especially with modern wonders such as Facebook and Skype. I for one can't imagine there will be a time I will feel compelled to return.
Amy, Launceston, Australia
I have wanted to live in Australia since I was eight years old so for me it was a childhood dream come true. Now I have celebrated my 40th year here. My situation is different because I married an Australian girl and my son was born here. I often watch Escape to the Country and sometimes that makes me a little homesick. However, I won't go back. I would miss the laughter of the Kookaburra waking me up in the mornings and the kangaroos eating my roses. I think this wonderful country offers far more for the future of its young people.
Dr Michael Selley, Turramurra, Australia
My wife and I moved to Sydney from Portsmouth nearly four years ago and have no intention of returning. We have started a family and our children will be growing up in a beautiful, safe country full of opportunities. The lifestyle is fantastic, we live near the beach and work in the city. Sure it's expensive, but the salaries are good. I don't understand the "lack of culture" argument (maybe because Portsmouth isn't exactly overflowing with galleries and museums). The people are friendly, they love sports and beer and barbeques... what more could you want? We miss our family and friends, but we go home every year and we have regular visitors. No way we're going back to gloom (both economical and weather-wise) of England.
Stephen Spencer, Sydney
I first came to Australia in 2002 on a working holiday visa. I've also lived for years at a time in Sydney, Brisbane and on the Gold Coast. A larger number of my UK friends who came here temporarily to either visit or for their own reasons, ended up staying. There are pros and cons to both countries, but for me it's a no-brainer. The unsafest streets in Australia in my opinion are safer than some of the safest in the UK. Yes, it is more expensive now but the prevailing weather and lifestyle forces you out of the shops and pubs and into the active outdoors. There is a lot more to do that doesn't cost money. Although it does have great restaurants, the nightlife is comparatively dreadful, but after all things are said and done, it comes down to just one thing, you need expat friends. Generally speaking, only they will truly comprehend or share your humour, mentality etc. Australians and Britons are light years apart in that regard.
Tom, Melbourne (originally Sheffield)