Should monuments be lit at night?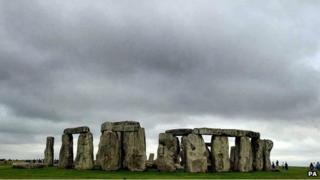 Calls for Stonehenge to be lit up at night are being resisted by stargazers who say it will spoil their view. Many of the world's most famous monuments are illuminated but is it necessary?
Stonehenge is one of the most recognisable ancient monuments in the world. But if you're driving along the A303 at night, the site is shrouded in darkness.
A debate has opened up on the letters pages of the Times over whether or not Stonehenge should be lit up in the evening. Many other World Heritage Sites, such as the Acropolis in Greece and the Great Pyramid at Giza in Egypt, do not hide their lights under a bushel.
Some might think that Stonehenge's setting is far from ideal - in 1993, the House of Commons Public Accounts Committee concluded that its presentation was a "national disgrace".
And Lady Mimi Pakenham, who sparked the discussion in the Times, says not much has changed since then. "It's not a pristine site because of that A303. Lights would give it dignity," she argues. The site was lit for a period, in the 1970s and 1980s, but has been dark since then.
Increasing its visibility would also spark people's interest, she says.
"You are trying to educate the public and trying to interest schoolchildren in the mysteries of the ancient world, and if you want to do that you have to add some magic."
Lights can bring a bit of magic to certain settings. They can be used to highlight architectural features or deflect attention away from less attractive properties. Floodlit buildings can also make glorious vistas.
Last year, it emerged the producers of ITV's morning show Daybreak paid St Paul's Cathedral to keep the lights on for an extra three hours every weekday to enhance the backdrop of the show.
Many landmark churches around the UK, such as Salisbury Cathedral and York Minster, capitalise on their appeal with lights. The Church of England does not have any laws on lighting but the principal objectives for floodlighting are purely aesthetic and symbolic, and have nothing to do with security.
The Church says floodlighting makes a church a "living building" and can show off "the visible aspirations of centuries of masons and architects, including their towers and spires, built to the glory of God, to their best advantage".
In the case of Stonehenge though, there are people who think that lighting is unnecessary. Stargazers say lights would destroy their view and cut the visual connection between the ancient monument and the night sky.
A number of groups, including the Royal Astronomical Society and the International Astronomical Union, have been working for several years to try to preserve as dark a night sky as possible in the vicinity of Stonehenge.
"If you ask people about prehistoric monuments and ancient astronomy in one breath, chances are they will think Stonehenge," says Clive Ruggles, professor of archaeoastronomy at the University of Leicester.
"There's been loads of effort recently to restore Stonehenge to its landscape and part and parcel of that is restoring Stonehenge to its sky, to keeping it as dark as possible."
And when it comes to monuments more generally, there are plenty of people who worry about the energy bills and the environmental impact of lighting things up at night.
Like many organisations, the Church of England has become environmentally conscious and is trying to reduce its carbon footprint by 80% by 2050.
If churches are committed to lowering their energy usage, then lighting and heating is an obvious consideration, a spokesman suggests.
One way around the sticky dilemma of energy wastage versus pretty lights would be for churches to have their own energy supply, and Bradford Cathedral is opting for solar panels.
The National Trust says there is a "special joy" at seeing spectacular places lit up at night when normally they'd be closed, and the experience encourages the visitor to look at these places in a different way.
"The decision whether or not to illuminate places in our care will in most cases be made at a local level and these decisions will take into account local people, cost implications and energy consumption," says Sarah Staniforth, museums and collections director.
When it comes to illuminating Stonehenge, it seems safety is also a factor.
English Heritage, which manages Stonehenge, says it was lit up at night for a period in the 1970s and early 1980s but that was stopped due to an increase in road accidents caused by cars and lorries slowing down to have a look.
"As there is even more traffic today on the A303, there are on a purely practical level, some serious safety issues to consider," says a spokesman.
Additional reporting: Gerry Holt