Who could take their children to work?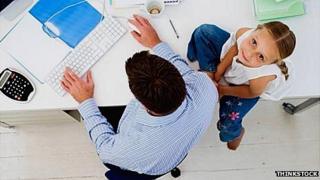 David Cameron has said employers should allow staff to bring their children to work where possible to beat Wednesday's strike. But who can realistically take their children to the office?
Working parents are set to face a day of disruption on Wednesday.
Thousands of schools are likely to close as teachers protest against changes to their pensions, and this means parents will either have to take a day off work or sort out childcare.
Another contingency plan could be to bring them to work, an idea which has the official backing of the prime minister.
Some workplaces are obviously unsuitable for children.
For oil workers, the "office" can be an off-shore platform in the North Sea. For pilots and cabin crew, their workplace is thousands of feet up in the air.
In a factory or a warehouse, the health and safety implications are endless.
About 2.6m people are employed in the manufacturing sector, 8.5% of total UK employment, and it would probably be regarded as one of the least "child-friendly" industries.
More people - about 11% of the total workforce - are employed in the retail sector, which has a long history of being ahead of the curve for helping workers with children by allowing flexible working.
But Richard Dodd of the British Retail Consortium, says it will be impossible for most to allow children to accompany parents.
"Like all workplaces, people go there and they have got a job to do. People go to a store to do everything necessary to meet the needs of customers.
"If your job is operating a checkout or filling shelves or taking stuff off the lorries, you are employed to do a job that is going to take up your working hours."
Retail is not typically an environment where there is enough "downtime" to deal with the demands of a child, Dunn suggests. And while it is not typically a hard-hat environment with obvious dangers, parts of shops are not safe for children.
"In some situations, for example back of store, that is not a safe environment [for a child]."
Offices, which are not at the customer coalface, might appear more child-appropriate but Justine Roberts, co-founder of the Mumsnet website, says parents should not expect to get a "proper day's work" done.
It is "hopelessly unrealistic" to think children will just tag along to meetings, she says.
"Even if your workplace was understanding and happy to host your children, it does not mean you can get on with your work. Your children need looking after. You would be up every five minutes taking them to the loo or showing them where the water is.
"Also, the logistics of marshalling children on and off crowded buses at rush hour - you would be exhausted before you got to work."
Even older children pose a problem because parents "cannot completely ignore them", she adds.
Wednesday will not the first time this year that parents are facing such inconvenience, as thousands of teachers went on strike on 30 June.
Louise Mensch, Tory MP for Corby and East Northamptonshire, says this strike is going to cause "colossal disruption" and employers should be flexible.
She raised the idea during last week's Prime Minister's Questions, when she asked Mr Cameron to encourage employers, not compel them, to let parents bring their children to work if it is safe to do so.
"Obviously if you work on a construction site or are a surgeon, it's not going to be appropriate," she told the BBC.
The majority of parents should be able to bring their children to work, according to the Health and Safety Executive.
"Clearly if there are real risks in particular workplaces, all concerned will want to take the appropriate precautions or else make alternative arrangements for looking after the children."
There is, of course, another contingency plan come Wednesday.
Mensch says Downing Street is "throwing itself open to children" and Parliament would be "accommodating", so perhaps parents could leave their children there and let them loose in the corridors of power for the day.