I is for Illegal: Acting on Sesame Street without a visa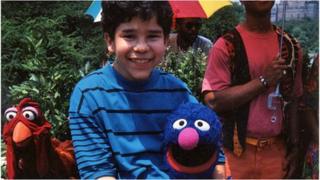 Actor Carlo Alban featured as a child on Sesame Street while living in the US illegally. It was his dream job, but he was in constant fear of exposure.
Sesame Street prides itself on telling real stories about real kids. For the team that produces the show, Sesame Street has always been about helping children understand the world in which they live.
In 1982, Will Lee, the actor who played beloved shopkeeper Mr Hooper, passed away. The show could have written the character off by telling the audience that Hooper had retired to Florida. Instead, Sesame Street used Lee's passing as a chance to talk to children about death.
Aired on Thanksgiving, 1983, so that parents would have the long weekend to discuss the show with their children, the episode featured a moving scene in which the adult actors explained dying to Big Bird.
In 2002, the South African version of Sesame Street created Kami, a muppet with HIV.
"There are so many young children in South Africa who face the issues of being affected and infected by HIV/Aids on a daily basis and the last thing we want to do as responsible adults and responsible organisations in South Africa is to bury our heads in the sand," Gloria Britain, the project manager for the new character, told the BBC at the time.
Most recently, Sesame Street introduced a muppet designed to represent children who live in poverty. Called Lily, she helped the show discuss food insecurity - that is, families who don't always know if they'll have enough to eat.
Forged documents
Throughout the 90s, however unwittingly, Sesame Street, was also acting out another issue affecting children in America - illegal immigration.
Carlo Alban, who starred on Sesame Street from 1993 to 1997, told the BBC that for the years he was working on the programme, he was doing so as an undocumented immigrant.
Mr Alban, who was 13 when he was offered the role, was already living in the US on an expired visa, along with his mother, father and brother.
"At the time I had to fill out tax paperwork, sign a contract and present documentation that proved I was allowed to work. But it was forged," he told the BBC World Service's Outlook programme.
"It convinced them though, because who would have thought, especially on a television show, that I was turning in something that wasn't real."
The family had been working with a lawyer to earn their green cards, but the process was taking much longer than the four to five years they initially hoped, as changes in the law obliged them to resubmit forms and information.
Throughout his tenure on the show, Carlo's immigration status continued to be an issue. When the cast was scheduled to appear in the Macy's Thanksgiving Day parade, they had to provide their documentation to parade security.
"I had to turn in a photocopy of my fake green card and for whatever reason, it had the wrong birthday on it," he says.
"They knew me and they knew when my birthday was because I'd celebrated it on the set. I was terrified that someone was going to notice the date, get suspicious and start looking into things."
No-one ever found out, but it was one of a series of close calls.
The 'golden cage'
As a teenager, the magic of Sesame Street, which Carlo had watched as a boy in Ecuador, was overpowering. Meeting Big Bird, he says, "was like meeting the biggest celebrity you have ever met in your life. I just turned into a little kid."
But the constant lies and anxiety about his immigration status kept him isolated from the rest of the cast.
"Living like that was just another level of stress because it was hard to get close to anybody. I couldn't go on vacations abroad with my friends. It was frustrating and lonely," he says.
Undocumented immigrants call it the Golden Cage - the ability to live and work in America without the ability to move freely. It's the carefully considered trade-off for a better life, says Shuya Ohno, national field director for the Center for Immigration Reform.
While everyone hopes to come to America for a better life, it's impossible to accommodate everyone - and those who don't enter through proper channels are breaking the law, says Ira Mehlman, a spokesperson for the Federation of Americans for Immigration Reform.
"The reason we have immigration laws, the reason we set limits is because we understand that the decisions these immigrants make have an impact on everyone else on American society," says Mr Mehlman. "It affects their jobs, it affects their tax dollars, it affects their children's education."
For his part, Mr Ohno believes the laws themselves are illogical. "They're not tied to the social or economic needs of the country. They're a product of politics, not policy."
It's an ongoing argument, and one that continues to intensify as the 2012 presidential election grows closer.
But for Mr Alban, immigration issues isn't about politics or policy. It's personal.
He and his family eventually received their green cards, the same year that Mr Alban left Sesame Street. Now, he works in film and television, and recently performed a one-man show based on his life.
For the boy who grew up on Sesame Street, it's a Hollywood ending - but not everyone is so lucky.
Listen to Carlo Alban on BBC World Service's Outlook programme via iPlayer or download the Oultook podcast.