What would a bushtucker diet of bugs and mouse tails do to the body?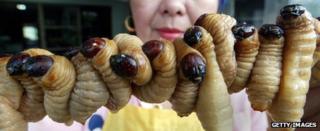 As the annual spectacle of celebrities eating jungle nasties draws to a close this weekend, what's the nutritional value of an I'm A Celebrity... Get Me Out Of Here! style diet?
There was a woman who swallowed a fly. Then a spider that wiggled and wiggled and tickled inside her.
The thrill of this nursery rhyme - and its TV equivalent, the bushtucker trial on I'm A Celebrity, Get Me Out of Here! - is the excruciating thought of eating something icky and unlikely.
But what would a diet of spiders and flies, mouse tails and camel toes do to the body? Is there enough nutritional value in these icky somethings to sustain human life?
Yes - in part, say experts, if eaten with fruit and vegetables to provide missing vitamins and minerals.
"It's estimated that about 70% of the world's population eats insects as a regular part of their diet," says entomologist Stuart Hine, from the insect department at London's Natural History Museum.
"They have about the same amount of protein per 100g as cheese, eggs, fish and meat. And in many insects, it's higher. But there's a difference between what's in it and what we can digest."
How about mouse tails, as eaten by comedian Freddie Starr before he was excused from the ITV jungle show after an allergic reaction.
"There is no nutritional value in a mouse tail whatsoever," says Sean Parlour, reptile specialist at Paws for Thought pet shops in Leeds, adding that even pet snakes would suffer on a diet of mouse tails alone.
"That would be a by-product that would be passed out as waste. Nobody would cut off the tail to feed to their snake.
"You might possibly get a bit of calcium from the vertebrae, but the nutrition comes from eating the whole mouse. Some animals can digest the bones, such as monitor lizards, but our stomach acids are not strong enough."
So, mouse tails have no part in a balanced diet.
But insects are already widely eaten, although not in the West. Edible insects are on sale in the UK, but mainly in restaurants catering for adventurous eaters and in gourmet food halls. It's a food fad that typically peaks during the annual spectacle of I'm A Celebrity.
While hardly a Western staple - yet - the growing interest in edible insects means they may soon be the subject of new European food safety laws. The European Commission is consulting with suppliers, retailers and national watchdogs such as Britain's Food Standards Agency to find out if we are eating more insects and other "novel foods".
In parts of Africa and Asia, where protein sources are scare or expensive, bushtucker eating is an everyday occurrence, says Hine.
"They eat any available source of protein - insects, caterpillars, beetle larvae, which are greater in number and larger than in the UK. Not that there's a lot of meat on them.
"But to eat them raw [as in I'm a Celebrity] is just bonkers. Most cultures that eat insects eat them cooked, usually fried, with the legs and wings and any spiky bits removed. We don't have the enzymes in our digestive system to break these down."
How to get over that in-built yuck factor? Start your bushtucker quest with something akin to a dish you already enjoy. For those who like prawn stir-fry, Hine recommends replacing the seafood with its land-based namesake - sky-prawns, aka locusts.
Fish and chip fans may find woodlice fritters a palatable substitute. "Crustaceans are not too far removed from prawns, and even give the batter a seafood flavour."
And instead of crisps, Hine recommends baked mealworm larvae. "At our tasting sessions children quite like these."
Most people eat insects without even realising it. There are no figures available, but some estimates put it at about 500g every year. Muesli can inadvertently contain beetle and moth larvae, says Hine. "And 20% of imported dates have a small caterpillar inside."
Hine surmises that our forebears probably ate a bushtucker-style diet.
"Field workers in the 1600s and 1700s had little more than gruel when times were hard, and they would have picked up what they found in the fields such as slugs - not big slimy ones, but milk slugs - and beetle larvae."
In 1885, Victorian author Vincent M Holt wrote the book Why Not Eat Insects? complete with suggested menus, such as slug soup, boiled cod with snail sauce and gooseberry cream with sawflies. For a lighter alternative, one could eat moths on toast or stag beetle larvae on toast.
"It is hard, very hard, to overcome the feelings that have been instilled into us from our youth upwards," he wrote.
"But still I foresee the day when the slug will be as popular in England as its luscious namesake the Trepang, or sea-slug, is in China, and a dish of grasshoppers fried in butter as much relished by the English peasant as a similarly treated dish of locusts is by an Arab or Hottentot."
His recipes never really caught on.
But this spirit of edible adventure lives on at events such as New Zealand's annual Wildfood Festival in Hokitika, now in its 23rd year. Popular stalls are those selling grasshoppers, huhu grubs and crocodile and kangaroo bites.
Right - who's hungry?