Why are so many airline bosses Irish?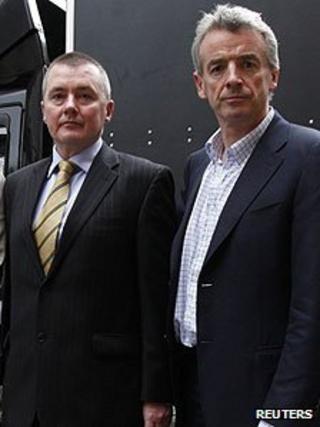 The sight of airline bosses Willie Walsh and Michael O'Leary teaming up recently to urge the UK to scrap air passenger duties was a reminder of how the UK's airline industry is dominated by Irish men - and it's not only the UK's. The Celtic nation's influence extends to other airlines around the world. Why?
Like the Greeks and shipping, the Irish have a presence in the airlines business that far outstrips their size.
A day before Mr Walsh, chief executive of International Airlines Group, and Mr O'Leary, Ryanair boss, stood side by side in their air passenger duty campaign in London, trade union representatives elsewhere in the city were donning masks of another Irishman, Qantas boss Alan Joyce, to protest about the long-running dispute at the Australian carrier. He recently grounded his fleet of Qantas planes in a disagreement over job cuts.
These three men have compatriots occupying or recently occupying senior positions at airlines in Brunei, Singapore and Mexico, and at other successful international aviation companies.
Mr Joyce acknowledged the remarkable place the Irish occupy in the business, in a speech in 2009.
''There must be something in the water - or the Guinness,'' said Mr Joyce, ''because there's certainly a very special Irish connection with aviation.''
He added: "The global aviation business is crowded - though not, I think, overcrowded - with Irish aviation executives like Willie Walsh, Dermot Mannion, Michael O'Leary and Conor McCarthy.''
So how come there are so many Irish playing leading roles in aviation?
The seeds were sown 75 years ago, says Conor McCarthy, who co-founded AirAsia and helped to start up VivaAerobus in Mexico. He now runs Dublin Aerospace, which overhauls aircraft and landing gear from airlines around the world.
"When air travel started in earnest in the 1930s, the Irish government was far-sighted enough, even though impoverished, to start up a national airline.
"So when the likes of British Airways - then BOAC - and Air France were starting off, the Irish got in there. It wasn't like the industrial age that passed us by as we remained an agricultural country. We were there from the start. As an island nation, we saw the necessity of air travel very early."
Successive Fianna Fail governments in the 1930s saw the aviation industry as a very positive thing, as a way to break dependence on Britain, says Irish aviation analyst Antoin Daltun.
"It was [regarded as] a remote province part of Britain rather than a state or island in its own right.
"And with the Irish diaspora in America, it was striking how in the 1930s the Irish government was keen on transatlantic operations [these finally began in the 1950s] at a stage when people who flew across the Atlantic didn't get life insurance because they might not get to the other side."
The Irish were concentrating on their civilian aviation business when other nations regarded military air forces as more important than airlines, he says.
"The idea was that Aer Lingus would be a technical driver of the economy and that it would be self-sufficient, not just buying services from everybody else, but it would be a mini British Airways."
It created jobs and there was a first wave of successful Irish people going overseas in the 1970s, to Zambia, ALM (the Netherlands Antilles airline) and East Africa Airways, he says.
Aer Lingus became a training ground for a lot of people who went on to senior positions around the world, says Mr McCarthy, himself an apprentice there aged 16. Mr Joyce began his career there and Willie Walsh was an Aer Lingus trainee pilot at 17. It was a company that offered employees plenty of opportunities to move around and widen their skills, he recalls.
"We all got fantastic opportunities and it was a great start for anyone."
Tony Ryan was another Aer Lingus graduate who went on to create Ryanair. Its rise turned Ireland into a cradle of competition, Mr McCarthy believes, and Aer Lingus had to compete with Ryanair a lot earlier than other European airlines, which honed the management and cost-cutting skills of managers like Willie Walsh.
Siobhan Creaton, an Irish Times journalist and author of Ryanair: How a Small Irish Airline Conquered Europe, says Irish dominance can also be traced back to another Tony Ryan creation, Guinness Peat Aviation, an aircraft sales and leasing company which he set up in 1975 and turned into a $4bn company.
"Guinness Peat Aviation Industry grew to become the world's second biggest airline leasing company and that brought a lot of talent with it. That sparked a lot of interest in aviation. If you were in college in the 1970s, that would have been the sexy industry to go into because it was such a vibrant industry."
There's still a huge amount of expertise in Ireland, says Ms Creaton, and it remains a core part of the Irish economy, despite the economic problems.
There is also a more general reason why the Irish are good at running airlines, says Mr McCarthy. It's because they use them so often.
The country has a long history of emigration and a lot of diaspora based overseas, which makes them one of the most frequent flying nations in the world.
But the Irish don't have it all their own way. In 2009, Aer Lingus appointed a new chief executive, Christoph Mueller, who's German.