The 'British' Germans the war left behind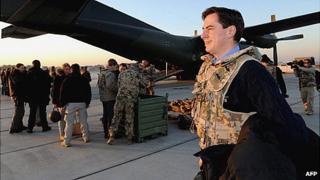 By 2020, all the British soldiers stationed in Germany will have come back to the UK, the Ministry of Defence has announced. But the offspring of soldiers who stayed on after World War II or returned there in the years that followed are making their mark in German society, says Chris Bowlby.
Helmut Kohl, Gerhard Schroeder, Angela Merkel.
The roll call of recent chancellors in Berlin has a properly Germanic ring to it.
So it would be a bit of a shock if one of the future occupants of that post was named… David McAllister.
But that is just what could happen, as Mr McAllister, currently prime minister of the state of Lower Saxony, is one of the brightest prospects in Germany's Christian Democratic Union party.
He is tipped to do very well on the national scene too.
So why Mr McAllister?
He is part of a fascinating and increasingly prominent group in German life - the children of former British soldiers who opted to live permanently in Germany after World War II.
It is hard to obtain precise figures for this group. But there are many thousands of soldiers who did not return home after their military service ended, deciding they preferred life in Germany. Many have German wives or partners.
In Mr McAllister's case, his Scottish father, who had been in the British army during World War II, returned as a civil servant with the British occupying forces in Cold War Berlin.
He formed a relationship with a German woman, and they had a daughter in 1960.
But they were not allowed to marry until 1964 as in early post-war decades, marriage between Brits and Germans was much frowned upon by the British authorities.
Mr McAllister, born in 1971, recalls early confusion about his identity. His first years were spent in a kind of British bubble in West Berlin.
"I felt British", he recalls. Mr McAllister attended British schools, listened to British broadcasting and spoke English every day to his father, who read the Daily Telegraph rather than a German newspaper.
But when he read Victor magazine's war stories and played with other school boys, he could not understand why the Germans were always the baddies.
Diversity
Later, when the family moved to what was then West Germany, Mr McAllister went to a German secondary school. He then took the key decision to do his military service with the German army - though he retains dual citizenship.
He later pursued a German political career, rising swiftly to his current post, where he sits in an impressively grand office in the Lower Saxony capital, Hannover.
I asked him whether Germans, hearing his name, ever doubted where his loyalties lay? Only occasionally, he said, did he get emails or even "nasty letters". They came mostly, he added, "from elderly men of the very far right".
His rise to prominence, he adds, reflects a new Germany that many outside the country have failed to appreciate. "Germany is becoming more diverse", he says.
He points out that the current German Vice-Chancellor and head of the Free Democrat Party, Philipp Rösler, is of Vietnamese origin.
And the national leader of the Green party is a Turkish-German, Cem Özdemir.
So maybe the British Germans like Mr McAllister will make their mark too?
But if they are ever more influential in German life, where would that leave all that popular prejudice, where Brits and the Germans see each other as permanent rivals - whether in politics or, say, sport?
Football matches between England and Germany are one place where these rivalries are still played out.
If he had to attend such a match as future German Chancellor, Mr McAllister would have no doubt where his loyalties lay. Thanks to his Scottish father. he is a keen supporter of Scottish rather than English football, and Glasgow Rangers in particular - as well as supporting the German national team.
But there could be a worse twist for England fans. When their team inevitably lose to the Germans on penalties, the winning goal might be scored by one of Germany's top young players - one Lewis Holtby.
Yes, you've guessed it, he has a British dad who served in Germany with the RAF, and a German mother.
He could have played for England, but opted instead for Germany, which nurtured him, speaking of his pride when hearing the German anthem at games of the Under-21 team he captains.
These younger generations of mixed British and German background are a far cry from the tensions when British forces first arrived after World War II.
Many soldiers regarded the Germans as evil enemies, and they obeyed strict rules enforcing "non-fraternisation" with local civilians. Couples like Mr McAllister's parents had to struggle to keep their relationships despite official disapproval.
But over the decades, there has been much mingling between the two communities.
British forces based in Germany are due to depart finally in the next decade. But they will leave behind British Germans in their multi-thousands, increasingly prominent in a fast-changing German society.
And they may offer a much better idea of the British-German future than the hostile memories of the 20th Century past.