Antenatal classes: What do you learn from them?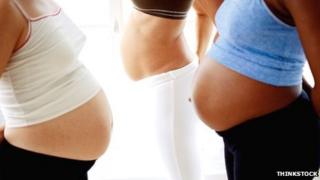 Poorer mothers-to-be often do not attend antenatal classes, according to new figures. What are they missing out on?
"The classes were really good for my husband. He hadn't read any pregnancy books and admitted that he never would. He learned a lot because he literally started from knowing nothing," says Ali, 36 and a mother of three from Hertfordshire.
For Deborah, a 47-year-old mother of two from Essex, antenatal classes ended up being about one thing - "that" video.
"The only thing I remembered afterwards was the scary childbirth video - and mainly because of the scary couple in it. They looked really 1970s, so dated. As a result the class felt a bit comical, rather than educational."
People's experiences of antenatal classes - which are intended to prepare them for birth and the aftermath - can obviously vary, and that's if they go at all.
Almost three-quarters of pregnant women on low incomes do not attend antenatal classes, according to new figures. Nearly half are not even offered them on the NHS, says the survey carried out by Netmums and the Royal College of Midwives (RCM).
They're not the only ones giving them a miss. According to the study by the Care Quality Commission last year, there has been a decrease in women in England attending NHS antenatal classes - 58% last year compared with 61% in 2007.
It's a trend reflected elsewhere. In Scotland 55% of women do not go to free classes, according to a report by the Scottish Parliament.
There are some obvious reasons for this. After their first child many women feel they've had all the experience they need. Other parents opt for paid-for antenatal classes.
But free or paid for, what do they teach you? Professionals say it is about preparing parents-to-be practically and emotionally. The practical side focuses on skills for labour, including breathing, birth positions and pain-relief choices, says the Royal College of Midwives (RCM). It also covers what will happen in the first few weeks after the birth, like breastfeeding.
But classes are moving on from just the mechanics of birth to the emotional aspects, like the impact of children on the parents' relationship.
"The emotional [side] wasn't really tackled until recently and is incredibly important," says Sally Russell, co-founder of Netmums. "Courses are moving on from the stereotypes, although obviously they do vary. But undoubtedly there are really good quality NHS classes out there."
Budget strains
For Deborah, who went to NHS classes when she was expecting her first child, the problem was not a lack of people attending.
"The class was really big so there wasn't much of a chance to talk to the lady running it," she says. "There were also people who took over, they were almost competitive about how much they already knew. I spent most of my time silently praying for them to shut up."
Netmums says courses obviously vary in quality. Strains on budgets and staff and a lack of available premises are all issues.
Paid-for classes are smaller in size, often with just a few couples. So are they any different?
The National Childbirth Trust (NCT), the country's largest provider of paid-for courses, says it focuses on providing parents-to-be with the information to make their own decisions about labour, birth and those first few months after. It estimates 11% of all first births in the UK - one in nine - involve a parent who attended its classes. Prices for courses start at £90, but are priced per hour so the full cost varies.
Ali paid for NCT classes when she was pregnant with her first child. But she says the main reason she went to them was not to be educated.
"For me the main reason I went to NCT was to meet people. I think it's the same for a lot of couples. When you have your first baby often you have to make a whole new set of friends. We were in a group with five other couples. It was an odd situation to begin with but several years on we're all still friends.
"But I also think knowledge is power and just going to the classes made me feel less frightened about birth."
Deborah agrees.
"Even with all the funny and annoying stuff attending the classes made me feel slightly more in control of things as the birth approached. I wrote a birth plan, things like that. It went out the window as soon as the contractions kicked in, but up until then it kept me relatively calm. I think the classes were worth it just for that."
When she was told there were no places for NHS or NCT courses in her area Julia, 37, a mother of two from Hertfordshire, hired a private midwife for lessons at home.
"I felt really anxious when we couldn't get a place on any courses," she says. "We had a midwife come to our home. She got us to play games to work out our priorities during birth. I'm still not sure it helped me when I actually gave birth, but I felt more comfortable approaching it. I just felt I wasn't going in blindfolded."
Some studies have linked antenatal classes to successful breastfeeding and a more positive experience of childbirth. Ms Russell says there is not a lot of research that suggests the classes are of benefit to mothers-to-be, but puts this down to a lack of research rather than anything else.
Ultimately people are missing out if they don't go, she says.
"This is valuable time to prepare for their labour and childbirth."