Colombia seeks a new, clean image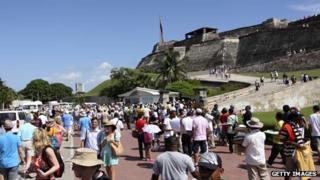 After decades of battling against left-wing rebels and drug barons, the Colombian authorities are making inroads into improving the country's image.
In 1993, while working in South Dakota, USA, I met a rancher who said, "So, you're from Britain. Isn't that where gangs are killing each other with machine guns?"
"Are you sure you're not thinking about somewhere else?" I replied.
"No, it's definitely England. You know, it's like a religious war - Catholics killing Protestants."
"Oh, do you mean Northern Ireland?" I asked.
"Yep, that's it," he said.
As it happened, the week before, I had read an article about gun crime in the States.
According to this report, three times more people died as a result of bullet wounds in Wichita, Kansas - an ordinary town in the Midwest - than in Northern Ireland, then at the height of the conflict.
My point here is about perception. It does not take much to form a negative opinion about a place.
Not so 'hostile'
And so it was, when I started to plan my trip to Colombia.
Ask what Colombia is famous for, and the most likely response will be "cocaine, Farc (the left-wing guerrilla group) and Pablo Escobar", the notorious drug lord, now deceased.
It is a country that has had an almost permanent presence on the BBC's hostile environments list.
I imagine - in a light-hearted way - that, when the hostile environment committee meet, they start each session with the words: "So, apart from Colombia, what else have we got?"
I had been told by people in Colombia that things had changed, but as I tentatively emerged from Bogota's airport, I wondered how much.
While waiting for Francisco Forero, my contact, would I be bundled into the back of a car filled with gun-toting kidnappers?
Or would someone come up to me and say, "Ay, gringo, you want drugs?"
Someone did approach me, but only to politely ask whether I was looking for a taxi into town.
It was all very normal and, when my lift did show up and we drove into the city to a local restaurant, that seemed pretty normal too.
"Is this typical?" I asked Francisco.
"Sure," he said. "Of course, there are places I wouldn't want to go on my own at night in Bogota, but isn't that true of any city?"
Tracked by radar
The following day, we were the guests of Jorge Londono, a wealthy Colombian businessman, at his private nature reserve an hour's flight from Bogota.
It was my first insight into Colombia's troubles.
Before taxi-ing onto the runway, we were required to check in with the anti-narcotics police, who inspected Jorge's plane and examined our ID cards against the submitted paperwork, which doubled as our permit for where the plane was overnighting.
Once in the air, we would be tracked by radar and possibly spotter planes as well.
Later the pilot pointed out the plane's transponder - a device that sends a continuous signal back to a control tower.
I was relieved to see it. Without one, the air force is legally entitled to shoot the plane down.
All this security has one goal - to stop the free flow of drugs across the country - and it seems to be working. Increasingly drug operators are moving elsewhere.
New image
To understand just how much Colombia has changed over the last few years, you cannot do much better than ask Francisco and Jorge.
Francisco is head of Google in Colombia and, while satisfying his passion for photographing Colombia's wild places, he has travelled to the country's most remote corners.
Jorge, on the other hand, has hotels in 21 cities, which he visits regularly, and business is beginning to boom.
He is also something of an adventurer himself, having just jet-skied 1,000km (600 miles) through undisturbed jungles to the Orinoco river.
So, with their combined experience, I gave them a map of Colombia and asked them to mark areas I should not venture into.
They drew three small circles on Colombia's borders - two with Venezuela and one with Ecuador.
They represent less than 5% of the country. When I ask where neither of them would want to go, Jorge scribbles a small dot in one of the circles and Francisco agrees.
Admittedly this was hardly an exacting analysis of Colombia's security issues but it does seem to express what many Colombians are beginning to feel.
Ask the new generation of Colombians what the country's biggest export is now and they are more likely to say the global singing sensation Shakira (she of the gyrating hips) than cocaine.
And what of Farc?
Well, it appears they are on the retreat too, not just the group itself but in the minds of Colombians.
In a national survey last week, only 3% of respondents expressed any sympathy for the cause.
 How to listen to From Our Own Correspondent:
BBC Radio 4: A 30-minute programme on Saturdays, 1130.
Second 30-minute programme on Thursdays, 1100 (some weeks only).
Listen online or download the podcast
BBC World Service:
Hear daily 10-minute editions Monday to Friday, repeated through the day, also available to listen online.
Read more or explore the archive at the programme website.