Rivalries exposed: Ten revealing open mic admissions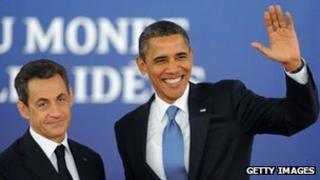 The most revealing statements are often ones made when public figures think they are speaking privately. We recall some of the hard truths and bitter rivalries revealed when mics were left on.
1. Nicolas Sarkozy v Benjamin Netanyahu
At the G20 summit last week, French President Sarkozy shared his true thoughts about Israeli Prime Minister Benjamin Netanyahu to US President Barack Obama. "I can't stand him any more. He's a liar," he said, unaware that the press could overhear. Mr Obama did not disagree, saying: "You may be sick of him, but me, I have to deal with him every day."
2. Ronald Reagan v the Russians
While doing a sound check with radio engineers, Reagan joked around about annihilating his Cold War enemies: "My fellow Americans, I'm pleased to tell you today that I've signed legislation that will outlaw Russia forever. We begin bombing in five minutes." The tape was later broadcast. Note to all current and future politicians: when working with audio engineers from the news media, keep the jokes to a minimum.
Former British PM John Major wasn't known for being hot-headed, but Britons got another taste of his personality when a mic was left running after an ITN interview in 1993. He threatened to "crucify" three colleagues in the cabinet, calling them "bastards" to boot. He even turned the abuse on himself at one point, wondering "how such a complete wimp like me keeps winning everything".
At least one good thing resulted from Madonna's ill-received Wallis Simpson biopic, WE. The Material Girl will never again receive flowers she hates. Prior to a press conference at the Venice Film festival in summer 2011, a fan brought Madge a bouquet of hydrangeas. Madonna was overheard on the mic telling a pal how much she "absolutely loathed" them. Her press agent later put out a statement defending Madonna's right to like or dislike flowers as she pleases.
Campaigning in the Lancashire town of Rochdale in 2010, then Prime Minister Gordon Brown had a contentious Q&A with Gillian Duffy, who challenged him on immigration and unemployment. As he entered a waiting car, his still-live mic caught the Labour leader calling the interaction "a disaster". Worse was to come. "She's just a sort of bigoted woman that said she used to be Labour. I mean it's just ridiculous," he was heard to utter. Mr Brown later apologised, but the gaffe was later judged to have played a key role in Labour's eventual defeat.
At a press call during a family ski vacation in 2005, a reluctant Prince of Wales stepped in front of the mic, making a private aside to his sons about how much he hated press calls. At least, he thought it was private. But the press picked up on his comments - specifically, his thoughts on BBC royal correspondent Nicholas Witchell. "These bloody people," the prince said. "I can't bear that man. I mean, he's so awful, he really is."
7. George W Bush v the New York Times
During a campaign rally in 2000, George W Bush and Dick Cheney were caught on mic discussing reporters in the audience. When he saw a New York Times correspondent, Mr Bush, at the time a presidential candidate, called him a "major league asshole". Mr Bush declined to apologise for the comment, saying he was a "plainspoken fellow".
8. Jacques Chirac v bangers and mash
In 2005, the French president was caught complaining to German and Russian officials that he found British food unpalatable - second only, he said, to the dreaded cuisine served by the Finns. He also joked that the only thing the UK had contributed to European agriculture was mad cow disease. Later that week, Mr Chirac flew to the G8 summit in Scotland. The food there was reportedly delicious.
Conservative commentator Peggy Noonan was caught during a commercial break bashing newly-nominated vice-presidential candidate Sarah Palin. She said the choice meant "it's over" for the McCain campaign, while her co-commentator called it "cynical and gimmicky". While the election went on as scheduled for another four more months, and Noonan later tried to clarify her remarks, her first reaction wasn't wrong.
10. Jesse Jackson v Barack Obama
Candidates on the right were hardly the only ones to face the ire of commentators during the 2008 election. Jesse Jackson was caught on microphone saying he was frustrated by what he perceived to be Barack Obama's patronising attitude towards African Americans. He was so frustrated, in fact, that he wanted to "cut his nuts off". Mr Obama is still a target for criticism, though usually without public threats of bodily harm.