Bank fees end, but unhappiness remains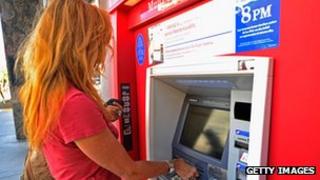 Big American banks will no longer charge big fees to account holders. But this isn't the end of big fees - or dissatisfied customers.
Lorin Oberweger doesn't have time to occupy anything. The Tampa-based writer and book editor spent last week planning a conference in Houston. "I'm not in any position to camp out," she says.
She did share the frustrations voiced by Occupy Wall Street, and supported their efforts. So she joined the protest in another way, and is in the process of moving her money from Wells Fargo to a local credit union.
The idea wasn't a new one. "It was something I was thinking about for a long time," she says. For the past three years, the idea of moving to a bank with lower fees and less corporate reach appealed to her - but it took the mass protests to get her moving.
Ms Oberweger is not alone. Normally, about 35% of Americans are thinking of switching banks - but only 10% do, says Tim Pannell, chief executive and founder of Financial Marketing Solutions, a marketing company that caters to community banks across the US.
However, in recent years, the number of those looking to switch has almost doubled - and consumers are more motivated than ever to follow through.
"I've been doing this for 25 years. Never in my life have I seen such an awareness and understanding from the average consumer," says Mr Pannell.
Acting on outrage
It's no secret that banks are increasingly unpopular these days. A survey of French, American and UK residents by the Aite group, a financial consulting and research company, found that trust in banks was at an all-time low in 2009. And things haven't gotten much better since.
The Occupy movements across the world seem to demonstrate some of the frustration that's been bubbling up with consumers since the banks collapsed, and were then bailed out, in 2007.
Since then, consumers have heard stories of banks sending SWAT teams to foreclose on senior citizens, rewarding their executives with huge bonuses, and seeming otherwise tone deaf to the needs of individual bankers.
Witness the fees instituted, then revoked, by big banks like Bank of America and Wells Fargo.
This week, Bank of America announced that they would not implement a $5 (£3.12) monthly fee on debit cards.
This comes only 33 days after the fees were announced.
The banks explained that due to new legislation that reduced the profit banks could make from merchants for processing debit card transactions, the money would have to be made up elsewhere.
Outraged consumers took to the web to protest against the charges.
Molly Katchpole, who started an online petition on Change.org, racked up more than 306,000 electronic signatures and several media appearances.
When the fees were revoked, the website said: "Take a bow, folks", declaring that their demands had been met.
But that wasn't enough for Ms Katchpole to keep her money with Bank of America. Instead, she told CBS news, her money is now with a smaller community bank.
Community banks respond
Community banks and credit unions have been eager to take advantage of this growing dissatisfaction with banks, and are offering promotions and services to entice customers.
Mr Pannell says he's been working with his clients to increase the speed and ease of transferring accounts, so that people looking to switch will face a minimum of hassle.
In Florida, Community Bank offered new customers $5 a month for a year - a direct response to the Bank of America fees.
Trevor Burgess, president of the bank, said that the bank has since signed up 200 more members, six times the normal rate.
Shawn Weeks, a fitness writer and blogger, was impressed by the ease of switching at his local credit union.
A former Wachovia customer, he suddenly found himself part of Wells Fargo after a merger.
"It wasn't the bank I signed up for," he says, and he felt uncomfortable being so easily bought and sold.
So he researched smaller banks and ended up moving his funds to a local credit union in his South Carolina town.
Despite the grassroots movements and individual dissatisfaction, big banks aren't bleeding customers yet.
For instance, less than 40,000 people have "liked" the Facebook page for Bank Transfer Day, which encourages people to move their money to a credit union on November 5th. Many of those are people who already use credit unions.
"It would have to be a number way north of 40,000 to make an appreciable difference," says James Wilcox, professor of finance at the University of California, Berkeley. As Bloomberg noted earlier the year, the top 10 banks control about 77% of the country's assets.
More to come
That's why consumers haven't seen the last of fees and bank charges, and shouldn't expect a lot of grovelling from banks anytime soon.
One expert even speculated that the banks might be happy to lose customers with smaller bank balances, who have much less of a profit margin - and may even cost banks money - than those with bigger balances. "Ten per cent are making all the profit; 90% are losing all the money," says Mr Pannell.
Due to low government interest rates, banks are having a hard time making enough money from checking accounts to cover the costs of running those accounts.
"It costs a lot of money to run a national and even global electronic payments, like debit cards and other kinds of systems," says Mr Wilcox.
"One way or another they are going to have to have enough revenue to cover their reasonable interest costs."
Even as Wells Fargo, Bank of America and other banks have walked back the proposed fee, TD Bank announced on Thursday that they're instituting new service fees in December, including a $9 per transaction fee for certain savings account customers who have had more than six transactions per billing cycle.