Your M25 memories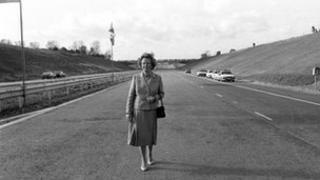 The M25 is celebrating its 25th birthday. The final section was opened to huge fanfare by Prime Minister Margaret Thatcher in October 1986.
The 117-mile (188km) orbital road took more than 11 years to build. It cost £1bn, and used more than two million tonnes of concrete and 3.5 million tonnes of asphalt.
Described by some as the country's "biggest car park" the M25 is nonetheless a landmark that has delivered its share of magical memories.
Below, two people share their M25 stories.
Rob Lilwall
In January 2010 travel writers Rob Lilwall and his friend Al Humphreys walked a lap of the M25. The reason? They had previously cycled across Siberia one winter and decided to have an adventure closer to home.
"The day we set off saw the start of some of the worst blizzards for 30 years. We began at dawn from beneath the Dartford Bridge and walked for an hour to Junction One of the motorway.
The traffic roared forwards and backwards, but climbing a wooded embankment we entered a world of virgin white fields. Except for the continuing buzz of cars on the other side of the hedgerow, we could have been in the middle of nowhere.
We strolled through that first day with a spring in our step. We were travelling light without a tent and made a shelter in a small forest using a bivvy bag each and a sheet of waterproof material.
Setting out into a glowing dawn the next morning, the motorway was already awake with fast moving headlights. We realised we would have to walk a lot further than the 120 miles of the motorway because of detours around fences, bushes and properties.
We worked out we would have to walk a minimum of four junctions a day - about 30 miles - if we were going to complete the walk in a week, so we were in for a lot of night marches.
The second night we reached the town of Redbridge and were bought drinks by the bar staff and offered a room for the night by an Irishman and his wife. We enjoyed having a hot shower and dry bed.
Seven long hard days
We pressed onwards into the week, with the snow still falling. We camped in more forests and fields. We passed through many places which I'd heard of, or driven past, but never been to.
We encountered horses, sheep, foxes, and cows; we had friendly conversations with dog walkers, road workers, and farm hands.
On our fourth morning a cyclist appeared on the road and and announced he had been following our walk through Al's Twitter feed and had actually come looking for us so that he could invite us back to his house for a cooked breakfast!
Another evening a city commuter invited us to camp in his garden and appeared at the door the next morning in his boxer shorts with two cups of tea.
Finally, after seven long hard days of four junctions a day, we made it back to the Dartford Bridge.
A traffic policeman in a patrol vehicle blocked our way told us sternly that we were not allowed to walk across but then took pity on us and gave us a lift to the other side in his car. We had made it!
This winter I'll be embarking on a 3,500 trek mile across China, for which the M25 expedition was certainly great training!"
Bob Dobbs
Bob Dobbs commuted on the M25 for years, travelling from his home in Chinnor near Oxford to his office in Guildford. One particular drive home turned into an unforgettable memory.
"As anyone who has ever commuted on the M25 knows there was never knowing at what time you would reach your destination.
The Thursday and Friday evening crawl was always the worst, often I was delayed by hours with my daily trip from Guildford on the A3, M25 and M40 to my home in Oxfordshire. Over six hours was the worst, with accidents on each leg.
However, one particular Friday, the 24th October 2003, I decided to leave the office early.
The M25 was at walking pace as I joined it at Junction 10 and remained at this pace until coming to a stop opposite Heathrow airport.
The reason for the stop, I'm afraid to say, was me in the middle lane.
Pride
As we got to Heathrow I had spotted Concorde coming in from the distance.
Friday 24th October 2003 was the day of Concorde's last incoming flight and I knew that if I continued at the speed of those ahead of me I would miss this epic landing.
I slowed down and as I did so the traffic in front of me moved away ahead.
I then realised that if I kept moving even at a slow speed I would still miss the landing, so I stopped and hit my hazard light switch.
Concorde came in to land, flying straight across the front of me. It filled the entire windscreen of my car as it went by and was so close I could see the pilot and the passengers sitting inside. It was amazing.
No one hooted from behind so I guess they were grateful to me.
Pride swept though me as Concorde filled my windscreen. I've never met anyone who hasn't looked at Concorde with awe.
It was something so British and is probably the last great thing Britain did in aviation.
Indeed if I close my eyes now I can still see it! Awesome is an over used word these days but it wasn't on October 24 2003 at just after 16:00 hours.
Here are some of your M25 memories:
I remember driving along a stretch of the M25 for 10 minutes without seeing another vehicle. It was 1984 and I think the stretch had just been opened. I haven't driven that stretch since - I wonder if it's as quiet? Tony, Birmingham
One Christmas in 1998 when I was nine years old, my parents, my brother and myself were travelling from Margate to Leeds to spend Christmas with my grandparents. Due to heavy snowfall and traffic, however, a journey that normally takes four hours took eight. Yet we had the most fantastic Christmas. All four of us playing monopoly in the middle of the car listening to 'I'm driving home for Christmas'. One of my favourite childhood memories, Thanks M25. Jess, Kent
We were regular drivers on the old cut through route before the M25 opened. The day it opened, by coincidence, we were just coming to the roundabout at Junction 8 when the police cars rolled back and said we could now use the M25 if we wanted! Graham, Uckfield