Herman Cain, Clarence Thomas, and sexual harassment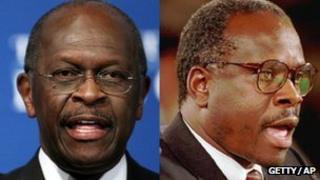 News of old claims of sexual harassment against Herman Cain reveal how much has changed since the 1990s - and what has stayed the same.
There's nothing new about a sexual harassment suit in the hallowed halls of Washington. What's rarer is a black conservative garnering national headlines. So it's no surprise that past sexual harassment allegations against Republican presidential hopeful Herman Cain has conservative pundits recalling the last time a black man with political ambitions faced such charges - the confirmation hearings of Supreme Court Justice Clarence Thomas.
As Talking Points Memo notes, the rhetoric on the right regarding Mr Cain is incredibly similar to the rhetoric that was used to defend Justice Thomas - that the liberal media is trying to take down a conservative black man, that political correctness has run amok, that the women in question are either crazy or out for a payday.
It's a reminder that though it's been 20 years since the Thomas hearings, some things have changed - but much has remained the same.
A changing world
The evidence of financial settlements paid out to two women complaining of harassment from Mr Cain is just now surfacing. But, according to Politico, the complaints were originally made while Mr Cain was president of the National Restaurant Association, sometime between 1996 and 1999.
That was less than 10 years after the Thomas case, but a totally different era in terms of sexual harassment in the US workplace.
In 1991, during the Justice Thomas confirmation hearings, public opinion was very much in favour of the judge, says Jennifer A Drobac, professor at Indiana University School of Law.
"The public attitude towards the hearing reflected common defence strategies in sexual harassment cases: she's nutty, she's slutty, she's a gold-digger," she says.
Only a year later, views had shifted. "Most public opinion was sided with Anita Hill."
By that time, the message had permeated the public consciousness. Before the Hill hearings, "people really didn't know that sexual harassment was illegal," says Ms Drobac.
Though Clarence Thomas did not face charges related to harassment, nor was he sued in civil court, "it obviously brought to light the fact that this behaviour was prohibited," she adds.
The year after the Thomas hearings also saw an influx of sexual harassment lawsuits to the US Equal Employment Opportunity Commission - the largest number on record.
Companies, which could be held financially liable, were forced to pay attention. A new effort was placed on training employees and enforcing proper conduct - and taking harassment complaints seriously.
As John Dickerson at Slate notes: "Cain's issue was adjudicated by lawyers and a human-resources department whose purpose, in part, is to handle these kinds of issues (if for no other reason than after the Thomas hearings every organisation updated its HR policies on sexual harassment)."
Slow progress
While the Thomas case found Americans scandalised by lewd anecdotes reported by Ms Hill, there have been fewer specifics regarding Mr Cain's alleged behaviour. What details exist have served as fodder for pundits, who make quick work of dismissing the accusations as overly-sensitive liberal nonsense.
This plays into a current trend: though there is currently wide support against sexually harassing behaviour in theory, in practice many people find it easy to sympathise with the accused.
"When the details aren't abstract and people are evaluating actual situations and people, the stakes seem much higher for calling behaviour sexual harassment," says Justine Tinkler, an assistant professor of sociology at Louisiana State University.
The most blatant forms of sexual harassment - rape, violence - are the most rare, but also the ones most people can easily identify as wrong. The misdeeds alleged by Anita Hill, such as showing graphic pornography at work, are now easily identifiable as inappropriate actions.
But the Herman Cain case demonstrates that there is still confusion about what makes some behaviour harassment.
For instance, Politico reported that Mr Cain was accused of making a "non-sexual" gesture that made one of the eventual claimants uncomfortable.
Mr Cain, who calls the claims against him "baseless", described that gesture as a comment on a woman's height. His defenders cite it as another example of how anyone can be labelled a harasser if not careful.
"There's a fear that: 'If I tell a woman she looks nice, am I going to get sued for sexual harassment'?" says Caren Goldberg, a professor of management at American University in Washington DC, and an expert witness in workplace harassment cases.
"I don't think there's very many women that would just on the basis of that think that, oh my gosh, that must be sexual harassment," she says.
"But if that were to occur in a context where other more egregious behaviour occurred, then there's a problem."
'Extremely gruelling'
The comments that Mr Cain hasn't committed "real" sexual harassment belie another post-Thomas notion: the idea that it is easy to make harassment claims for any minor slight.
Complaints that don't meet a reasonable standard of harassment, however, don't get very far, says Debra Katz, a plaintiff's attorney at the law firm Katz, Marshall & Banks.
"Juries are able to parse out when conduct is truly harmful to the victim," she says, versus when complaints are frivolous.
The threat of an expensive lawsuit has not stopped bad behaviour. Nor is it a large driver of false reports.
"Sexual harassment continues to be a significant problem in the workplace," says Ms Katz.
"Many clients come in because they're looking for the behaviour to stop, or they lost their job. I don't think that anyone looks at these cases and thinks 'I just purchased a winning lottery ticket'. These cases are very hard and extremely gruelling. People who put themselves on the line aren't looking for easy money."
They're also not looking for notoriety. But, as Anita Hill found out, a harsh spotlight is still one of the many disadvantages of making a sexual harassment claim.
This article originally misspelled Caren Goldberg's last name.