Do St Paul's protesters need to camp overnight?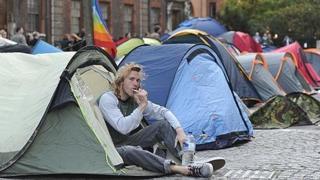 Anti-capitalist activists pitched in the City of London have been accused of going home at night, leaving a lot of their tents empty. Does it make a difference to their campaign?
As the sun goes down over the cathedral's baroque spires, the gaggle of demonstrators amid the brash, declamatory banners and polyester shelters below are bracing themselves for the cold.
The evening may just be starting for the suited City workers clumping past on their way home, but Catherine Garrity, 26, one of the agitators who have set up this improvised encampment against what they see as the iniquities of the financial system, is already planning an early night later.
"You don't get much of a lie-in under those bells," she says, looking up at the looming dome of St Paul's.
And anyway, she insists, keeping the camp going is exhausting work. During the 11 days of the protest, she has been present for all but three. But she has stayed overnight only three times, usually returning to her flat in Hackney, east London, to sleep.
It's an arrangement that most of the Occupy London Stock Exchange (OLSX) protesters regard as entirely reasonable for a volunteer who has sacrificed teaching work to be here.
But critics of the camp regard such comings and goings very differently.
Opponents of the protest seized on claims that Metropolitan Police thermal imaging cameras showed just 20 out of 200 of tents at St Paul's were occupied during the early hours of the morning.
Subsequently, a series of newspapers sent their own photographers to back up the allegation that the camp was merely staffed by a handful of "part-time protesters", who were creating a huge drain on resources. Mark Field, Conservative MP for the Cities of London and Westminster, urged officers to seize the opportunity to clear the "third world shanty town" under cloak of night.
OLSX vigorously deny the 90% figure, insisting they operate a sign-in and sign-out system to ensure as many tents are occupied as possible. The group says it would be unfair to expect protesters with jobs and families to devote themselves to the site 24 hours a day.
The row may be only the latest controversy to hit OLSX, who have refused repeated requests from church officials to move on after their presence led to the closure of the cathedral.
But regardless of the justice or otherwise of their cause, this dispute highlights divisions over the efficacy of camping as a form of protest, between those who see it as a highly-visible means of attracting attention and those who believe it appeals only to a hardened caste of professional activists with time on their hands.
In the latter category is the political activist and commentator Dan Hodges, who believes the camp is, by its very nature, exclusive and elitist, blocking those without the resources and means to drop everything and pitch a spot.
Moreover, he argues, the alleged emptiness of the tents undermines the very integrity of the occupation.
"It raises the question, even on its own terms, of whether the protest is succeeding," he says. "Is it actually a protest or is it a virtual protest? Does this movement and this demonstration actually exist?
"It's very self-selecting in terms of who it can attract. With most campaigns you start off with a small group of activists and build it out. But they've taken an issue about which there is national anger and gone the other way."
Diversion
However, enthusiasts for the action say this misses the point of the encampment - to provide a permanent focal point for dissent, not a home for an unchanging cast of campaigners.
The writer Bea Campbell is a veteran of the Greenham Common women's peace camp, which attracted tens of thousands of protesters against US Cruise missiles from 1981 to 2000.
Campbell spent many weekends and evenings at the site during the early 1980s, but work commitments made it impossible to remain full time. No-one would have expected all the Greenham Common protesters to remain at the air base for 19 years, she says, but few would question the impression they left on the public consciousness.
"I think it's a diversion from the issue," says Campbell. "Who cares whether they are all staying there all the time? You can stay for 10 minutes or a weekend.
"I expect there will have been thousands of people who visited who could no more camp there than they could fly to the moon because they have jobs to go to and kids to look after. To say it allows people to come and go is not to say there isn't a permanent presence there."
For Campbell, the solidarity forged by the camp makes it more powerful than a one-off demonstration where everyone disperses afterwards.
Certainly, the symbolic power of encampment has been adopted by hundreds of thousands around the world in the wake of the Occupy Wall Street protest, which itself took inspiration from the Egyptian revolutionaries who stood firm in Tahir Square until the fall of Hosni Mubarak.
Since Greenham Common, the tactic has been adopted by anti-roads protesters and the Climate Camp movement. But, according to Dr John Price, an historian of public protest at Goldsmiths University of London, its British lineage can be traced back to the 1600s and radical agrarian Diggers led by Gerrard Winstanley, who occupied common land which had been enclosed at St George's Hill in Surrey.
However, Price suggests that this most recent display of tented dissent is more a pragmatic response to police methods than anything else.
"You can argue this is self-kettling," Price says. "They're saying, 'if you want to round us up then we'll stay here'."
Nonetheless, he suspects the question of whether the empty tent allegations resonate with the public will be determined by the level of sympathy their cause attracts.
"If people were supportive of the movement, a message like that might roll off it like water from a duck's back," he says. "If they weren't, a message like that would undermine the sense that this is a committed, dedicated protest."
With OLSX insisting they are settling in for the long haul, the British populace will have plenty of time to make up their minds. As winter approaches, however, the lure of a warm bed could yet prove decisive.