Brutal murders spark death penalty debate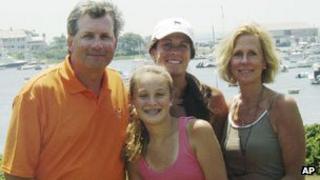 Three horrific murders in a wealthy American town have reignited the debate about who - if anyone - deserves the death penalty.
Across a leaf-strewn lawn where a family home once stood, in a comfortable suburb of flapping flags, a memorial garden is the only physical reminder of the terrible crimes of more than four years ago.
Connecticut is not the sort of place you associate with the death penalty. It is not a southern state, where support for capital punishment is firmly entrenched and 73% of American executions occur. It is not a frontier state. It lies within New England, in geography, and perhaps in culture, the closest you get to European sensibilities.
Since the death penalty was re-instated in the US in 1976, Connecticut has executed only one prisoner. In 2011, only 48% of the state's residents said they support the death penalty, far less than the national average of 61%.
But the statistics have become meaningless since a horrific crime in an upscale neighbourhood left residents frightened and outraged. Now, a glance at the New Haven Register or Hartford Courant shows that the argument about the death penalty - once thought to be purely academic in this part of America - is very much alive.
Early one morning in July 2007, two men, Steven Hayes and Joshua Komisarjevsky, broke into a house in the town of Cheshire. William Petit, a local doctor, sat sleeping in a chair on the ground floor. His wife Jennifer and his daughters, Hayley and Michaela, lay sleeping upstairs.
"I hit him in the head with a baseball bat, and he let out this unearthly scream."
Komisarjevsky speaks in a disconnected monotone about the night he and Hayes invaded the Petit family home. The police have released the recording of his confession.
"I just kept hitting him until he quieted down."
Dr Petit was tied up. His wife was forced to withdraw money from her bank. Back home, she was raped by Hayes and then strangled to death. Her 11-year-old daughter, Michaela, was sexually assaulted by Komisarjevsky. Both girls were tied to their beds and left to die as the house was doused in gasoline and set on fire. Petit, who managed to escape and alert the neighbours, survived.
Both men were later found guilty of capital felony, murder and sexual assault. Hayes was sentenced to death last year.
Paula Calzetta was one of 12 jurors who sent him to death row. Now retired, with 17 years as a probation officer behind her, she speaks thoughtfully and intensely about what she heard and saw during the long weeks of the trial.
"It was so clear cut that these men were evil," she says. "There was evil in that house. Evil lives in this world and it was there that night."
The trial was she says "beyond words". What she saw burnt into her mind, burnt into her soul.
As for the death penalty, for almost six weeks the jury sat and listened to the arguments.
"Intellectually, I know it was the right thing," she says. "Emotionally it's a very hard thing to do. There's really no doubt about who did it, which I think makes it much easier to make a decision about the death penalty, because there was no question it was them."
Soon, a new set of jurors must make a similar decision about Komisarjevsky, who was also convicted on arson charges.
There are, of course, other victims of violent crimes in Connecticut beside the Petit family. Victoria Coward lives with her daughters in New Haven. Her son Tyler was shot and killed the same year as William Petit's family.
At first she wanted vengeance, but then relented. Now she campaigns against capital punishment. Still, the rhetoric about whether certain types of murders are more deserving of the death penalty than others disturbs her.
She respects Dr Petit's desire to see his family's killers die. But she disagrees with those who point to the brutality of the home invasion as justification for the death penalty.
"It's like torture for people like me," she says. "It's like: 'Well you don't match what Dr Petit has gone through. He lost three people, you lost one, he lives in a suburban area, you live in the inner city.'"
In 2010, Tyler Coward's killer accepted a plea bargain that sentenced him to jail for 40 years, with the possibility of parole after 25 and a half years. That trial took place at the same time as the Petit murders trial, but with much less media attention and fewer calls for the death penalty.
Of the men who committed the Cheshire crime, Ms Coward says: "People tend to say: 'Well that was worse, so you need to die.' It's like saying your son wasn't worth anything, and he was. I had him, I carried him."
The last time the state legislature passed the repeal of the death penalty it was vetoed by the governor. The most recent attempt at repeal failed to get through the legislature. The Petit case has had - and continues to have - a direct impact.
Still, supporters of capital punishment in the state choose their words carefully. There is little in the way of blood-and-thunder rhetoric from State Senator John Kissell, the senior Republican on the Judiciary Committee.
"It is extremely difficult to be given the death sentence in Connecticut," he says. "You have to have done something really horrifically bad against society, against individuals."
Hayes and Komisarjevsky have, he says, focused people's attention. "It's not really vengeance, it's just the notion that if someone does something this violent, this offensive, they should pay the ultimate price, which is the loss of their own life."
It is, says the senator, one way of guaranteeing that they will never commit crime again.
Steven Hayes is awaiting execution by lethal injection. Joshua Komisarjevsky's fate will be decided in the next few weeks.