Political falsehoods, exaggerations and embellishments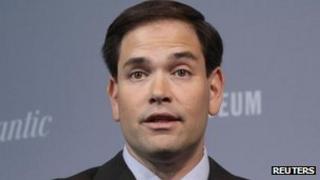 Senator Marco Rubio, a Florida Republican and favourite of the anti-tax Tea Party movement, has claimed throughout his political career that his parents fled Fidel Castro's Communist Cuba for freedom in the US.
Whether deliberate embellishment or, as Mr Rubio has suggested, a misunderstanding on his part, the tale served to connect him with the vehemently anti-Communist Cuban exiles in Florida who make up a key Republican voting bloc.
But US media have now revealed the senator's parents instead came to the US in 1956, three years before Castro's take-over, and that they came to the US not as political refugees but for a more conventional reason: to better their economic situation.
Politicians in the US and around the world regularly embellish basic facts about their biographies, deeds and family histories in order to ingratiate themselves with voting blocs and to impress political allies. And time and again, voters show they are little bothered.
For such people, "it's not enough to be an interesting, hard-working guy", says historian Rick Perlstein. "You have to frame yourself as extraordinary beyond extraordinary. It's a quality that preternaturally driven types that aspire to great power tend to have - the belief that you're a figure of great destiny."
Here are several infamous instances from both sides of the Atlantic.
Senator Richard Blumenthal
Throughout his long career in Connecticut Democratic politics, Mr Blumenthal insinuated to voters that he had served in the Vietnam War, when in fact his time in the US Marine Corps reserves was spent entirely in the US.
In 2008, for instance, he told a group of veterans: "We have learned something important since the days that I served in Vietnam."
Other times, he did not correct newspaper accounts referring to him as "a veteran of the Vietnam War" and as having ''served in the Marines in Vietnam".
But in 2010, when Mr Blumenthal, then the state's attorney general, was standing for the Senate, the New York Times reported that in 1970 he had joined a civil affairs unit known as a refuge for privileged young men seeking to avoid the war.
Instead of heading to Vietnam, the paper revealed, the Washington DC-based unit he joined worked on local projects such as fixing a campground and organising a toy drive for poor children.
Mr Blumenthal later said he regretted he had "misspoken". Voters shrugged off the controversy and elected him to the Senate the following November.
Lord Archer
At various times in his career, the novelist, one-time Conservative MP, deputy party chairman and candidate for London mayor, embellished his academic credentials and family history.
Lord Archer, who was jailed two years for perjuring himself in a 1986 libel trial, has variously claimed his father had been either an officer or a sergeant in the Somerset Light Infantry.
But the regimental secretary told the Daily Mail in 1987 that the only Sgt Archer who had served in the unit was "in no way related to Jeffrey Archer, the author and politician".
In the London Review of Books and the Independent newspaper, journalist Ian Jack wrote there existed no evidence Lord Archer's father had been an officer and that the author's birth certificate listed his father's occupation as "journalist" and said he lived in a London boarding house.
Lord Archer later claimed to have attended the "Army Physical Instructor's Course at the Royal Military Academy, Sandhurst'', and to have had an ''Honours Diploma, International Federation of Physical Culture, University of Berkeley, California''.
But in response to queries from Daily Mail journalist Geoffrey Levy, Sandhurst found no trace he had attended the school. And the University of California likewise had no record of Lord Archer's studying there, nor of the International Federation of Physical Culture.
Lord Archer did study in a teacher training programme at Brasenose College, Oxford, but was never enrolled as a fulltime undergraduate.
President Ronald Reagan
In 1983, President Ronald Reagan told Israeli Prime Minister Yitzhak Shamir that he had served as a photographer in a US Army unit assigned to film Nazi death camps at the end of World War II, the Israeli newspaper Ma'ariv reported at the time.
Mr Shamir related the tale to his cabinet, and a few months later, Reagan repeated the story to Nazi-hunter Simon Wiesenthal and Rabbi Marvin Hier, founder of the Simon Wiesenthal Center, the Washington Post reported.
Reagan, who died in 2004, was indeed commissioned a captain in the US Army during the war, but his poor eyesight left him ineligible for service overseas.
Already a film star, he spent most of the war in Culver City, California, making training and promotional films for the Army.
In that role, Reagan probably viewed film footage shot by Army combat photographers at the Nazi death camps, and was said to have been deeply moved by the images.
The discrepancy between Reagan's actual war record and the anecdote seems not to have troubled voters, who re-elected him in November 1984 by one of the largest margins in American history.
Reagan is now a conservative icon whose stature verges on the divine in Republican circles, and the embellishment of his war record continues to this day.
A timeline-style biography on the website of the Ronald Reagan Presidential Library and Foundation states, "While making air force training films as part of Army Air Force Intelligence, Ronald Reagan saw first-hand the atrocities of war."
Former UK Prime Minister Tony Blair
Mr Blair told chat show host Des O'Connor in 1996 that as a teenager, he had tried to stow away on a flight from Newcastle, in the north-east of England, to the Bahamas.
"I snuck on to the plane, and we were literally about to take off when the stewardess came up to me and said, 'I don't think I actually saw your boarding pass'," he said.
It was later revealed that no planes flew from Newcastle to the Bahamas in the 1960s.
Former UK Prime Minister Gordon Brown
In 1996 Mr Brown, then shadow chancellor, told the Confederation of British Industry that although he was an MP rather than a businessman, he had business in his blood because his mother had been a company director at a firm of builders and timber merchants and his father had farmed.
"Indeed she was probably, at the stage she became a company director, one of a small number of women who were company director," he recalled.
"I was brought up in an atmosphere where I knew exactly what was happening as far as business was concerned."
Later, the Times quoted his mother, Elizabeth, dismissing Mr Brown's suggestion that his parents had instilled business acumen in him.
"It is all a bit embarrassing," she told the paper. "It was a small family firm. I merely performed some light duties when I was there, which was far from all the time.
"I went away when I got married. I would hardly have called myself a businesswoman."
Mrs Brown also denied her husband had much of a business background.
"No, no. My husband was first and foremost a Church of Scotland minister," she said. "He preached for more than 40 years. There was no time for business."
President Richard Nixon
Nixon, the only US president ever to resign from office, told bizarre lies about his background and embellished his career in the military, says Mr Perlstein, author of Nixonland: The Rise of a President and the Fracturing of America.
"He told a very elaborate story about his dad selling their poor little lemon ranch right before oil was discovered on it," he says. "That was a deceptive story.
"He would always say he was born on the day of an eclipse. It was just stupid shit."
The former Republican US congressman and vice-president under Dwight Eisenhower would also tell stories of crouching in foxholes during World War II, when in fact he had a perfectly respectable - but less glamorous - role in the Navy unloading planes on Pacific islands, Mr Perlstein says.