Colonel Gaddafi: The last of the buffoon dictators?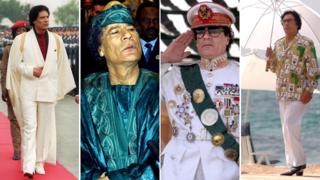 Col Muammar Gaddafi was renowned not just for his cruelty, but also his theatricality. A tyrant in the mould of Mussolini, Idi Amin and Omar Bongo, could he be the last of the line?
I cannot honestly claim to be among the hundreds of writers in a position to talk about the Col Gaddafi I once knew, although the truth is that if he had been going around claiming to have met me, I could not entirely deny it.
We sort of brushed into each other in the lobby of an expensive hotel in Tripoli back in the 1980s as Libya waited angrily and apprehensively for American air strikes.
I was among hundreds of Western journalists invited to witness the devastation Gaddafi assumed was about to rain down on his capital.
I do not think the phrase "human shield" had been coined at the time, but if it had been, it would have described our position nicely.
We were kept in gilded confinement, unable to so much as open the heavy glass front doors of the hotel without permission.
Enormous buffet meals were served every few hours. Trousers began to tighten, tempers to shorten.
Tight pants
News that the colonel was to pay a visit lightened the mood considerably.
Even then, he changed personas as other men change their socks.
One day he was a Motown backing vocalist with wet-look permed hair and tight pants. The next, a white-suited comic-operetta Latin American admiral, dripping with braid.
When I saw him, he had chosen the robes of a Berber tribesman, and what he presumably imagined to be the inscrutable gaze of a desert mystic.
He affected not to notice the crowd of journalists and strode about the lobby, pausing occasionally to gaze into the middle of whatever distance he happened to be facing.
It was utterly ludicrous of course, but somehow we did not say so. Journalism was a more formal business then than it is now, and we were much given to discussions of where the initiative lay, between the colonel on the one hand and the United States on the other.
The fact that he was a howling buffoon did not form part of the reporting of foreign news in those days, but of course it turned out to be the most important thing of all.
Bombastic ravings
Gaddafi made you wonder if dictatorship attracts the mad, or maddens those attracted to it.
He was an old-fashioned, theatrical sort of tyrant, whose lineage you can trace from the bombastic ravings of Mussolini, through the kilted debauchery of Idi Amin, to the platform-heeled kleptocracy of Omar Bongo of Gabon.
He recruited a corps of Amazonian female bodyguards, drove a golf buggy and permanently closed every cinema in the country - apparently in case movie-goers plotted against him.
With Gaddafi, though, with all of them, the darkness was always there. He sponsored terrorism overseas and in Libya, at his behest, fingernails were ripped out and eyes were gouged; homes and hearts were broken.
He corrupted the soul of the nation. Everyone wondered if everyone else was an informer.
One middle-aged woman told me, at the beginning of this last revolution in the battered centre of the city of Benghazi, that she thought the worst thing about living under a dictatorship was that it made you ashamed that you did not resist, that you were not a hero.
"You pass the habit of fear on to your children," she said.
She could remember the leaders of a previous student rising in Benghazi being hanged from lamp-posts in the city centre.
Hands behind their backs, their bodies dangled on long stretches of electrical cable with their feet just a metre or so off the ground.
Life choked out of them slowly and agonisingly. And when they were close to death, a well-known sidekick of Gaddafi's finished them off by hugging them around the knees and tugging down on their helpless bodies.
Palace to sewer
This had all happened a few years before I saw Gaddafi posturing and posing, with his look of affected inscrutability, in the lobby of that luxury hotel.
Years of ham-fisted plastic surgery deepened the look into expressionless detachment, and there was nothing to be read in his face about all that killing, all that destruction.
Now there will be no reckoning for Muammar Gaddafi beyond the last great reckoning that faces us all.
There will be no questions from the bereaved to help us understand why he did it, and no confessions from his henchmen to tell us how.
Perhaps after all, he will be the last of the grotesque, theatrical, blood-stained buffoon dictators.
It would be nice to think that a certain type of tyranny died alongside the man who spent his life in a palace and his last moments in a sewer-pipe.
How to listen to From Our Own Correspondent:
BBC Radio 4: A 30-minute programme on Saturdays, 1130.
Second 30-minute programme on Thursdays, 1100 (some weeks only).
Listen online or download the podcast
BBC World Service:
Hear daily 10-minute editions Monday to Friday, repeated through the day, also available to listen online.
Read more or explore the archive at the programme website.