Could Bruni baby mean Sarkozy poll bump?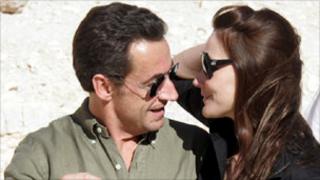 France has its first baby born to a serving president, the as yet unnamed daughter of Nicolas Sarkozy and Carla Bruni. So what impact could it have on Mr Sarkozy's electoral fortunes, asks journalist and author Agnes Poirier.
In Paris cafes on Thursday morning, only tourists talked about it.
In newspapers, the news of Carla Bruni and Nicolas Sarkozy's newborn girl was covered in just a few lines to half a page.
The French daily newspaper Liberation dedicated its front cover to the demonstrations in Greece while the more gossip-inclined Le Parisien chose as its main event an interview with... Segolene Royal, the ex-presidential hopeful.
No doubt that celebrity-obsessed Paris Match will try and make it its front page this week. However, Mrs Bruni-Sarkozy announced a few weeks ago that there would be no picture of her child with Mr Sarkozy leaked to the press and that she will guard her baby's privacy by all means.
According to Le Parisien, the French first lady has hired the services of lawyers and is said to be preparing a letter that will be sent to all media outlets asking them to respect the presidential child's privacy. Le Parisien reported that Mrs Bruni-Sarkozy wasn't so concerned by French newspapers' curiosity but rather by the notoriously indiscreet British press.
Her attitude should go down well with the French who showed a very moderate interest in her pregnancy. Poll after poll has showed that an overwhelming majority of the French has little interest in the first child to be born at the Elysees Palace and that this event should not affect their view of the French President. Yesterday, a survey was published predicting a landslide victory to Francois Hollande against Nicolas Sarkozy in May 2012.
In the last few months, since the news of the pregnancy and the Dominique Strauss-Kahn scandal which struck at the same moment, Mr Sarkozy has painstakingly tried to appear more presidential to the French: more discreet, calmer and perhaps, more importantly, leaving others to occupy the French political limelight.
He hasn't, however, managed to erase from the nation's memory all those episodes in 2007 and 2008 when he staged his private life in the public eye, for what was perceived by the French as political rewards.
Mr Sarkozy put forward his wife Cecilia and their five children (his two sons and her two daughters from previous marriages and their son) and the family posed for photographers all over the world.
A few months later, the president acted out his divorce for the whole country to see, with Cecilia Sarkozy giving interviews about her ex-president husband and the new man in her life for Elle magazine.
Only a few weeks had passed when the French president was seen dating Carla Bruni with hundreds of photographers in tow, some of them official. Mr Sarkozy is certainly the president of superlatives - he was the first to divorce while at the Elysees, the first to marry there and the first to become father while still in function.
If Mr Sarkozy might have been tempted to use the birth of his newborn and only daughter for political rewards, he will have no doubt been dissuaded by his counsellors.
The president's lasting unpopularity very much lies with how he has behaved in the public eye and he will be very careful not to antagonise the electorate further.
The fact that he was attending a last-minute meeting in Frankfurt with the German Chancellor Angela Merkel about the euro while his wife was giving birth gives out a positive sign to the French: he was doing what is expected of him, to run the country and try and find solution to the euro crisis, even though his wife was in labour.
The French have a great tolerance for their politicians' private eccentricities and unusual private arrangements. However, they have very little patience for unpresidential behaviour from their president, a function that demands in their eyes the utmost gravitas and the highest dedication.
Given that across the Channel, there have been two babies born to serving prime ministers in Downing Street in recent years, it could be said that Mr Sarkozy is following an Anglo-Saxon model.
Agnes Catherine Poirier is a journalist, writer and broadcaster. She is the author of Touche, a French woman's take on the English.