The growing number of young women becoming nuns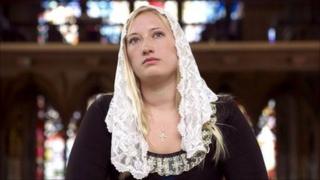 Each year in Britain a small but growing number of young women are giving up careers, boyfriends and everything they own to devote themselves entirely to God.
Catherine describes herself as "a girly girl" who loves to be pampered. She has also wanted to be a nun since she was four years old.
Like many of her contemporaries, the 25-year-old has spent the last few years travelling, partying and studying for a degree in languages at King's College in London.
She also worked as a model, but for her it was an unfulfilling experience and left her thinking again about devoting her life to God.
"I went to castings, they always wanted me to do catwalk shows," she says. "I remember after my first professional paid show, going home and feeling really empty. Feeling like 'is that it'? 'That's not great as I thought it would be'.
"I love people and I love having a good time, but that's not all there is."
Catherine has been visiting St Dominic's Priory in the New Forest, which welcomes guests and offers spiritual retreats throughout the year.
The Dominican sisters of St Joseph spend much of their daily life in prayer. But they also leave the convent to spread the word of God. Sister Hyacinthe looks after all the young women who are interested in joining.
"There is no predefining person that's meant to be a nun and fits the bill," she says. "The type of young women that come here live a normal life of drinking, boyfriends and partying. They've usually done it, or are doing it, and yet there's something more. They want more."
Last year there were just 20 women training to become a nun - known as formation - in the UK, according to the Conference of Religious, which represents the majority of religious communities in England and Wales. But of these 14 were in their 20s or 30s.
Over the last five years, the number of women under the age of 40 in formation has risen from 42% in 2006 to 70% in 2010, according to figures from the National Office for Vocation.
The Franciscan Sisters of the Renewal are based in the heart of Leeds and are one of Britain's most youthful religious communities. Their average age is 30. They work with homeless people and also visit schools and parishes.
Sister Jacinta grew up in Northampton. Before joining the Franciscan Sisters in her late 20s, she worked full time as an occupational therapist. Her initial desire to become a nun was tempered by fear of how it would change her life.
"I think the fear was that if I gave everything up that I thought was making me happy then I would be miserable," she says.
Sister Jacinta had been a nun for eight years before taking final vows and has now made a lifelong commitment to Christ.
"I can really honestly say in my heart that I wouldn't want to be doing anything else."
The only thing holding Catherine back from joining a convent is the thought that she might be missing out on marriage and motherhood.
"If you're romantic, if you really like the opposite sex and you would like to marry, that is a genuine sacrifice," she says.
"I do feel torn, pulled in two directions. I've been told I would make a good wife and mother and I would love to, if that's what God wants. I've been praying and saying 'give me that desire for one more than the other so I know where you're calling me'."
'Patience and courage'
Sister Jacinta has sympathy for women in Catherine's position.
"It's never easy to figure out 'where do I belong, where's God calling me to'? It's not like it just comes down out of heaven on a fax. It takes a lot of patience, a lot of courage."
St Dominic's admits new sisters once a year but has to be sure that any newcomer will fit in with the community.
"When I'm here I love it, and each time I come back I like it more and I want to join more," says Catherine. "They're such good, beautiful people and I admire them and I want to be like them.
"There's a big part of me that wants to give my life to God in this way and I'm taking the steps. If it's right, I'm totally willing to do it.
She had hoped to join the community this year, but the sisters of St Joseph advised her that she should wait until she was absolutely sure.
"We hope and pray that she does come back," says Sister Hyacinthe. "It's also a test. She really wants to join us now but will she want it in six months' time? And if not, that will be a good sign for all of us that this was not meant to be. It has to be a decision that comes before everything else the world has to offer."
For now, Catherine is studying at a Catholic school of evangelization in London and says she is "enjoying the journey".
"It can be frustrating, not always knowing where the future lies," she says. "But you can't enter if you're not 100% sure. I've never been a very patient person, so God is teaching me to be patient."