Andy Murray v Bunny Austin: Can Scot emulate 30s British great?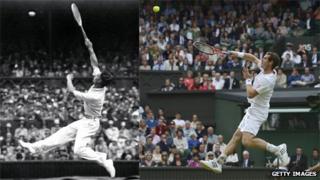 Andy Murray is a match away from becoming the first British man to reach a Wimbledon final since Henry "Bunny" Austin in 1938 - a feat which would book his place among the greatest home players of the post-war era.
The best male British tennis players, it seems, peak around the same time.
Bunny Austin (1932) and Fred Perry (1934) were both 25 when they reached their first Wimbledon finals, and now Andy Murray has the chance to do the same - at the same age.
The single-minded Perry - who launched his famous polo shirt in 1952 - went on to win three in a row, Austin was thrashed in both of his and Murray, well, we will see.
All three have tasted fame and celebrity, and yet their experiences and place in the history of the game are defined by their eras.
The more class-ridden, amateur past is in many ways unrecognisable from the professional age.
So, how does Murray compare to the last British man to make a final at SW19?
Correction July 12 2012: This story has been amended to make clear that, although criticised for his work with Moral Rearmament, Bunny Austin did enlist during World War II.