Christopher Columbus on his complicated relationship with Americans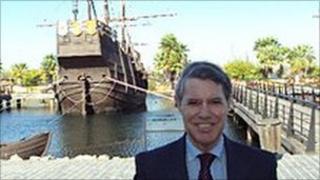 Christopher Columbus reflects on the legacy of his name and life in a globalised world.
"The last time I went to America was in June this year."
Cristobal Colon - known in the English-speaking world as Christopher Columbus - very naturally remembers his last trip to the New World, a trip to Panama.
He also recalls the first time he stepped foot on American soil: "It was in 1972, the port of Santo Domingo, Dominican Republic."
This is no historical aberration. They are the words of Cristobal Colon de Carvajal, Spanish Admiral of the Indies and descendent of the famous explorer.
His forebearer's famous name still attracts attention. When Mr Colon fills in a form or introduces himself, it's always cause for surprise.
"If I'm not in a hurry when I'm asked about my name, I usually explain who I am," says the 62-year-old from Madrid.
He admits to sometimes making up a quick explanation in order to avoid further scrutiny. "It's not just a question of missing a flight," explains the man who claims he leads "a normal life" despite his famous name.
A common bond
Still, it is hardly normal to hold the titles of Admiral and Adelantado Mayor of the Indies, Duke of Veragua, and Marquis of Jamaica.
The last two were first granted to Columbus' grandson, Luis, after reaching what Mr Colon calls a "forced" agreement with the Crown of Castile in order to end the famous Pleitos colombinos, or Columbus lawsuits. The Pleitos, which lasted for over 20 years, found Columbus's family suing for access to profits and property promised to Columbus for his discovery. The crown, Mr Colon explains, did not "honour what was agreed."
Nowadays these titles carry no privilege. "They are honorific," he says.
His name and his attitude towards the Crown are not the only things Mr Colon has in common with his famous ancestor. Both men dedicated their lives to the sea at a young age. An avid fan of water sports, Mr Colon started sailing as a boy. That made him think he could be an officer like his father, also named Cristobal, who died in a 1986 attack by the Basque nationalist group ETA.
Before graduating from the Spanish Navy School, he went on a voyage around the world. "I travelled on the training ship and arrived in America for the first time in the port of Santo Domingo - almost as Columbus did," he says.
'Living proof'
The 20th Christopher Columbus has another famous ancestor - Montezuma II.
He considers himself living proof that Spaniards didn't discriminate against indigenous people.
His opinion counters that of many indigenous movements, who have a hostile attitude towards 12 October Columbus Day celebrations.
Mr Colon considers that "a purely political issue."
He believes that his ancestor is often "blamed for all the bad things that happen in certain countries" and that some Latin-American politicians use anti-Columbus sentiment to "justify all the bad situations and lack of development since the Spaniards left their countries".
"Columbus was an explorer, nothing more," he says, and notes that an explorer and a conqueror are two very different things.
"Of course not all those who went [to America] were Spain's finest. They had their fair share of greed and desire to get rich," he says.
Reaching out
The anti-Columbus attitudes among some native groups has led to difficult situations when visiting America, though Mr Colon has always managed to smooth things over.
During one of his visits to North America he was "expecting a very negative and hostile attitude" from a native tribe in the northern United States.
"However, I had a very friendly meeting with them in Washington," he says, with no small amount of satisfaction.
Mr Colon dedicates most of his time to activities related to his ancestor, and has represented Spain as an ambassador for special missions related to Columbus.
What he most enjoys is visiting natives like the Pueblo, in the south of the United States. Those tribes, he says, hold a positive opinion of the Columbian and Spanish influences on their region.
The Dominican Republic, he says, has one of the best appreciations of Columbus' legacy. There, his ancestor is considered the Pater Patriae (Father of the Country). "The Columbus Lighthouse is like a modern pyramid," he says of the monument built in 1992. He also sees great recognition of Columbus in Argentina and Colombia.
On the other hand, he says, Venezuela and Bolivia have an overall negative perception of his ancestor. Those countries have waged "a fight not only against the European civilization, but also the western one," he says.
He claims that dissenters there have the intention of "making it look like Native Americans used to live in paradise." He feels there's a misguided sense of "disgrace for them being discovered by Europeans," who then destroyed that paradise.
"Today we all know that that paradise didn't exist at all," he says. "The great ancient American empires were sustained by slavery and human sacrifices of an astonishing cruelty."
Global legacy
The fight of some Native American people against 12 October celebrations has echoes of the fight against globalisation, a concept that Mr Colon considers very much linked to the legacy of his ancestor.
"Since the first moment, the discovery of America changed life in Europe," he says.
Globalisation made it possible for a recent visit by mayors and other officials from Panama - where Mr Colon is duke of the Veragua area - on the anniversary of Columbus' discovery.
During their trip, Colón took them to Palos de la Frontera, where the historic voyage started in 1492 and replicas of Columbus' caravels are exhibited.
With those ships, Columbus launched himself into the unknown and changed the history of the world. He also changed the life of this man from Madrid, who carries with pride his family history to places where it is welcome - and where it is not.