Fashion week: Why are women finally designing women's clothes?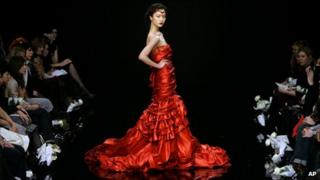 The top designers in women's fashion used to tend to be male. Why are women now taking over?
Once upon a time if a woman picked up an expensive dress, it tended to have been designed by a man. Christian Dior, Yves Saint Laurent and Gianni Versace are designers whose names are synonymous with feminine style.
They have been followed by Dolce and Gabbana, Alexander McQueen and Tom Ford. But as Paris Fashion Week opens, are women reclaiming their wardrobes from male designers?
It is a strange set of affairs. Such great leaps have been made in sexual equality. Fashion is an overwhelmingly female passion - the vast majority of fashion students are women. It is commonly said that women dress to impress each other rather than men. So why have there not been more women designing for other women?
Part of the reason is historical - men were traditionally on the technical and design side in fashion houses, working as pattern makers while women sewed on the buttons and dyed the feathers.
There were always high-profile women designers, from the pioneering Coco Chanel, to Mary Quant in the Swinging Sixties, and more recently Vivienne Westwood and Donna Karan. But they were bold exceptions to the male rule. And even Chanel has been closely associated with men like Karl Lagerfeld for many decades.
The designer and former Clothes Show presenter Jeff Banks says that on the whole men make better designers for women. It starts with a willingness to be frank.
"When women ask an opinion of another woman as to how they look, they always doubt the answer. Because a woman will always say 'oh you look great'."
He disputes the conventional wisdom that women today dress for other women. "I think both men and women dress to impress the opposite sex."
The difficulty women designers have had breaking through was explored in a landmark article in the New York Times in 2005. It noted that of 37 prizes the Council of Fashion Designers of America had awarded to young designers since 1986, eight went to women and 29 to men. It noted 20 of those were gay.
Tom Ford was quoted in the piece saying that men were more objective and therefore more trusted by women.
"Of course there are many more gay male designers," he said. "I think we are more objective. We don't come with the baggage of hating certain parts of our bodies."
Banks suggests that across society there are far more male than female designers.
"Designers are normally men. I don't know of an eminent motorcar or motorbike designer who was a woman. Or many female architects." It's not because of any lack of ability but because women aren't as "pushy", he says.
Julie King, head of fashion at De Montfort University, rejects such a reading. There are more plausible reasons for why fewer women have reached the top jobs, reasons that apply equally to many sectors.
Fashion is a high-stress industry that demands single-mindedness and women often end up compromising for family reasons.
"It's an age-old issue," she says. "A lot of women take a career break so don't want to push themselves forward that extra bit."
Gay men outnumber their peers in women's fashion for good reason, she says. They usually lack family commitments while also having an insight into what women want. "You don't meet many straight men in fashion apart from the accountant. And gay men are very influenced by strong female role models."
To attack the lack of women in fashion is a bit like asking why there aren't more women chefs, says TV fashion presenter Trinny Woodall. "It's how it's been. But the number of female fashion designers is growing."
And the High Street has been far quicker to embrace female talent than the catwalk. H&M's head of design is Ann-Sofie Johansson and her predecessor was also a woman.
At Top Shop Karen Bonser is head of design and Jacqui Markham design director. And all 28 of Top Shop's design team are women.
Daily Telegraph fashion editor Lisa Armstrong argues that the world has turned upside down since the New York Times article. The male domination is ending. "Six years ago they did have the power, it was McQueen and Galliano."
Now a younger generation of female designers are sweeping all before them - women like Isabel Marant, Phoebe Philo, Stella McCartney, and Sarah Burton, along with Miuccia Prada, who Armstrong rates as the most influential designer in the world.
Men like Lagerfeld, McQueen and Galliano were defined by the need to be spectacular, unlike the "self-effacing" Burton, who has won great acclaim since replacing McQueen and had the fashion moment of the year with Kate Middleton's dress. It is the women who now have the momentum, Armstrong argues.
"Men put on great shows. Women design clothes that people want to wear," she argues. And men are blamed for another annoying tendency - you can have any size you like as long as it's skinny. "Every male designer I've ever interviewed has liked women to be very thin," Armstrong says.
British designer Ozwald Boateng argues there's still a place for men in women's fashion. "It's not your area so there's definitely more objectivity. The result can be more surprising and women like to be surprised."
Women are succeeding but not at the expense of men, Boateng argues. The whole designer market is growing thanks to demand from China and India.
"Now there's more space for men and women to come through, especially younger designers. The fashion world has become global."