Somali pirates face hard time in US prison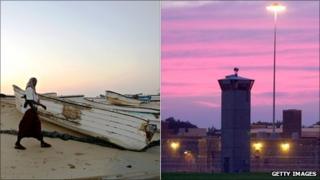 Two Somali pirates are expected to be sentenced to life in US prison on Monday, joining nine others who have just begun long sentences for their roles in hijacking attempts. What's in store for them as they enter the alien, unforgiving world of the American jail system?
Federal prison is a frightening, perilous environment of intrigue, violent gangs, terrible food and severe isolation, even for the most hardened criminal.
For men from a faraway land with little or no English-language skills and no prior familiarity with American culture, it will be especially hard, say lawyers for the men, and experts in psychology and the criminal justice system.
Barriers
Seven Somali men have already been sentenced to life in prison and two more to three-decade terms for their roles in hijackings of US-flagged ships. All the Somalis were brought to the US after their capture by the US Navy.
On Monday, Muhidin Salad Omar and Mahdi Jama Mohamed were sentenced to life in prison after pleading guilty to their part in the hijacking in February of the yacht S/V Quest, in which pirates shot to death four American yachters as the US Navy sought their release.
On Tuesday, four more men are to be sentenced to automatic life terms in prison following their guilty pleas to piracy counts in the Quest case. More are to be sentenced in the autumn.
"Piracy involves armed hijacking on the high seas with a very real threat of death to those taken hostage," says US Attorney Neil MacBride of the eastern district of Virginia, who is prosecuting more than a dozen pirates.
"The US Congress has set the penalty for piracy as a mandatory life sentence, and we intend to prosecute these cases to demonstrate that anyone who chooses to engage in piracy against US interests will face severe consequences."
The men speak little English, if any, and were raised largely in abject poverty in villages an ocean and a continent away from the US.
Language and cultural barriers will make it difficult for the men to form the support groups and informal social networks that lawyers and social workers say are necessary to get by in prison.
"They have all the stressors associated with prison," says Frederic Reamer, a professor of social work at Rhode Island College with extensive experience working in prisons and a member of the Rhode Island state parole board.
"But unlike most inmates, they cannot just go into the dining hall and sit at a table and start conversing with people with whom they have some shared cultural experience. They are likely to be isolated in every imaginable way."
Isolation
One of the pirates already experiencing the US jail system first hand is Abduwali Abdukhadir Muse, who is serving 33 years for his role in the April 2009 hijacking of the Maersk Alabama.
Dr Jerome Kroll, a University of Minnesota psychiatrist who has examined Abduwali Abdukhadir Muse, says that in Somali culture a young man's identity is intricately wound up in his clan affiliation.
This contrasts with the American man, whose identity is shaped by his relationship with - and adult separation from - his parents, says Dr Kroll.
Being stripped of that context can compound their sense of isolation and leave them vulnerable to depression, despair and demoralisation, says Dr Kroll, who has also worked extensively in the Somali expatriate community in Minneapolis.
The federal Bureau of Prisons is responsible for classifying inmates according to their security requirements and assigning them to one of dozens of federal prisons.
The Somali pirates will be evaluated on an individual basis and housed according to their need for drug treatment (some were regular users of khat, a mild stimulant), education and English-language learning, says spokesman Ed Ross. They will not necessarily be housed together.
Muse - said to be 17 years old by his lawyers, although prosecutors say he is over 18 - is currently housed in a medium-security prison in Terre Haute, Indiana.
He has suffered tremendously in US custody since his arrest in February 2009, court records show.
In addition to his mental health problems, the federal bureau of prisons has extracted at least seven of his teeth, his poor dental health being a sign of childhood malnutrition, his defence team argues.
After sentencing Muse in February, US District Judge Loretta Preska recommended that he be housed with other Somali prisoners and be offered educational training and English-language courses.
However, only 26 Somali nationals are housed in the US federal prison system, according to Mr Ross.
And as of the summer, Muse has remained on his own, his lawyer Philip Weinstein says.
"He lacks the companionship of the Somalis - his family, all of whom are very poor and can't visit him," Mr Weinstein says.
"Culturally adrift would be too strong a word, [but] it's not as easy for him as it would be for someone from the US."
Language barrier
The language barrier will exacerbate their sense of isolation, say people familiar with the men and their cases.
Robert Rigney, a lawyer who has represented two accused Somali pirates, bought a Somali-English dictionary for Burhan Abdirahman Yusuf and another client.
"That will help them adapt for the basics in jail and in prison, to say things like water, soap, shampoo, bathroom," he says. "As time goes on, they will learn the language. They'll adapt."
Yusuf speaks Arabic, Mr Rigney says, which could help him communicate, as more men in federal prison are likely to speak Arabic than Somali.
"There's a mix of emotions," he says of his clients.
"There's fear, there's survival, there's sadness, there's 'get through each day'.
"These guys are people, they're from a whole different part of the world and it's not like they got used to our culture in midtown Manhattan for 10 years. They came right from Somalia to an American jail."
No anonymity
The high profile of their crimes - and the fact that they will stand out in a prison population - could leave the men exposed to the violence and intimidation common in the toughest federal prisons, according to people familiar with their case.
"There are going to be a lot of inmates who are not going to feel kindly toward them and are going to give them a hard time," Mr Reamer says.
The men could be perceived as enemies of the US, Mr Reamer says, provoking the wrath of their fellow inmates.
"There is a very intense active, lively, and sometimes exaggerated grapevine in prison," Mr Reamer says.
"It's very hard to be anonymous in the pirate situation and I would be concerned about their vulnerability and their exposure in a typical prison setting."