Amanda Knox: What does the future hold?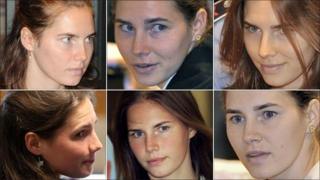 Amanda Knox has been freed from an Italian prison after winning an appeal against her conviction for the murder of British student Meredith Kercher. So what now for the 24-year-old?
For one family from Seattle, a four-year nightmare is over.
The relatives and friends of Amanda Knox are preparing to welcome her home, after her murder conviction and 26-year sentence were overturned by an Italian appeal court.
For them, her acquittal brings to an end a long campaign seeking her freedom and an arduous struggle to support her while behind bars.
There have been countless trips across the Atlantic, scores of Saturday morning phonecalls from the kitchen of her mother's Seattle home, plus the hiring of PR consultants and independent experts in an attempt to help her case and prove her innocence.
For although four young people were at the heart of this story, it was the University of Washington student that dominated it, dividing opinion as she did so.
All the mainstream American media was transfixed by the final verdict, reflecting the huge interest there has been in the US ever since the terrible events at Amanda Knox's former home, Via della Pergola 7, in the Umbrian city of Perugia.
More than 6,000 miles away, friends and relatives who had not travelled to Italy were jubilant at a hotel in Seattle where they had held a vigil through the night watching the appeal reach its emotional conclusion.
People close to Knox say that she has the character to handle the enormous scrutiny but will emerge from prison a different person.
"She is fundamentally the same wonderful and excellent person she has always been, but it's dampened her optimism and forced her to deal with a reality we would do anything to protect her from," says Jessica Nichols in Perugia, who has travelled from her Seattle home several times to support Knox.
"It has impacted her ability to inherently trust people, which was something she always did before this ordeal."
In prison, she has kept herself busy, says Ms Nichols, 24, who describes her schoolfriend as "loving, sweet and patient".
"She reads, writes, does yoga, assists other prisoners who can't write in communicating with their families. She plays guitar and sings with the church choir, and values the time she gets to walk outside each day."
Their conversations about her future have usually been about her regaining her freedom and privacy, she says, but Knox has also talked about a more specific ambition.
"She wants to work with people who are wrongfully imprisoned, and hopefully use her experience to benefit others, and make something good out of all of this ugliness."
Other friends recall her mentioning translating work as a possibility, now that her Italian has become more polished and she has been studying other languages while behind bars.
Ms Nichols and other friends of Knox have always maintained that the "Foxy Knoxy" party girl splashed across tabloids in the UK and Italy was not the girl they knew.
Photographs, videos, social network entries and stories from her past were used to portray the Jesuit-educated student as a temptress with a dark and callous side.
But this could not be further from the truth, says Sean Glynn, who befriended her at Seattle Prep and exchanged letters with her in prison.
"If they had revealed something embarrassing it might have been difficult to take, but this was so contrary to the Amanda Knox I knew that it was just stupid."
Unlike elsewhere, the American media has largely presented the case as a miscarriage of justice and Miss Knox as the victim of an antiquated judicial system.
Publications like the New York Times and Rolling Stone magazine have described how an innocent, bright but naive American had been mistakenly caught up in a terrible crime.
Oprah Winfrey also took up the campaign when she invited Miss Knox's parents to appear on a special edition of her show all about Knox's plight.
These two portrayals of Knox - as saint and sinner - were reaffirmed in court, during the trial and the hearing, when she was characterised as a "faithful woman in love" by one lawyer and a witch by another.
Lawyer Carlo Pacelli said: "Who is Amanda Knox? Is she the mild-looking, fresh-faced person you see here, or the one devoted to lust, drugs and alcohol that emerges from the court documents?"
To counter what they regarded as misinformation in the media, the family hired Seattle-based PR agency Gogerty Marriott to help protest Knox's innocence - part of a sizable publicity campaign criticised by prosecutors at the appeal - and they also paid independent experts to examine the evidence.
This all came at a crippling cost to the family, especially with countless flights to Italy to maintain a roster of prison visits. So the Amanda Defense Fund was set up to help. And another website, Injustice in Perugia, attempted to provide a detailed rebuttal of the evidence.
People in the US who knew Knox were so incensed by some of the media portrayals that they set up a group called Friends of Amanda to defend her reputation. Based in Seattle, but attracting members from around the world, it collected testimonials from people who knew her and organised letter writing to Miss Knox in prison.
Tom Wright, a spokesman for the group and the father of one of Knox's friends Sara, says there is a "180 degrees difference" between the real Amanda and the one in the news.
Despite the experience, he believes she has a very bright future and will return to a very supportive community in Seattle.
"I believe the majority of people here know that she's innocent and has been all along.
"Obviously there will be a period of transition where hopefully she will have time to heal with her family and probably keep a low profile for a time, as she re-adjusts to her new circumstances."
He thinks she will be in no rush to assess the huge number of offers coming her way - interviews, book deals and invitations - but will remember those publications that damaged her reputation.
But in a case that has divided opinion and provoked very strong feelings - the websites set up to support her release have received hate mail - many people believe Knox to be guilty. Indeed, the boos that were heard outside the courtroom after the verdict were an audible reminder of that.
The Kercher family has done very few interviews and refused to talk about Knox, but it said after the original trial that it was "satisfied" with the verdict. And last week in a rare appearance, Meredith's sister Stephanie said the victim had been forgotten as attention had shifted to Knox.
Natalie Hayward, who became friends with the British student in Perugia, went further and told the Sunday Telegraph she was immediately suspicious when Knox did not seem to be as shocked by the murder as other friends, and seemed to know details about the crime scene.
But in her home city, the prevailing mood is that Amanda Knox has been treated unfairly by the judicial system in Italy, says Linda Byron, a reporter at King 5 local television station, who has covered the story extensively and interviewed the family in the US and Italy.
"There's a sense that Amanda Knox was a good student who came from a good family and there was nothing in her past that predicted anything like this."
There are a lot of people who are waiting to welcome her home, she says, especially in West Seattle, the neighbourhood where her parents live.
"There will be others who think she's guilty and got off on a technicality but overall, she will get a warm reception."