Carla Bruni: My love for Sarkozy the gardener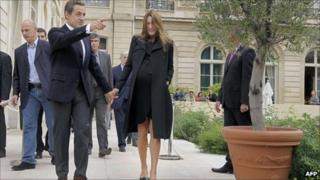 Carla Bruni-Sarkozy has always been media-shy, and since marrying French President Nicolas Sarkozy, the singer and former model has become even more careful about her image. But Christine Ockrent, one of France's best-known journalists and a personal friend of the first lady, was granted a rare interview.
Carla Bruni says her husband is "interested in every type of thing" - including history, geography, and of course politics - but it was his knowledge of gardening that captured her heart.
"When I met him, walking around the garden in the Palais of the Elysee, he keeps giving me all these flowers' names.
"He knows all the Latin names, all these details about tulips and roses.
"I said to myself: 'My God, I must marry this man, he's the president and he knows everything about flowers as well. This is incredible.'"
Palace baby
Mrs Bruni-Sarkozy is pregnant with her second child and has been rather quiet about it.
"I'm superstitious, so yes, I've been very careful," she says.
"But there isn't much to say. So many women are expecting children and giving birth and it's so uninteresting for French people.
"It's great news for me, but it's also something very banal."
However, this is the first time there will be a baby in the Elysee Palace - the French president's residence - and she acknowledges that it marks a change for France.
"I guess it's the modern world going into the French Republic, which is not bad," she says.
Part of the reason for that, she says, is that her husband is "a different type of president" - French presidents don't usually get divorced and remarried.
'Rock-and-roll' lifestyle
The marriage was, for both of them, an adventurous move, she says.
"Marrying him is very rock-and-roll for someone like me," she says with a laugh.
"Being able to change your life from one day to another, that's really rock-and-roll. Most people wouldn't go for this sort of change.
"Also from his side, it's very rock-and-roll, you know - after all, I'm a songwriter!"
But she insists that they have the opposite of a "rock-and-roll" lifestyle.
"I'm very quiet myself and we have a very quiet life.
"I like peace and solitude and silence. And his day schedule is so frantic that nights, evenings, we keep them for us as much as we can."
'Not a lazy type'
France has been convulsed by the accusations of rape against former IMF head Dominique Strauss-Kahn in New York and the collapse of the US criminal case against him.
If all this hadn't happened, he would most likely have been favoured to beat Nicolas Sarkozy in next year's presidential election. So I ask whether Carla Bruni watched Mr Strauss-Kahn's first account to the French people, on television last week, of the incident which led to the charges against him.
"I didn't watch it," she says. "My husband finished late and then we had dinner and watched a film."
But as the wife of a major public figure, what does she make of the very public support offered to Dominique Strauss-Kahn by his wife, the former journalist Anne Sinclair?
"I don't know what I would do if I was her. I really don't know," she says.
"But I'm very careful with opinions because I never know what the truth is. When I read what the press says about me, I don't really believe what it says about other people."
And when she stops being France's first lady, what does she hope to do?
"Just going back to touring, you know. Playing guitar and touring is what I miss the most.
"My dream life is just to go back to my job full-time. And be with my family. You know, regular dreams, common dreams that everyone has."
And what about her husband? What will his life be like after the presidency?
"He's going to work until he dies. He's that type of man. He's not a depressive type, he's not a lazy type," she says.
"He did many different jobs before. After taking care of France in the way he did it, I think you can do absolutely any other job."
Christine Ockrent's interview with Carla Bruni will be broadcast on Newshour on BBC World Service on Tuesday 27 September at 1300 GMT.