Leylandii: Why are they still so popular?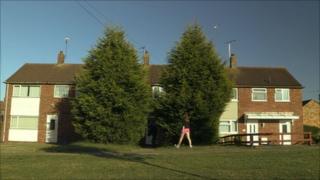 There are 55 million leylandii in the UK and there will soon be one for every person - but with thousands of people locked in disputes over the giant hedges why are they still so popular?
"They're big, they're bold, they're beautiful," says leylandii fan and tree curator Chris Reynolds.
He looks after the biggest hedge in Britain at the The National Pinetum in Bedgbury, Kent. At 130ft (39.6m) and rising it is the tallest and oldest Cypress leylandii in Britain.
"It's not a weak tree - it's a really robust, strong vigorous plant. They make a statement."
But leylandii have been at the centre of thousands of disputes between neighbours, sometimes involving violence. They can lead to lack of light, restricted views and even damage in neighbouring gardens, but still 300,000 leylandii are sold each year.
"The best kept hedge in Keighley is this," says Les Howard, a West Yorkshire naturist and another leylandii fan.
Standing stark naked in his garden with his two dogs running around, he tells of his love for his leylandii, which he carefully prunes.
"When I moved here, the lady next door said, 'How do you fancy taking this hedge down?' and I said, 'I could, Rose, but I do walk around the garden with nothing on'."
Luckily his new neighbours tolerate the hedge. "It does block a bit of sun from our garden but I'd rather have lack of sun than see him anyhow," they admit, laughing.
Liz Hughes from Wyvale East Garden Centre in Kent believes it is this privacy element that has made them such a commercial phenomenon.
"It does a good job if people want to block their neighbours off," she explains. "People are getting a lot more unsociable nowadays, gardens are getting smaller, people don't want to see their neighbours any more and this is a really good quick fix."
But if you do buy the trees for privacy many householders may be caught out by how fast they grow and how much it costs to get them trimmed.
Light fight
"I thought they were quite nice when I moved in," says Cath Lee, who moved into her Kent home three years ago.
But the 40 leylandii at the end of her garden had already been there for more than 15 years by then.
"I didn't realise they would drain the garden of all the water and nutrients and shade it so much."
The hedge forced her neighbour, 78-year-old Bet Baker, to sit inside with a SAD (seasonal affected disorder) lamp, to create artificial light, as the leylandii blocked almost all the light from her garden.
You do not have a legal right to light in your garden but Lee was keen to smooth things over.
After discussions over the garden fence, Lee decided to borrow the £750 she needed to get them cut back.
"I can't believe the difference - I'm getting sunburn."
Legislation came into force in 2005, when the government realised 17,000 people were in dispute over hedges.
In 2003 a hedge had even led to the death of two men. Robert Dickenson, 52, was arrested after allegedly shooting dead his neighbour, 66-year-old George Wilson.
Dickenson was found hanged in prison where he was waiting to appear in court on a murder charge.
"For many people who hated their neighbours, leylandii became a weapon of choice, as much as a gun or a knife.
"Feelings ran high on the issue," says Labour MP Stephen Pound, who was instrumental in getting the legislation through Parliament.
The rules come under the 2005 Anti-Social Behaviour Act and breaches can bring fines of £1,000.
But first neighbours must exhaust all avenues of negotiation themselves before the local council can be brought in. Different councils charge different amounts and some not at all.
In Enfield in north London, Tom Brazil has been involved in a 10-year bitter dispute over his neighbour's hedge.
"It's ridiculous - that shouldn't be allowed in suburbia," he says, gazing up at the neighbouring hedge. He is not impressed with the legislation.
"This council, Barnet, they charge £500 if you want to make a complaint. They then write a letter to the person and say a complaint has been made.
"Now if the person's got any sense they cut a foot off the top of the tree. The council then say to me, 'We've done it'.
"What they don't do is they don't set a maximum height for the hedge. So if I want to complain again next year because these things grow so quickly I have to pay another £500."
Leylandii is the most planted and the most hated hedge in Britain, but for those who are not fans there is bad news.
Tree experts say we still have not seen the ultimate height for a leylandii.
"We don't know [how tall they could grow]," says Chris Reynolds.
"It could well be that we end up with trees 200ft-plus, which is exciting from a forestry point of view.
"Not so exciting if you're in a bungalow - no, a bit of a nightmare really."