Sandblasted jeans: Should we give up distressed denim?
By Cordelia Hebblethwaite and Anbarasan Ethirajan
BBC World Service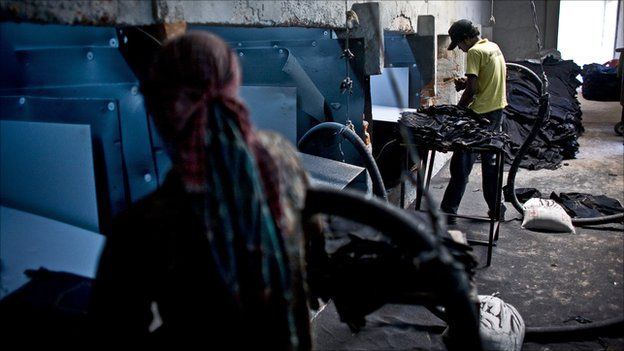 Jeans with a distressed, already-worn look have been popular since the 1990s, but one way the effect is achieved is by blasting them with sand - and this can give factory workers an incurable lung disease. So should we stop buying them?
"I have difficulty breathing... When I return from work I feel so tired. My eyes are in pain from all the dust," says an 18-year-old worker at a garment factory in Bangladesh.
Bangladesh is home to more than 4,000 clothes-making factories and many of the world's leading jeans companies use factories based there.
The worker, who agreed to speak anonymously to the BBC World Service, says he works 11 hours a day in the choking atmosphere, to earn a salary of $70 a month.
"I know the effects this is having on my health, but I continue to do it because I need to feed myself and my family," he says.
"I am a poor man, so I do this to survive."
Manual sandblasting of jeans requires just a hose, an air compressor and sand - workers literally blast the jeans with sand, to give them a worn look and to soften the denim.
Silicosis is caused when small particles of silica dust from the sand embed themselves within the lungs.
It causes shortness of breath, coughing, weakness and weight loss. It's incurable - and in its acute form, fatal.
After lobbying from campaign groups, many other companies have followed suit, saying they have either banned sandblasting from their supply chains, or are in the process of doing so.
But this is not always easily done.
Companies in the garment industry tend not to own the factories that make their clothes, and work is often sub-contracted out from big factories to smaller, less well-regulated ones.
"We are still in the very early stages of the ban," says Sam Maher, co-author of a report on sandblasting by the international pressure group, the Clean Clothes Campaign.
"There is still the worry that it is more of a paper commitment."
"It's such a poorly-controlled industry. Companies need to have a much stronger grip on their supply chain than we believe they do."
There are other ways of producing distressed jeans - using lasers, or scraping by hand or machine, for example - which result in a similar effect. So consumers have no way of knowing whether they are buying jeans that have made a worker ill on the other side of the world.
The sandblasting backlash began in Turkey, one of the world's biggest exporters of jeans.
In 2004, a doctor in a village in the Bingol region in the east of the country became suspicious, after conducting medical tests on a group of young men about to start military service.
Dozens of them were suffering from silicosis and all had been working in denim sandblasting factories in Istanbul.
It was the first time that the illness - which has a long history among workers in construction and mining - had been found within the garment industry.
To date, 46 garment workers have died from silicosis in Turkey, and there are 1,200 registered cases - though doctors suspect the true number of people affected there is much higher.
Five years after the discoveries in Bingol, the Turkish government banned sandblasting. But in other countries the issue has received scant attention.
"It hasn't become a big scandal in the way it should have done," says Sam Maher.
The Clean Clothes Campaign believes that sandblasting just moved from Turkey to other countries - including Bangladesh, Pakistan, China, and Egypt.
It is hard for journalists to gain access to factories making jeans in Bangladesh, but one factory owner did agree to show the BBC around.
"One hundred per cent of our buyers are outside the country. We are dealing with world renowned buyers," says Mohammad Jahangir Alam, Executive Director of Express Washing and Dyeing Limited, just outside the capital Dhaka.
His factory has some sandblasting machines which he is happy to show and demonstrate - but he insists they are no longer in use.
"We have stopped sandblasting totally... The sandblasting unit is absolutely closed, it is under lock and key - this section is not being used nowadays."
"Everything is visible, nothing is secret," he says.
"Buyers are employing a lot of manpower for auditing this sort of thing... there are evaluations without notice. Sometimes in the evenings, buyers suddenly come."
The Clean Clothes Campaign wants the European Union to ban the import of any clothes produced using the sandblasting technique, and for the World Health Organization and the International Labour Organization to add sandblasting in the garment industry to their lists of hazardous occupations.
They also argue that companies should provide medical help for any workers who may have contracted silicosis.
"It is not really enough to say 'From now on, we won't do it,'" says Sam Maher. "They also need to take responsibility for those workers that have already been made ill... without treatment, they are going to suffer a fairly horrific death."
No-one knows how many people around the world could have contracted silicosis as a result of making distressed jeans.
Because there is no history of it within the garment industry, doctors are unlikely to diagnose it among workers in that sector. Campaigners say many cases are likely to have been mistaken for tuberculosis. The symptoms are similar - indeed it is common for a person to suffer from both at the same time.
Levi Strauss & Co told the BBC it was not aware of a single case of silicosis among any worker within its supply chain, and said that before the ban come into place, work was done according to the strictest safety standards.
Orsola de Castro, Founder and Creative Director of the ethical fashion label From Somewhere, argues that consumers also have a role to play.
"Clothes don't magically come from trees," she says. "There is a supply chain behind it, and there are real human beings behind our jeans."
One way of cracking down would be to introduce a labelling system to identify denim that has not been sandblasted - though this would take time to implement.
Much simpler would be for consumers to stop buying distressed jeans, says Orsola de Castro.
"I believe that distressed denim will be seen as one of the great madnesses of this generation... a sign of fast fashion at its most ridiculous."
"I don't think it can be a badge of pride, I think it needs to be a badge of shame."
Related Internet Links
The BBC is not responsible for the content of external sites.