How to make a $16 muffin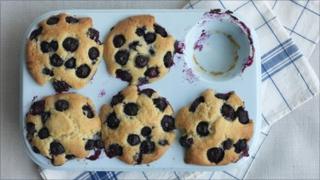 The US Justice Department apparently paid $16 (£10) apiece for muffins for its staff. While this includes service charges and other mark-ups, could you make a fiendishly expensive muffin at home?
Flour, sugar, eggs, milk, butter. Prices of these key baking ingredients are on the up. But even so, making muffins from scratch costs well under a dollar apiece.
So how can Stateside officials run up a bill of $4,200 for 250 muffins at a conference in a Washington DC hotel? This was the figure given in an audit by the US Justice Department's Inspector General released on Tuesday.
"By itemizing these costs, we determined that, with service and gratuity, muffins cost over $16 each," the auditors concluded.
Really? No, says political blogger Kevin Drum of Mother Jones, the $16 muffin is a myth.
"In fact, it's obvious that someone quite carefully calculated the amount they were allowed to spend and then gave the hotel a budget. The hotel agreed, but for some reason decided to divide up the charges into just a few categories instead of writing a detailed invoice for every single piece of food they provided."
This aside, the Magazine has asked expert foodies for advice on how to make a truly lavish muffin in the comfort of one's own kitchen.
Cookery teacher Mary Cadogan, formerly of BBC Good Food and Olive magazines, has devised a recipe especially for our readers.
She sweetens her luxury muffins with manuka honey from New Zealand - "the world's most expensive". And as well as butter, she uses extra virgin sunflower oil at £3.99 for 250ml.
These - along with the finest flour, eggs and milk - forms the batter, into which she carefully folds dark chocolate, dried blueberries and Macadamia nuts - 125g for £4.92. She then spices the mixture with tonka beans, the fragrant seeds of a a South American tree.
Her recipe costs a not inconsiderable £14.90 ($22.87) to make 12 muffins. But at £1.24 ($1.90) apiece, that's a long way short of the mythical $16 each - even though it is more than double the cost of a common-or-garden homemade muffin.
Food writer Stefan Gates suggests using a precious metal as decoration. "You could cover it in pure 24-carat edible gold leaf, although even that only costs 75p ($1.15) per sheet, and you'd only need one to cover it."
That brings the total production cost up to £1.99 - or $3.05 - apiece.
Baking expert Dan Lepard offers his own take - Billionaire blueberry muffins for an attorney general's lunchbox - based on Paul Hollywood's muffin recipe.
use soft imported Italian 00 flour to give the crumb extra-fine texture
and AOC French unsalted butter from Echire or D'Isigny - "very expensive but with a rich, slightly nutty flavour"
an egg from British heritage flocks - "don't go for brown or white eggs, go for blue hen's eggs as they're much pricier although the taste is no different"
and Californian organic blueberries - "impossible to get here in the UK, but the return flight will make those muffins even more exclusive"
Nor does he stop there.
"Gild it further with chunks of Amadei or Valrhona chocolate stirred into the mix, and brush the top with gold leaf stirred through sugar syrup to finish."
Emily Angle, editor of the BBC Food website, also starts with luxury base ingredients such as French Violette T45 flour, typically used for brioche and croissants, and Normandy butter "for extreme richness".
Again, what pushes up the cost are the flavourings chosen.
"What about wild strawberries - flown in from Switzerland at about £6 a kilogram - champagne rhubarb and Bourbon vanilla?
"Or perhaps a coffee and walnut muffin using Kopi Luwak (civet coffee) and Jamaican Blue Mountain. A blend was on sale in Sloane Square for £50 a cup."
But what really pushes up the cost, she says, is the packaging, the transport, the marketing and the staff to put the muffin on a plate.
Additional reporting by Dominic Bailey