Fashion week: From the catwalk to the street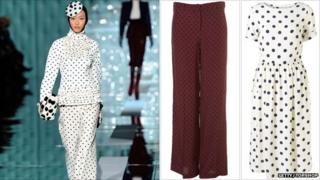 The eyes of the fashion world have now turned from London to the catwalks of Milan. But how much do the shows influence what real people wear?
The catwalk season is in full swing. New York and London have strutted their stuff and the spotlight is now on Milan.
Hundreds of buyers and journalists have descended on the Italian fashion capital where they will be scrambling for a look at what the world's top designers have created.
The buyers will pick the items they want for their boutiques and the press will pick their trend selections. They will also book out garments to take on shoots to coincide with the new collections hitting the shops.
But a certain sector of the fashion industry is always missing from these high-profile shows and that is the big retailers who cater for the vast majority of people who buy clothes. They are not invited but their in-house designers will be poring over the first pictures like detectives examining a crime scene.
Fashion commentator Caryn Franklin says as soon as a show takes place, the retailers are "collecting the digital photos ready to create trend boards for their own designers".
"High Street designers don't get invited to shows. In the old days that was a problem because they could not see what was going on and footage would sell on the black market for £100 a roll.
"A retailer can now get as much imagery as they want and the designers aren't able to protect themselves in the way they were. Tom Ford recently did a closed show because he didn't want it to be available for anyone to reproduce."
For many people the catwalk is other-worldly, populated by eccentric artistes who create outrageous clothes that few would dare walk down the street in.
But even some of the more bizarre clothes filter down to the street. The late Alexander McQueen's buttock-baring "bumster trousers", which appeared in 1996, spawned the trend for hipster jeans.
The shops are currently awash with polka dots, inspired by Marc Jacobs' autumn/winter collection, paraded during February's fashion shows. And Prada's bold stripes and Gucci's colour blocking were hot trends this spring/summer.
Mustard was a recurring theme on the recent catwalks in New York and London and no doubt it will soon be the yellow of choice for magazines, celebrities and the big retailers.
Johanna Payton, head of fashion for stylecompare.co.uk, says the catwalk is where it all begins.
"It takes about 10-12 weeks to get to the High Street but in reality the current shows are spring/summer designs and we will see them pop up in shops in February."
But she says the big retailers can take a key feature from these shows and incorporate it into new designs for its current seasonal collection, as well as getting its designers to work on interpretations for the next.
Zara is one of the big retail giants renowned for fast fashion. The company says speed is its "No 1 priority" and its quickest turnaround time is two weeks.
Their design team numbers 200 and the chain has its own manufacturers and distributors, allowing it to adapt merchandise to customer tastes in the shortest time possible.
Designers can spend months sourcing raw materials and piecing together intricate outfits.
The big retailers can sell hundreds of thousands of their cheaper, less complicated designs but if it is too similar, then the designer's exclusive clientele will be put off wanting that covetable item if they see it everywhere.
As the expression goes, imitation is the highest form of flattery but there is a fine line between interpretation and an out-and-out copy.
In 2007, Topshop had to bin almost 2,000 frocks after Chloe brought legal action against the chain over a yellow dungaree mini-dress. While Topshop never admitted copying the outfit, it paid the label £12,000 in compensation. The Topshop version cost £35, while the original price tag was £185.
In 2006, Jimmy Choo accused Marks and Spencer of copying its Cosmo silk satin evening bag with a jewel buckle, which was retailing at £9.50 compared to £495. M&S never admitted liability but destroyed thousands of the bags.
Franklin says: "The High Street creates the looks they see on the catwalk for their own audience and they believe they recreate it 'in the spirit of'.
"The copy is safe if there are enough tweaks and creative features to differentiate it."
Of course, the big retailers do support designers through collaborations or diffusion lines as they are known. Roland Mouret did Gap, Roksanda Ilincic has created for Debenhams and Stella McCartney for H&M.
Jo Hooper, head of womenswear buying at John Lewis, says retailers have to respond to the demands of their customers, who are inspired by what they see on the catwalks and knowledgeable about the designers they see in the shops.
"Consumers have never been as well informed. The consumer can see what's on offer around the world, not just in the UK. And all this goes with the desire to have what you want when you want it."
However, it is not just the catwalk that inspires the clothes we wear. Music and art have inspired fashion - skinny jeans became a wardrobe staple at least in part thanks to indie groups.
Celebrities can also have designers rushing for their pencils and sketchpads. Kate Middleton's royal blue Issa engagement dress and the Reiss bandage dress she wore when meeting Michelle Obama sparked a replica rush and a buying frenzy.
Hannah Almassi, a fashion reporter for Grazia magazine, says street style is a big inspiration for a lot of girls at the moment, with trends - such as black ribbons around shirt collars - finding their way to a wider crowd.
Every week Almassi pounds the streets of London with a photographer on the hunt for those who do not want to be a "slave to fashion".
"There are a lot of girls who want to be individual whether they are taking their inspiration from the catwalk, the High Street or the magazines. They want to make it their own."
She says the High Street chains will have their own in-house creative forces and their own best-selling items to maintain and develop.
"It cannot all be catwalk-inspired items. Girls need basics too."
Additional reporting by Virginia Brown