Is it too early to be Christmas shopping?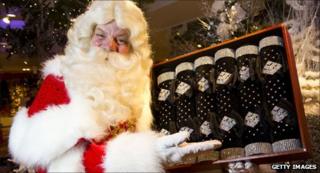 Summer is still fresh in the memory, and yet Christmas shopping in the US and the UK is already under way. But is September just too soon?
Leaving the warm Virginia sunshine outside and walking into the bulk-buy Costco store in Pentagon City, it's easy to spot the Christmas aisles.
They're the ones that twinkle from the starry lights on the trees or, to be more precise, the Pre-Lit, Easy-Shape Christmas Trees, which are yours for $259.99 (£165).
Follow the stars and you're confronted by row upon row of wrapping paper, decorative ribbons and hand-painted Nativity sets. And even flameless, LED candles.
The scene is one that warms many hearts in December, when the advent calendar is being demolished. But in September?
Some Costco customers do a double-take when they spy the seasonal aisles, quickening their step and pushing their trolleys past.
But many stop to browse and buy.
"It's too early but if you don't buy it now, it's gone," says Rebecca Kotter, 55, as she picks out wrapping ribbons.
"I'd rather it was later. You know, let's first get through Halloween! But you've got to grab it because they get rid of their ribbons very quickly."
Others say it's less stressful to start early and there are more bargains at this time of year.
"We're usually last minute," says Todd Lee, 24, as he puts a children's Nativity set into his trolley. "But we can't put anything off any more," he adds pointing to a pram he's pushing. With a two-month-old daughter, he and his wife don't have much spare time for shopping - they have to make the most of every trip.
Costco stores began stocking its Christmas lines at the end of August or the start of September, says Richard Galanti, chief financial officer.
"It creates a bit of excitement. People come in and say 'I can't believe they've got this!' It's something that we've always been successful at. We are typically 'in season' early and out early."
With a mark-up of only 10-11%, he says, they can't afford to have a lot of seasonal mark-downs nearer Christmas. So by the first week in December, many Christmas lines will have finished.
And if the sight of tinsel and snowmen annoys people in summertime? "They don't have to buy it," he says.
Costco is one of a number of big chain stores in the US which is getting into the Christmas spirit in September. Walmart has brought forward its seasonal merchandise two weeks early this year, to the end of this month.
They're just responding to demand, says Mike Gatti of the National Retail Federation. And done sensitively, an early Christmas display can be profitable in a very challenging year, he adds.
"Some say they're waiting until after Halloween, while others are saying that customers picking up holiday merchandise very early and they want to make sure they meet their demands.
"Customers could be standing there with a pumpkin picking out a Christmas tree ornament."
There is a risk it can put some customers off, he warns, so it's important to hit the "sweet spot" when you maximise sales without alienating too many people.
In the UK, retailers have a clearer run-up to Christmas because there is no Thanksgiving, while Halloween is not yet as commercial as it is in the US.
A full 151 days before 25 December, when most Britons were in sunglasses and shorts, Father Christmas opened the Christmas department in Harrods, London's most famous department store.
The sound of jingle bells filled the room and it was still July, the earliest it had ever started its Christmas season.
It was the same picture in Selfridges, on London's Oxford Street, and on the same day - again the first time the department store had unveiled its Christmas display in July. A spokeswoman says there was a 40% rise in the number of international visitors in August, partly due to the seasonal offerings. The shop sold 2,000 Christmas baubles in the first seven days.
"I don't blame shops for trying to get shoppers early in these tight times, and perhaps we need some Christmas cheer after a wet summer," says Samuel Barker of the Relationships Foundation, based in the UK.
"But as Unicef pointed out last week, gifts are no substitute for time with families, and people should not be fooled into thinking they are.
"Furthermore, with household debt a significant issue for many people, let alone the economy as a whole, consumers, shops and government should be working together to reduce, not increase, that pressure."
All-year-round Christmas shops have been a feature in US tourist towns for years, and have begun popping up in the UK now too. But spare a thought for the staff.
Cheri Hennessy, owner of the Christmas Attic in Alexandria, just outside Washington DC, says "Happy Christmas!" every day.
"By the second week of December I'm tired of having glitter in my hair," she says. "But when I put my feet up and look at my Christmas tree, I'm very happy."