Journey to Argentina's forgotten territory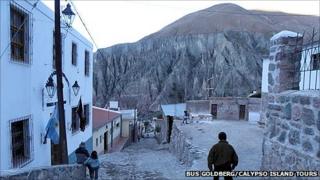 Argentina has one of the biggest economies in Latin America, but in this huge country there are still some areas that are worlds away from the wealth and technology of the capital.
There is an advert on Argentine television for a bank that sends a mobile unit to the remote town of Iruya in the north-western province of Salta.
Getting there is not easy. The final two and a half hours are along unpaved roads that wind their way through the mountains at more than 4,000m (13,000ft) above sea-level.
Iruya is a picturesque, thriving little town full of hostels and quaint restaurants that attract tourists from both Argentina and beyond. The purpose of the advert is to show that the bank cares, even about the country's most remote communities.
Argentina is dominated by its capital, Buenos Aires. More than half the country's 40 million population live in the city or the province of Buenos Aires that surrounds it.
Much of the rest of the eighth-largest country in the world is sparsely populated.
A common complaint, as it has been for the 200 years that Argentina has existed, is that Buenos Aires does not care about the rest of the country, that too much attention, too much investment is focused on the capital.
Even the great Inca Empire was late getting round to conquering this often forgotten territory in what is now north-western Argentina.
Evidence of Inca domination is sparse. But they did reach the peak of Llullaillaco, the highest mountain in the region.
In 1999, archaeologists found the well-preserved bodies of three young people who had been taken to the mountain top to be ritually sacrificed to the gods. They had been given an alcoholic drink to put them to sleep then they were left to die.
Sacrificed
The two young girls and one boy were found with items of jewellery and other personal possessions. Their remains are displayed in the Museum of High Altitude Archaeology in the city of Salta.
There it explains that it was considered an honour to be sacrificed and only the healthiest, most attractive children were chosen. They were fed a nutritious diet before walking, probably from the Inca capital, Cuzco, to their death.
Then, like now, this region is a long way from the centre of power.
What I notice as I travel north, away from the bustle of Buenos Aires, is that the bank notes get increasingly grubby, torn and illegible.
Notes that would be treated with contempt in the capital, where they possibly would not even be accepted as legal tender, are exchanged freely and without comment in the cities of Salta and Jujuy.
Even the news on national television is of crime and traffic congestion in Buenos Aires, hundreds of miles away and with no bearing on the lives of the inhabitants of these distant communities.
Beyond Iruya there is a dirt track leading to the village of San Isidro where electricity arrived only a year and a half ago.
Then beyond San Isidro there is a narrow mountain path. It is a four-hour walk to the next village, San Juan, which has a population of about 60.
San Juan is not so much a town or a village, more a sprawl of adobe brick and stone houses, each surrounded by ploughed, dry earth, in the folds of the mountains.
There is a small, compact white church and the only other white building is a rectangular school with solar panels where the Argentine flag is raised every morning.
There is no mains electricity here. There are no roads, just steep paths, strewn with stones that crunch underfoot.
The silence is only broken by the sound of dogs, donkeys, goats and chickens and the tweeting and squawking of birds.
The sky is a deep blue, the contours of the mountains razor sharp.
Since San Juan is largely without power, when the sun goes down darkness prevails, pierced only by the occasional flicker of candlelight. By 20:30 in the evening, the sky is a blanket of stars and milky-white stains.
Its inhabitants tend goats and grow carrots, alfalfa and several varieties of potato. But they cannot sell their produce in local markets, since their town is too remote, the roads too few and far between to get it there. So they harvest what they need for their own consumption and operate a system of barter with what is left over.
It looks idyllic. But our guide, Evaristo, who runs the only hostel in the community, told me that many have left to seek an easier life in the cities.
As he has paying guests, he needed to install a bathroom. But the only way to get the sink, toilet and pipes to San Juan was by donkey.
Evaristo went to buy us a bottle of water, from the house of a relative, for the return trek to Iruya.
He hands me my change, a two peso note, the grubbiest and most fragile that I have so far encountered, with the face of national hero Bartolome Mitre barely recognisable.
But it is still legal tender, just. Symbolic perhaps of how far, in so many ways, San Juan is from Buenos Aires.
How to listen to From Our Own Correspondent:
BBC Radio 4:
A 30-minute programme on Saturdays, 1130.
Second 30-minute programme on Thursdays, 1100 (some weeks only).
Listen online or download the podcast
BBC World Service:
Hear daily 10-minute editions Monday to Friday, repeated through the day, also available to listen online .
Read more or explore the archive at the programme website .