Fashion week: The ordinary people who stole the show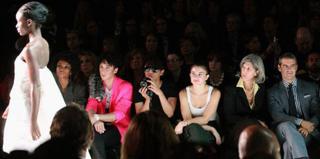 As New York Fashion Week gets under way, fashionistas will be relying less on magazines and more on bloggers to tell them what they'll be wearing come spring.
Many people might not have heard of Tavi Gevinson, Scott Schuman, Susie Bubble and Bryanboy but they are household names to dedicated followers of fashion.
All four are big players in the blogging revolution that has turned the fashion world on its head.
For years fashion was something written about by a small number of publications whose writers guarded their access to shows and designers as fiercely as their Chanel handbags.
Even those whose sartorial experience amounts to a fraught trip to a shopping centre to replenish their wardrobes with essentials will be aware of the fashion bibles such as Vogue, Elle and Harper's Bazaar.
These glossies contain expensively-produced adverts alongside picture-heavy reflections on the season's catwalk trends from the likes of Prada, Chanel and Dior, timed to coincide with them filtering into shops. Titles such as i-D, Dazed and Confused and FRUiTS represent the more radical end of the fashion magazine market.
But bloggers have been chipping away at the mainstream media as more and more people want to hear about fashion from people who apply it to everyday life.
Like consumers, the blogs come in all shapes and sizes. Schuman's Sartorialist blog photographs style as it catches his eye on the street, finding inspiration in everything from designer dresses to filthy workwear. Gevinson, who is now 15 and started Style Rookie at 11, has found fame by taking the catwalk and translating it through the mindset of a fashion-obsessed teen in her bedroom.
Bryanboy is the confessional journal and window into the world of Bryan Grey-Yambao, a camp and sometimes caustic commentary on his life and obsessions.
The hierarchical fashion landscape changed beyond all recognition with the advent of digital media.
The situation was summed up by the flamboyant, meat-dress wearing Lady Gaga in her column for V Magazine: "The reality of today's media is that there are no echelons."
She believes the views of Gevinson are equal to that of Cathy Horyn, fashion critic for The New York Times with 25 years experience, and the Pulitzer-prize winning Robin Givhan of Newsweek and the Daily Beast.
Beyond the written word, online video platforms, digital photography and social networks have revolutionised the relationship between consumers and brands. Now anyone can be a critic.
Fashion brands broadcast their catwalk collections online and people can post an almost instant review on microblogging sites. Others go further and post videos and pictures of themselves flaunting their unique style or latest purchases.
YouTube is awash with videos of teenagers showing off their haul of clothes and cosmetics to their peers.
The phenomenon, known as "hauling", has been big news in the US for the past year and is now going global. It's not gone unnoticed by brands eager to capitalise on the apparently independent recommendation from the sort of person they want to buy their clothes.
The blogs that have stood out from the crowd tend to be chatty - short on analysis, long on opinion - and confessional. But the secret to their success is a quirky individual voice and distinct sense of style.
Robin Derrick, former Creative Director of Vogue UK, argues there are only a few really good blogs out there.
He says they made the meteoric rise to the fashion front row because the traditional print media were slow to fill the vast space emerging online.
"Nothing compares to the landscape change. It was an incredible collision of so many things all coming of age at once."
Bryan Grey Yambao - better known as Bryanboy - doesn't see himself as replacing fashion journalists. He says his personality is his USP and that's what drives people to his site.
"It's quite sad how quickly the traditional media were to pigeonhole bloggers as the future of fashion journalism.
"It's a different outlet, just like magazines are completely different from newspapers. It's a complement to what they do."
Lisa Armstrong, fashion editor at the Daily Telegraph, insists that newspapers have always recognised the powerful reach of the web and the need to engage with a younger audience who get their information online.
"We can all do speed, we've all got websites. It's not us against them. Newspaper fashion editors have got enormous experience and know what they're talking about."
She's not intimidated and welcomes bloggers bringing more people to fashion.
"What's great is that you can engage with fashion on every level - you can get all sociological and read 6,000 words in The New Yorker or you can read the blogger saying 'these platforms [shoes] are orgasmic' and I'm fine with that."
For many people fashion is an inhospitable, impenetrable and intimidating world. But bloggers have helped break down that perception of fashion as something that you had to be an insider to understand.
"It's made everything more approachable. When it comes to the traditional media, they have a very strict one dimensional view of things," says Bryanboy.
The old guard, initially undermined by the rise of bloggers with nothing more than a laptop and an internet connection, effectively retaliated by giving the bloggers the two things they didn't have - money and access.
Derrick feels the era of bloggers as an alternative free press, as independent voices, is already coming to an end as they increasingly seek to make a living from their sites and reputations.
Early adopters such as Susie Lau of Style Bubble and Scott Schuman of The Sartorialist have become part of the new digital media establishment, where they face increasingly well-heeled competition from digital editions of Elle and Vogue, as well as the brands themselves.
Schuman's Art of the Trench collaboration with Burberry is considered one of the most successful projects to combine the old and the new.
But the changing role of the star bloggers is not without its ironies, according to Armstrong.
"They do these projects online and then come to the journalists saying will you write about them. They still want the prestige and validation of being in print even though online gets more hits."
While big fashion brands still want the kudos from featuring in glossy magazines, they are trying to make their own websites the first port of call, says Derrick, who left Vogue to set up Spring, an agency specialising in digital fashion and beauty projects.
But Bryanboy says people will still want the views of independent bloggers because they are "more authentic" and "free to say what we want in spite of our commercial ties".
However he admits that the ease of access means it's tougher than ever to make the cut.
"Do we really need another girl taking photos of herself on the street and posting pics every day? In order for a new blogger to make an impact they really have to offer something new."