Fake tan: How did it become the new normal?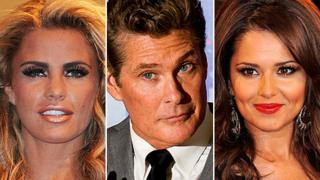 The fake tan's move to the mainstream is now complete, and even public health bodies are having to take notice. So why is artificially bronzed skin the new normality?
"If I had to choose a religion, the Sun as the universal giver of life would be my god," Napoleon Bonaparte once said.
In the 20th Century, sun worshipping usually meant one thing - pale-skinned people getting a tan.
There are still plenty of people who are happy to shun years of health advice about skin cancer risks and use sunbeds or frequent holidays to maintain a tan.
But the health concerns have meant high-factor suncream is selling better than ever and a tan is as likely to come out of a bottle than from exposure to ultraviolet rays.
St Tropez, one of the leading self-tanning products in the UK, sells three bottles of bronzing mousse a minute around the world. In the UK, 41% of women use self-tanning products, the company says.
People are going to increasing lengths for a tan. The Sunday Times reported that scientists have developed an implant that would give a three-month tan without risking skin cancer. According to the paper, one cancer research charity said the drug had the potential to prevent almost 12,000 cases of malignant skin cancer.
Earlier this summer the UK government's watchdog for healthcare products advised people not to use a tanning nasal spray, which was illegally on sale. Side effects were said to include nausea, migraines and dizziness.
The march of fake tan has been remorseless. Retail analysts Mintel estimate that Britons spend £35m a year on fake tan products from shops, and spend millions more on lotions and sprays in salons.
After the royal wedding, retailers spoke of a sales spike from the "Middletan effect", a reference to Pippa Middleton's dark, glowing complexion.
And there's a shift even in the way that tans are talked about - an assumption that tanned skin is a desirable end. A public health campaigner now is not likely to advocate pale skin as a healthy alternative to sunbed tanning - they're much more likely to discuss safe ways of appearing tanned.
There's a growing perception that pale skin has become obsolete for a big section of the West's population.
Of course, there isn't wholesale acceptance of the rise of fake tan. Last week it figured in a row over child sexualisation after the Sun reported that a mother was giving her four-year-old daughter spray tans at a beauty salon.
Regardless of time of year, large numbers of women, and a small but growing band of men, are sporting rich, dark-hued complexions on what would otherwise be pale faces, says social commentator Peter York.
"It doesn't look like a tan. A tan bashes your skin up and these products look fantastically smooth," York notes. Fake tan is mockingly associated with the Tango shade of orange, and permatanned celebrities - like Katie Price, Christine Bleakley, Cheryl Cole, and the entire cast of ITV's The Only Way Is Essex - are often lampooned.
Perceptions of the tan have fluctuated over the centuries. In the Victorian age, dark skin was a sign of toiling in the fields, says York, author of The Official Sloane Ranger Handbook. "In those days the leisure class did things to indicate that they were above and beyond work. A tan signified that you were a worker."
But in the 1920s, tanned skin became associated with a sophisticated elite who holidayed on the Cote d'Azur. It was a look that was thought to signify health and vitality.
With the advent of package holidays in the 1970s and 1980s the tan became accessible to people not used to hot climates. And over the following decades its image was to change.
An increasing number of older people were developing "leathery complexions", York says. And mounting medical evidence showed the clear link between sun exposure and skin cancer.
Today all those worries have been banished by the miracle of fake tan, says beauty salon owner James Read. "When I apply my tan I feel and look healthy. If I haven't done it I feel I can't go out."
The quality of fake tan has improved since the bad old days, Read claims. People used to complain of bad smells, orange streaks and stains on clothing and sheets. The image problem was epitomised by an episode of Friends where Ross emerges from the beautician with one half of his body dark brown, the other pale.
Today mousses, sprays and liquids last for 4-5 days and bronzing lotions more than a week. And a salon spray can mimic a real tan with a layered tan that fades evenly. "The trick to the perfect tan is to make sure the hands, wrists and feet look perfect," Read says.
It's also more healthy, he argues. People today will use high factor suncreams on holiday. But they want to do the groundwork on their skin shade first. "The average person going to Ibiza today wants to go there already brown. They don't want to have to sit in the sun and fry."
Some health campaigners have welcomed the emergence of fake tan as a safe alternative to the sun. But there's another view - that the ubiquity of fake tan simply increases the coolness of sunbathing. Studies in the US and Australia cited by the New York Times in 2007 showed that women who used fake tan were more likely to get sunburnt or use a sunbed.
And a survey this summer of British 16 to 24-year-olds found that 20% never apply suncream while abroad and 40% would be disappointed to come back from holiday without a tan.
Nowadays the tan is "no longer a class definer", York argues. It takes in both footballers' wives and the well-to-do. Sporting a tan is now part of a move towards showing off more skin and making a statement, he believes.
Telegraph columnist Bryony Gordon loves a real tan, but goes "fake" to avoid a "leather handbag" face. "I'm constantly tanned and go through bottles and bottles of fake tan a year," she says. In the end, the British climate and health considerations, leave people with little choice. "We live in grey old Britain so it's fine to slather it on. It makes you feel better."
But where there's a fashion, there's always a counter trend. Pale-skinned Nigella Lawson took to the beach in a "burkini", and US series Mad Men has provided a cultural reference point.
Times columnist Hannah Betts finds tanning repellent on both health and aesthetic grounds. As a teenager, rather than "basting" herself in "oil and foil" like her peers, she coated herself in sun block.
Today the ubiquitous tan has become either banal, or in its extreme glowing form, grotesque, she believes. "The Only Way Is Essex has taken Tangoing to its cartoonish, post-modern limit."
While many other pale-skinned women make the concession of tinting their legs, she prefers to stick to the "bleached" look that nature gave her.
"I'm not going to darken my skin any more than I'd expect a black friend to lighten hers."