Gas prices rising: Can you cut your bill by 15%?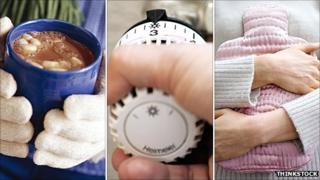 Gas bills in the UK are rocketing with one firm this week raising prices by 15%. How can customers cut their gas usage to avoid being hit by the jump in prices?
Npower is just the latest of the big energy firms to dramatically raise its prices. The company has warned customers that from October gas bills will rise by 15.7% and electricity by 7.2%.
Five of the big six energy firms have now announced substantial increases. The price rises will see the average gas bill increase from £665 to about £740 a year.
People are used to dire warnings about the effects on those living in fuel poverty, many of them pensioners.
Those on low-incomes are already forced to think of ways to cut energy usage and save money - whether it be putting on an extra jumper or spending less time in the house.
But the jump in prices now is so large that millions of people will be looking urgently at how to keep warm for less.
With incomes static and winter around the corner, the extra cost will have many worried. There are 3.5 million older people living in fuel poverty - defined as spending at least a tenth of income on energy bills.
In the past year an increasing number of old people have taken to sitting in shopping centres and libraries to save their home heating bills, according to the National Pensioners Convention.
There were 25,400 deaths caused by cold weather last winter, according to the Office for National Statistics, with most of the deceased aged 75 and over.
This winter will be harder still, the convention warns. The government is cutting winter fuel allowances from £250 to £200 for those aged 60-80 and from £400 to £300 for the over 80s.
Npower's price increase comes into effect in October. So how might customers cut their gas bills by 15% before then to avoid a price hike?
The Energy Saving Trust (EST), which advises householders on energy efficiency, outlines four steps that could each save all of the 15% in one fell swoop.
Replacing an old boiler with a modern version can cut a gas bill by up to 25%. Double-glazed windows could reduce it by 17%, and insulating a loft or cavity walls would bring the bill down by 15%.
According to consumer experts Which?, a new boiler costs about £2,500. Grants for energy efficiency improvements are available from the EST.
Consumer website uSwitch recommends that anyone paying for gas and electricity separately moves to a dual fuel account - gas and electricity from the same provider.
Paying by direct debit will save 7% on an average energy bill and signing up to an online price plan will also bring reductions.
Gas typically accounts for about 60% of the cost of a dual fuel account.
The big question people need to ask themselves is whether to opt for a fixed tariff, says moneysavingexpert.com founder Martin Lewis. Hunting for the cheapest fixed tariff will save customers on a dual fuel account about £100 a year, he says.
Simple behavioural changes can also yield big savings.
John Harrison, author of Low Cost Living, says that it's all about little steps. Draught-proofing can cut gas bills by 10% by merely putting sticky tape around windows and doors. Loft insulation is the next cheap and effective step.
"I got a subsidised roll from Npower and installed it in the loft last week. It cost us £90 and we've felt the difference already," he notes.
Cooking accounts for only a small proportion of one's gas bill. But by using a lid one can cook pasta and rice on the low flame, he says.
Turning the thermostat down 1C will reduce a gas bill by 10%. For fit, healthy people there's no need to have the house above 18C, says Michelle Shipworth, an energy researcher at University College London.
It's also a good idea to rethink which rooms you are heating. "At home I have the core of the house hotter and other areas like the spare room cooler at 15 or 16C."
It's a good idea to have thermostats in every room but you can always turn down radiators in rooms you're not using. Keeping active, having hot drinks and wrapping up warm are other ways of keeping the thermostat down.
"I have really delicious slippers that I wear and angora wristwarmers," Shipworth says. "My mantra is - mind the gap in the clothing. I have a throw on the sofa I can get under. It makes an enormous difference having lots of cosy layers on during the winter."