What the barbershop is really all about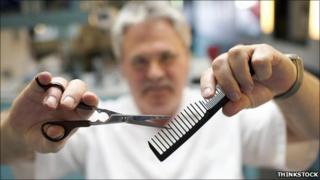 The barbershop is not just a place to get your hair trimmed, it can be a barometer of financially uncertain times and a refuge to many.
A financial downturn influences many things. The stock markets may see worrying dips and financial belts are tightened, but men's haircuts also reflect the uncertainty, say some.
In times of pressure you go with tradition, says hair historian Caroline Cox, and that includes haircuts.
"Men are going in for old-fashioned styles at the moment, harking back to the Mad-Men era and even earlier than that, to the 40s. What we find is that in times of uncertainty, you go with what you know."
It's a look that is certainly popular at the moment. Even David Beckham, the man who has spawned more hair trends than almost any other, is now sporting a Don Draper-like style.
But it's not only the average man on the street that senses that straitened times call for a short back and sides. When Mrs Thatcher was in the mood for swingeing cuts, her new man at the Treasury, Nigel Lawson, said goodbye to his own raffish, collar-length tresses.
"It was immediately after the 1983 general election and Mrs Thatcher asked me to see her," he says. "She offered me the job of chancellor of the exchequer, which I was very, very pleased to accept.
"She only gave me one piece of briefing for the job. She came absolutely straight to the point. She said 'Nigel you must get your hair cut'. She had the idea - and she may have been right, I don't know - that somehow the financial markets wouldn't take altogether seriously a chancellor of the exchequer who had long hair."
It's not just classic cuts that men are going back to, the traditional barbershop is enjoying an invigorating revival, say some. After the fashion for unisex salons in the 60s and 70s, and the recent rise of "metrosexual" man, it's suggested by some that men feel more comfortable in this unambiguously male environment.
Male bonding
"There is little in life that is as totally male as the barbershop," says Bill Drummond, of 80s pop provocateurs the KLF.
For some visits to the barbershop have been a bonding experience between son and father. Writer, often about style and fashion, and broadcaster Robert Elms had the first of many influential haircuts at such a barbershop, accompanied by his father.
It's only thanks to a selfless sacrifice on the part of the elder Elms that his appreciation of a smart hairdo was ever kindled. A terrible discovery by the school nit nurse could so easily have put him off barbers for life.
"I'm a six-year-old boy and my father takes me to the barbers," he says. "I remember it feeling like the music from the Magnificent Seven was playing because we had this appointment with destiny - all my hair was going to come off.
"In order not to make me feel so bad about the fact that I was going to get a number one crop, my dad had one exactly the same. We walked home together hand in hand, with the sun glistening off our bald bonces."
Elio, 71, has been a barber for years. On the walls of his shop in Surrey are football memorabilia and a Page 3 calendar. It is a Masonic-like world, more exclusively male these days than the football ground and the clubs of St James's.
Trusted confidant
"As a barber, after so many years, the customer becomes a close friend," he says. "They tell you everything. Being a hairdresser is like being a priest really."
It's the same at Geo F Trumper in London's Mayfair, barbershop to the great and good. Staff there say great affairs of state - as well as other affairs - have been settled over a short back and sides.
Drummond is fascinated by the traditional barbershop and has a highly original theory about the primacy of the barber in human culture.
"Ever since man has considered himself civilised he has had his hair cut," he says. "Cutting hair is probably the most central craft in the existence of man.
"Religions will come and go… but the barbers keep snipping. What Bill Gates requires from his barber is pretty much the same as the poorest peasant."
As David Cameron likes to say, we're all in this together, and what could be a better leveller than the handiwork of a good barber?