Getting wed on a weekday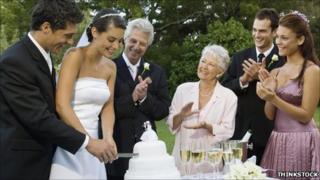 More and more couples are choosing to tie the knot on a weekday. Is the tradition of weddings on Saturdays under threat?
A thick, luxuriant card embossed with joined up writing, slips out of the envelope. Your eyes light up - Sue and Mike are getting married in a castle and want you to be there on their big day. Then your face falls. The wedding is on a Tuesday.
The most recent figures from the Office for National Statistics - from 2008 - showed that 60% of couples in England and Wales marry on a Saturday.
Friday in second place accounted for almost a fifth of all weddings as couples sought to jump the queue for their desired venue. Sunday (5.5%) trailed in third. But since those statistics were compiled, there's been a lift-off for the mid-week wedding.
It's a definite trend, says Arabella Dupont, executive retail editor at Brides magazine. The main reason is cost, with mid-week events about a third cheaper. With figures published this month by Brides showing that couples spend an average of £24,669 on their wedding, it's easy to see why people are looking for savings, Dupont argues.
There's also the hook of better availability. Country House Weddings, a company operating four stately homes in Essex, Gloucestershire and Somerset, holds 250 weddings a year at each venue.
With only 52 weekends a year, and high demand, couples are opting for a formerly unfashionable Monday or Tuesday to ensure they get to marry in a historic house with large grounds, a spokeswoman says. It can also lead to savings of about 40% in high season.
At Guthrie Castle in Scotland, which holds about 40 weddings a year, mid-week weddings are the most noticeable recent trend, says Maeghan Cuthill, weddings manageress. The reason is that weekends book out a year or more in advance, meaning that anyone wanting to marry at short notice must choose a weekday. There is also the enticement of around 30% off, she says.
There are tricky issues to be negotiated with the mid-week wedding. First up there's the fear you might have to share your venue with a David Brent-style corporate away day.
Then there's the thorny question of guests being expected to take a precious day or two off work. "It would have to be a very close friend for me to take time off work," Dupont admits. For that reason mid-week works best for smaller, more intimate weddings.
And it's preferable to go later in the week so people feel the working week is almost over. "If it's at the start of the week, people won't be able to let their hair down as much. They'll be thinking about how they've got to go back to work."
Traditionalists might argue that the sense of occasion is lost on a Tuesday afternoon. But a wedding should be able to transcend which day of the week it's on, Dupont believes. "As a bride you hope your nearest and dearest will be just as excited about your wedding on a Tuesday as on a Saturday."
Siobhan Craven-Robins, who plans weddings costing about £45,000, says there's little cause amongst her wealthy clients for mid-week celebrations. The trend is more towards holding longer celebrations stretching over three days.
It begins on the Friday night with an informal dinner before the wedding on the Saturday and a brunch or barbecue on Sunday. "It's to make it last longer, to get to see everyone and enjoy the experience. Especially as people are getting married further away from where they live."
But the financially-straitened times means that many people on average earnings are looking to make savings on weddings.
Travelodge reports an increase in wedding guests staying at its hotels, which offer rooms for as little as £29 a night. "Weddings are so expensive nowadays that people are making cutbacks," says a spokeswoman.
In 2009, hotel chain Holiday Inn offered couples a wedding package for £999 that included a civil ceremony, evening DJ , function rooms and finger buffet for up to 100 guests.
But the Reverend David Newton, a baptist minister in Leeds, has gone one further. He cites statistics showing that 75% of cohabiters want to get married. Many of them are being put off by the high figures quoted for the cost of a wedding, he worries.
So Newton recently set up the website hundredpoundwedding.com to show that it can be done on the cheap. The Baptist church charges £67 for the wedding licence and says that with just another £33, a decent wedding can be arranged.
"One couple saved up their clubcard points and bought their wedding ring at Tesco," Rev Newton says. Other people have borrowed dresses, got friends to do the catering, or asked people to pay for their own dinner instead of buying a present.
The Church of England is backing another cost-cutting trend. A small but growing number of couples are choosing to have their wedding reception at the back of the church after the marriage service. "It works brilliantly for couples who want it," says Gillian Oliver, manager of the Church of England's wedding project. "It can help make it more economical. Especially as couples who get married in a church may be missing out on 'all-in' offers from civil venues."
Former Conservative MP Gyles Brandreth says the whole nature of weddings has changed for the better. Brandreth introduced the private members bill that led to 1994's Marriage Act, which allows weddings to take place outside a church or register office.
Once upon a time, weddings were about a virgin bride and the legal joining of husband and wife. The reception, consisting often of just a cup of tea and a slice of cake, was something of an afterthought, he says.
Today people get married later and are often living together already. Protocol, including what day of the week you get hitched, has been jettisoned in favour of fun, he believes. "Weddings used to be very simple affairs. Now people can truly celebrate with family and friends on a great, joyous day."