Who, What, Why: Is smoking in cars dangerous?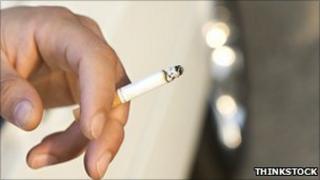 A ban on smoking in cars where children are present may be introduced in Wales. Is lighting up inside your vehicle damaging?
If a campaign to change attitudes does not succeed, a tobacco ban inside vehicles in which children are travelling could be imposed, the Welsh government has warned.
Such a move would bring Wales into line with a number of other jurisdictions around the world. But is passive smoking a danger to passengers?
Anti-smoking campaigners point to a University of Aberdeen study which suggested that it exposes children to levels of smoke comparable to those in a smoke-filled pub.
But the smokers' rights lobby questions the research, saying another study indicates the vast majority of people would never light up with a child travelling alongside them anyway.
If Wales were to adopt a ban on smoking inside cars in which children were present, it would join the US states of California, Arkansas and Louisiana as well as parts of Canada and Australia which have already done so.
Since 2009 smoking has been banned in the UK within vehicles used for work or to transport members of the public. Additionally, the Highway Code advises against smoking while driving because it causes a distraction.
Anti-smoking campaigners say they would like to see the law tightened further.
They cite the Aberdeen study, the findings of which were released in January 2011, that measured particles of tobacco toxins inside a car where someone had been smoking. It found levels were comparable with those in a smoke-filled pub before the introduction of the smoking ban.
Dr Charles Godden, a consultant paediatrician at the Royal Surrey County Hospital who specialists in respiratory diseases and a spokesman of the British Lung Foundation, says he understands why some smokers would resent a further curtailment of their freedom. But he says that previous bans on driving while intoxicated, with a mobile phone or without a seatbelt, have proved the most effective way of changing behaviour.
"I can remember people smoking on the tube [London Underground] and I think this is something similar," he says. "You can change people's behaviour for the better. It just needs to be turned into a dirty practice that's unacceptable.
"I'd love to hear somebody cogently explain why smoking in a car with a child in it is reasonable."
However, Simon Clark, director of Forest, which campaigns against smoking bans, says such a ban would be both unnecessary and infringement of civil liberties.
He cites a 2010 survey of 1,000 adult smokers conducted by market researchers Holden Pearmain, which found that 85.3% said they would not smoke in a car if a child was present. A further 8.2% said that they would smoke as normal, while 6.5% said that they would ask before lighting up.
"This tells me that the overwhelming majority of smokers have changed their behaviour voluntarily, without the intervention of government," he adds.
"So why would we need a new law that even its advocates accept would be difficult to enforce? Surely education is better than coercion."