Casey Anthony: The case that gripped the US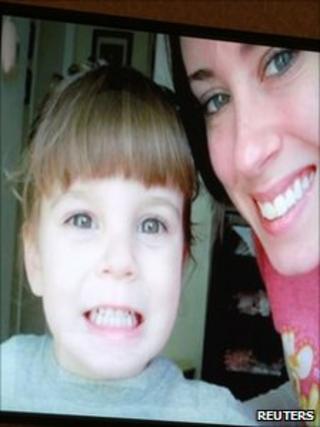 The most talked-about trial in the US in years has featured a single mother from Florida acquitted of murdering her two-year-old daughter. Why has it received so much media coverage?
It's the trial that became impossible to avoid.
At the gym, the hairdressers and even the doctor's waiting room, pictures from the Orange County Courthouse in Orlando, Florida, had become the backdrop of daily life.
They reminded you of a young life lost and another that for months was hanging in the balance.
The prosecution had contended that Casey Anthony, 25, killed her toddler Caylee in June 2008 by covering her mouth with duct tape and dumping her body in the woods near her parents' home, where she also lived. Caylee's remains were found six months after she went missing.
If she had been found guilty, she could have received the death penalty. But following 33 days of testimony, 400 pieces of evidence and the testimonies of 100 people, the jury needed only 10 hours to come to a "not guilty" verdict on the most serious charges. Casey Anthony will be sentenced on Thursday.
After being holed up in a hotel for weeks on end, the seven men and five women considered their verdicts, as crowds gathered outside.
The jurors were shielded from the media, which went into overdrive. Some stations cleared everything to broadcast non-stop coverage of the trial, be it live action from inside the courtroom or endless analysis of every twist and turn.
Magazines paid five-figure sums to witnesses to make them cover stars, and even ex-wives of witnesses have been thrust into the spotlight.
News broadcasters gained access to the Anthony home and to home videos, while others took viewers to the prison holding Ms Anthony to inform them she had bought a comb and an eyebrow pencil while behind bars.
Long queues formed outside the Orlando court for public gallery tickets. On one occasion, fights broke out as spectators argued over who was at the front of the line.
It's the biggest news event to have happened in Orlando in years, says Mike Boslet, editor of Orlando monthly magazine.
"Life is going on as usual but people are glued to it in some fashion or another. Lots of people are watching it in their lunch hours. When you're going to get your car fixed or doctors' office, the Casey Anthony trial is on. Everybody is talking about it. It's good dinner-party conversation."
Ms Anthony became a hate figure, especially on the internet, ever since details emerged about her behaviour during a 31-day period between the last time Caylee was seen alive and the time she was reported missing by her grandmother.
Friends reported that Casey was partying and shopping, and never mentioned her daughter was missing. When asked, she told them Caylee was with a fictional nanny. She also got a tattoo of the words Bella Vita on her left shoulder while Caylee was still missing.
Prosecutors said the baby had become a burden that prevented Ms Anthony from enjoying her party lifestyle.
And she persistently told lies to police and to her parents to cover her tracks, they said. There was a fake nanny, a fake job and even a fake father for Caylee.
But her defence team maintained the toddler drowned in Casey's parents' swimming pool and the accident was covered up by her and her father, George, and made to look like a random killing. He denied this.
Ms Anthony's lawyers explained Ms Anthony's lies and erratic behaviour by saying that she was grieving her daughter's death by drowning, and that her father had sexually abused her. But George Anthony denied that allegation and the judge said no evidence had been presented to support it.
Her defence lawyer Jose Baez also questioned forensic evidence presented by prosecutors linking Ms Anthony's car to the body.
So why has this case, above other child deaths, grabbed such attention?
Given the ingredients of the case, the question is not why is it so big but why wouldn't it be so big, says Robert Thompson, professor of popular culture at Syracuse University in New York.
"You've got this incredibly tragic story of a dead child and it doesn't get any more dramatic than that.
"Then the details - those mysterious [31] days, those imagined jobs and imagined friends. The pretty mother telling stories that don't seem to stack up. If you were writing it as a fictional crime story, no-one would believe it."
As well as the genuine interest, there is also "cultural equity" generated by the media coverage, he says. Once the decision is made that this story is worth investing in, then there is no going back.
"It starts as a local story then the networks send satellite trucks and start spending money to build up equity of the story and it becomes like a TV show - the more details people get, the more they want. Viewers get sucked in like a soap opera."
In terms of its scale, the Casey Anthony trial follows in the footsteps of Michael Jackson, OJ Simpson and the Menendez brothers, he says, but this time the web has played a huge part.
A webcam streamed the court action to view online, message boards stoked up the debate and Facebook groups rally followers to their cause. There are even paid iPhone apps to stay in touch with developments.
"In an era of multi-channels, of fragmented culture, there's not that much we share and so when it gets so big, you feel an obligation to be up on it," says Mr Thompson.
There are many Americans who are not that interested, despite the hype, says Eric Deggans of the St Petersburg Times in Florida, but for those that were engaged, the trial has had them transfixed.
"It's a real life soap opera, all the thrills you might expect to get from an episode of LA Law or Law and Order are happening in real life.
"A beautiful woman accused of killing her sweet child and then accused of lying and her father has to take the stand and he's accused of having an affair."
The fact it's a woman on trial has heightened interest, says Robin Simon, a professor of sociology at Wake Forest University in North Carolina, because the allegation breaks the maternal bond society expects women to have with their children.
"The media attention this has generated would not be as significant if it was a father murdering a child."
But the way this tragic case has become a "show" like any other is a sad reflection on modern America, she adds.
"A journalist was interviewing people in the line waiting to get into court. One woman said 'I can't wait to see it. This is the ultimate reality show.'
"And then she giggled. She didn't even perceive this as a real case with real people. It was sick.
"It's a spectacle, just something to watch like reality television."
But as big as these things are, they do have an expiration date, says Mr Thompson.
"It goes away and we wait for the next one. The daily news on cable television needs this stuff. So we look forward to the next trial of the century in 13 months time."