What will fans chant at a Team GB football match?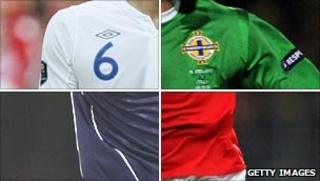 A "historic deal" paving the way for a united UK football team at the 2012 Olympics has been announced. But how will supporters used to celebrating rivalries between the home nations adjust?
It is, depending on your viewpoint, either a neighbourly display of unity or an affront to the proud traditions of four nations.
The British Olympic Association has declared that it has struck an agreement with England's Football Association over fielding teams at the 2012 Games.
It means that, for the first time since 1960, a team made up of players from England, Northern Ireland, Scotland and Wales could compete in the competition.
The football associations of the latter three have reacted angrily to the move, fearing that it puts their national sides' independence at risk as well as complaining that they were excluded from the decision-making process. And the name "Team GB" itself has proved contentious, with the Northern Irish executive complaining that Team UK is more constitutionally accurate.
But what has received less attention is the question of how exactly four distinct groups of supporters, each with their own identities, traditions and songs, are meant come together and put their rivalries aside.
Even the players are divided about the impact on their sense of nationhood. On the one hand, the Wales defender Gareth Bale has indicated that he will go against the wishes of the Welsh FA and play for Team GB, citing approvingly the example of the British and Irish Lions in rugby who "come together as a unit and play against other countries".
The former Wales captain Neville Southall was, however, less sanguine, fuming: "What flag are they going to put up if they win it? [The] Union Jack? It's not my flag. My flag's a dragon."
If the players are split, then the fans can be forgiven for experiencing an identity crisis of their own.
Mark Perryman, author of Ingerland: Travels with a Football Nation, says the fusion of supporters who are accustomed to decades of rivalry is the equivalent of asking north London's opposing fans coming together to cheer on an "Arsenal Hotspur" side.
"It's going to be a very strange tournament," he says. "I don't think there will be a public order problem. But I really can't see many regular football supporters from the four nations showing much enthusiasm towards it."
Sat alongside each other on the stands, the fans will not be able to draw on their usual songs or chants, he says. God Save The Queen may be a UK-wide anthem, but the fact that, according to some sources, it once included a line about crushing "rebellious Scots" means it is disliked by many Tartan Army followers.
Likewise, it is difficult to imagine England fans joining in a rousing chorus of Flower of Scotland, which celebrates Robert the Bruce's victory over England's Edward II at the Battle of Bannockburn in 1314. "I'm really not quite sure what the protocol will be," says Perryman.
The colours worn by the squad and its followers is a potential minefield as well, he warns, with white associated with England, red with Wales and blue with Scotland.
Perryman suggests the best solution will simply be to, literally, drape the players in the UK's flag.
"That's one thing I can see working," he says. "I'm a big enthusiast for the St George's cross, but there's quite a lot you can do with the Union Jack - it's an iconic design. Just think of Oasis's guitars and so on."
All this fails, however, fails to answer the broader question of how exactly these long-standing rivals will cope with sitting alongside each other.
Former Scotland international Pat Nevin is one of those who was opposed to Team GB on the basis that it potentially threatened the long-term status of his former national side.
In principle, he says, he has no problem cheering on an all-British squad, which will comprise 18 players - 15 under-23s and three of "open age".
But he suspects that most keen followers of football will be put off for reasons that have little to do with patriotic sentiment.
"Now that it's going ahead, I have no problem getting behind a Great Britain team," he says. "But the crowds who go to watch them won't be the sort of fans who go along week in week out to see Motherwell versus Aberdeen with their scarves.
"They'll be people who want to see the Olympics - which is fine. But I suspect most core football supporters will shrug their shoulders and go, 'So what, it's only an under-23s tournament.'"
If Nevin is right, all four sets of fans can unite around their shared apathy. And what could be more British than that?