Who, What, Why: How do you stop mobiles in concerts?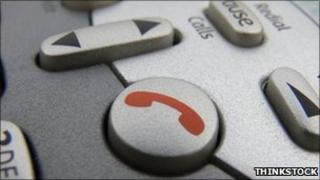 A leading composer has called for people who use mobile phones during concerts to be fined. How do you stop them?
The chirping mobile interrupting a live performance is, for many, one of the great artistic blights of the modern age.
Now Sir Peter Maxwell Davies, the Master of the Queen's Music - the musical equivalent of poet laureate - has proposed that the "artistic terrorists" who use mobile phones during classical concerts should be fined.
His comments raise the question of how best the nuisance can be tackled. In theory, venues could jam phone signals but such a practice is banned in countries like the UK.
Instead, classical music pundits suggest the best method is either to operate a "zero tolerance" policy during concerts, or ensure that audiences police themselves.
Sir Peter's patience snapped after at least three phones rang as the London Sinfonietta played in a cathedral during Orkney's St Magnus music festival, of which he was the founder.
He announced that he would write to mobile networks asking how a penalty system might be introduced, with any levies raised going to the Musicians Benevolent Fund.
Moreover, he added that his proposed clampdown would apply not just to those taking or receiving calls during performances, but also to those texting or checking their e-mails, which he argued was "equally distracting and discourteous".
Sir Peter told reporters: "It breaks the concentration of the performer and the audience and breaks the spell and bond between them.
"It is an act of vandalism as far as I'm concerned and should be punished as such."
His view of discourteous mobile users is widely-shared within the classical music community. However, opinion is divided about the best method of stopping the practice.
The technology does exist to cut out mobile phone signals altogether, by forming a Faraday shield, or an enclosure made of conducting material. However, the Wireless Telegraphy Act 2006 forbids the "use of any apparatus, whether or not wireless telegraphy apparatus, for the purpose of interfering with any wireless telegraphy" anywhere within the UK.
So how can music lovers enjoy a concert in peace in the mobile age?
David Mellor, the former heritage secretary and presenter at BBC Radio 3 and Classic FM, admits that recently he has "got a bit of a reputation for telling people who talk in the opera to stop" after he attracted headlines for remonstrating with fellow audience members.
Unsurprisingly, he is not enamoured with the proliferation of mobile phones and argues that staff in venues should be more pro-active about silencing those who disturb others - ejecting them if necessary.
"I think we have to say 'stop it'," he argues. "The problem is not just mobile phones going off, it's checking them as well. Most of these people are totally insignificant and the idea that the world turns on them reading their messages is ridiculous.
"A lot of people go to a lot of trouble to go to the opera. I do think that venues that charge as much as these places do should ensure that people talking or reading their mobiles are given a warning and, if necessary, ejected."
However, not everyone agrees that venues should take such a hard line.
Samara Ginsberg, a cellist and classical music journalist, fears that imposing too many stringent rules could reinforce negative stereotypes about classical music and opera being inaccessible and elitist.
Instead, she argues that audiences are already self-policing and more than capable of letting miscreants know in no uncertain terms of their displeasure.
"There's a much more effective system already in place and that's the reaction of your fellow concert goers," she says. "Anyone whose phone has ever gone off during a concert will never let it happen again - they know that they'll be strung up."