Is Olympic torch too 'bling'?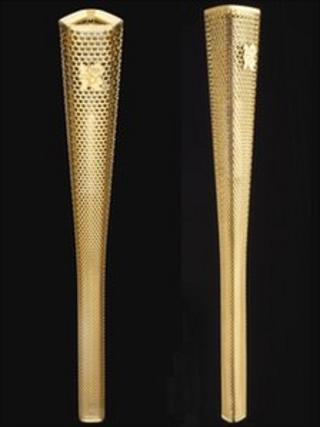 The Olympic torch for London 2012 has been unveiled but is it a tasteful piece of perforated, gold-coloured design or a slightly gaudy bit of "bling"? Here jewellery mogul Gerald Ratner and celebrity jeweller Jacob Arabo give their own evaluation.
London 2012's gold torch has already been likened to a "bling wastepaper bin", hotel ashtray, ice cream cone and melted-down Argos jewellery.
East London designers Edward Barber and Jay Osgerby say they wanted it to resemble a piece of sporting equipment rather than a trophy. They described it as ''physically light and visually light'' but their 80cm tall perforated gold creation has divided commentators.
Times columnist Carol Midgeley defended the design: "I think it's rather elegant, actually especially as it's shaped like a giant spliff."
But the Daily Telegraph asked readers to vote on whether it most resembled a torch, cheese grater, cigarette holder or wastepaper bin.
The Guardian's Esther Addley tweeted that it resembled a "piece of bent chicken wire" while a Telegraph blogger suggested Britons should be thankful the design didn't resemble a sex toy, in a reference to the 1992 Winter Olympic torch.
Gerald Ratner, founder of internet jewellers Gerald Online and formerly the boss of 1980s High Street favourite Ratners, had expected to hate it.
"But then I saw the picture and thought it was very nice, very tasteful. It looks like a piece of jewellery and reminds me of a nice design for a bracelet."
In some ways the designers were on a hiding to nothing, Ratner argues. "Creating a modern piece is difficult. Everyone likes something antique even if it's quite ugly."
Another high profile fan is Jacob Arabo, also known as Jacob the Jeweller for his popularity among rappers and celebrities, including David Beckham, Bono and Elton John.
"It reflects a sleek and modern architectural design of the current times. It has a very aerodynamic look which is representative of athletic performance."
The use of soft, durable and lightweight aluminium alloy won praise from him as did the perforations that have led to the cheese grater jibes.
"I particularly liked the symbolism of 8,000 holes representing the runners from all around the world," Arabo says. "This is a credible detail and evokes the inspiration needed to build this iconic piece."
Some newspaper readers have complained that the torch is reminiscent of "bling" jewellery. But Arabo, who has been referred to in dozens of tracks by artists like 50 Cent, Kanye West and Jay-Z, says it hits all the right notes.
"The representation of a torch with significance was accomplished here. It requires special craftsmanship to build these pieces which calls for time, knowledge and specific skill, much like the athletes who participate."
Ratner says good taste is all about context. "I agree it's bling but you're not wearing it - it's an Olympic torch."
And people who say it's over the top are missing the point, Ratner insists. If this was a trophy for the London to Brighton bike ride then he would agree that it was absurdly grand.
"But this is the Olympic Games, the greatest show on earth. There's too much blandness around anyway. Why does everything have to be muted and grey?"
In any case, comparing it to rappers' jewellery is unfair, Ratner says. "Rappers... wear jewellery like a throwback to the 70s. I wouldn't put the torch into that category."
With its big, brash, gold design it evokes the loadsamoney, flash '80s.
"It reminds me of the stuff I used to sell at Ratners like heavy gold chains. Today Gerald Online is much more understated. But I get the feeling the torch may be a little bit ahead of its time - I think we'll all soon be wearing heavy gold jewellery again."