The world behind your £3 cup of coffee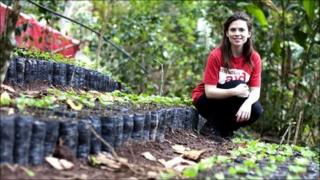 Most people don't give much thought to where the coffee process starts, but what is behind your £3 cup of coffee, asks actress Hayley Atwell.
When I was 18, I worked in a coffee shop in central London. I would open the shop at 7am and serve coffee until four in the afternoon.
The boss taught me how to foam the milk so thick that the neck of the spoon rested on top, and took 30 seconds to sink into the coffee below. I still don't know if that's how a cappuccino should be made, but I thought it was pretty fancy at the time.
That experience paid for part of a RADA Shakespeare course - and a ticket to LA. This is the part coffee has played in my life. A decade later, I'm still hankering after a cup of the stuff most afternoons. It's about £3 and it adds up.
Until last month, when I was invited to Nicaragua with Christian Aid, I hadn't really given that much thought to where the coffee process starts - where coffee is grown and produced, and who profits from that £3.
The first thing that struck me about the country was how lush and green it was. How then, if it was abundant with natural resources like coffee and banana plants, was it the second poorest country in the western hemisphere after Haiti?
Struggling farmers
The conclusion I came to was this: disparity - the gap between the richness of its land and the material poverty of its people.
At the turn of the century, cheap imports drove down the world coffee market to nearly a third of its value. As a result, farmers were struggling to recoup their costs.
Soppexcca, a collective of 18 co-operatives founded 12 years ago to help coffee producers back on their feet, changed all that.
The way the co-operative works is simple: a small loan is given to a farmer who then buys land, seeds, fertiliser and employs labourers to work that land. The coffee they produce is processed further and sold by Soppexcca, mostly to overseas traders at a fair price.
We set off on a week-long journey through two communities. The first was La Paz del Tuma in the region of Jinotega. They have no running water, no toilets and no health centre. The children are schooled in an old room that once stored harmful chemicals.
Farmers have only been working as a co-operative for a short time and already a plot of land has been marked out for a new school the parents hope to build with the money they make through the scheme one day.
The second community, Los Alpes, has been working with Soppexcca for 12 years and the difference is astonishing. A leader, Gustavo Adolfo Talavera, took charge of his failing community by educating the children in his own back garden until the community had enough money and put in their labour to build a school, from the proceeds of their coffee.
Soppexcca also funds clubs such as "Coffee Kids" which teaches children agriculture and later offers them the chance to become expert coffee tasters and baristas.
I met a lot of local heroes on this trip, individuals who strive to move their communities forward so their children have a better quality of life.
It's extraordinary to meet Beatriz Alvarez, one of the very few women in Nicaragua brave enough to start her own coffee business, despite the lack of support and education usually offered to women. A petite and beautiful lady who had once lived in a shack of mud and plastic now has her own house and coffee plantation.
I'd love to say my taste buds also changed in that week. After a coffee-tasting lesson with one of the best baristas in the country, I was still none the wiser about whether one cup is a citrus-burst or an earthy oak. But I did know it was delicious and that I'll continue to drink coffee.
Now the next cup I drink will remind me how we are all in some way connected and responsible for the choices we make.
Before you know it, your daily choices in something as simple as a cup of coffee contribute to the well-being, or to the destruction of, coffee-producing communities around the world.