The parental spending craze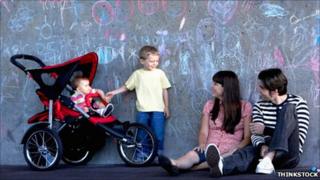 Parents have always felt the pressure to provide for their children, but for some the cost of parenting is proving more expensive than ever - and it's not just down to traditional economics.
With childcare costs going through the roof, education expenditure increasing and university tuition fees at record levels, it is no wonder some parents are feeling the financial strain of parenthood.
Insurer LV= estimates that the cost of raising a child to the age of 21 now totals more than £210,000 - up 50%, or by £70,450, since 2003.
Official organisations - such as the Office for National Statistics (ONS) or the British Retail Consortium (BRC), which represents shops - tend not to keep data on how much parents spend on their children. But anecdotal evidence suggests that escalating costs are partly down to the fact that some parents, and not just the wealthy ones, are willing to fork out more on fashionable accessories.
The fact that parents - particularly new ones - are under pressure to buy the latest products and gadgets is an age-old story. But the competition between parents to have the best baby accessories appears to have increased over the past few years.
Is it, as some experts suggest, partly to do with the fact that some parents are increasingly seeing children as a statement of themselves?
As such, some baby goods have been recast as status symbols and nowhere is this better reflected than the pram, pushchair and buggy market. This has seen a 13% rise in spending between 2008 and 2010 and now accounts for 30% of all spend on baby and nursery goods.
The Bugaboo Donkey, for example, can set you back as much as a second-hand car. At £1,200, it is the ultimate gadget for the aspiring yummy mummy.
The popularity of such items appears to have grown in line with the public's interest in celebrity parents and babies, according to consumer research experts Mintel.
For example, fashion and design have become a feature of the market for baby goods, the company says.
The demand for nursery furniture grew by 10% between 2008 and 2010 to reach £137m - a trend Mintel says was fuelled by the desire for a perfectly co-ordinated nursery.
Technology is also playing its part - with nearly one fifth of parents of children aged 0-4 years having bought a television for their baby's bedroom, rising to 28% of parents of children aged 15-24.
Yet hand-me-downs are still an important source of young children's products - with three in 10 buying second-hand to save money, and nearly four in 10 borrowing items from friends or family.
So what is fuelling the buying boom - and how widespread is it?
Parenting expert and sociologist Frank Furedi thinks that parents to an "unusual degree" are living "actively through the way their children appear - or they appear with their children". This is because they see their children as a statement of themselves, he says.
But rather than it being a case of parents simply succumbing to peer pressure, he believes it is a reflection of the way the culture of parenting has evolved.
"Every politician, every expert, says that what we do determines what our child becomes - their accomplishment becomes a reflection on their parents, their failure a condemnation.
"That kind of pressure erodes the line between mother and father and child, financially and emotionally," he says.
With parents encouraged to continually monitor, survey and guide the minutiae of a child's life, he says, it is not surprising they lose sight of what is going on and push their purchasing power.
And he says the emotional and financial pull can be very powerful.
"The same people that compare prices in supermarkets reasonably carefully have a much more casual attitude when it comes to gimmicky accessories for their children - they give themselves permission to make expenditures they would normally think twice about.
"It's often only in the cold light of day - perhaps if they experience financial problems or question why they spent so much money on clothes that swiftly become irrelevant - that they begin to realise a lack of financial inhibition that they somehow need to put right," he says.
Justine Roberts, co-founder of Mumsnet, agrees that emotions can often lead parents to spend more than they should, but she says it is because they see spoiling their children as a way of expressing their love.
"Parents tend to be pushovers because they want to do the best for their child, it's a natural human blindness which sometimes overshadows sensible options," she says.
But she thinks it tends to be first-time mothers that get "caught up in hype" and "all the wonderful looking things out there".
"The more seasoned mothers - maybe those who are on their third or fourth child - recognise that they don't need to buy every piece of expensive equipment on the market, and that much of it will end up being unused, taking up valuable space in the corner of a room," she says.
Journalist, writer and mother-of-four, Rosie Millard, agrees that new parents are particularly vulnerable to pressures.
"Before people have children they often think of them as mini adults, when actually young children don't notice brands and aren't bothered about expensive food - they just want time and attention," she says.
But, Millard, who used the same pram for her four children, now 13, 11, eight and six, says most parents quickly realise what is worth investing in - and how to be savvy about cutting costs.
"There are lots of ways to beat hyperinflation. It's a case of hand-me-downs, going to the zoo but taking a picnic or having a cinema night at home with home-made popcorn, or looking at what the state provides - like the local swimming pool and local park," she says.