The Apprentice bragging game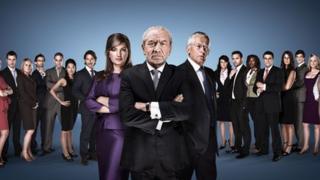 The Apprentice is returning to British screens, bringing with it a slew of business buzz-phrase nonsense and baffling bravado from the candidates.
No one likes a show-off, least of all the British, which is why watching the overblown confidence of each new crop of Apprentice contestants is such a guilty pleasure.
Each year they take the bravado, swagger and self-aggrandisement to stratospheric new levels. They mix it with the usual business jargon that drives people mad. Financial Times columnist Lucy Kellaway has often written about the subject, calling for an end to all the "blue sky thinking", "going forwards" and "pushing the envelope".
We've been thoroughly spoilt in previous series. Who can forget Stuart "The Brand" Baggs last year uttering the now infamous line: "I'm not a one-trick pony, I'm not a 10-trick pony - I've got a field of ponies waiting to literally run towards this job." What?
Michelle Dewberry won the second series of the show. She beat Ruth "l'm the Apprentice - end of" Badger in the final. Dewberry says bragging is used more and more by candidates to try and stand out.
"I don't think I came out with the corkers they do. People are more media savvy now and it's becoming harder and harder for them to be remembered."
As a result, it has reached ridiculous levels, she says.
Here are some of the more eyebrow-raising lines from previous series.
Self belief (delusion)
"I was born to do great things," said Majid Nagra. No you weren't. You were born to be the third person kicked off series five of the show. Although, he may yet prove his bold claim to be true in some other field.
"When you can break bricks with your hands you believe in your head you can do anything, and in business I take on the same ethic," said Ifti Chaudhri in series four. Andrew Billen, TV critic at the Times, says such horrible jargon is right out of Ricky Gervais's The Office, although done without any sense of irony. "They are Ricky's phrases in the making, but there's no self knowledge in any of it."
As it turns out Chaudhri left the show in the second week after telling Lord Sugar he was missing his family.
"Business is the new rock 'n' roll and I'm Elvis Presley," said Philip Taylor in series five. He turned out to be more like the business world's Chesney Hawkes, around very briefly and then unheard of.
Skills
"The spoken word is my tool," said silky-tongued Raef Bjayou in series four. That tool ceased to be needed in week nine of the series.
"Everything I touch turns to sold." Really Stuart Baggs? Everything except all those sausages your team failed to sell in the very first task in series six, resulting in you almost being fired by Lord Sugar in week one. "I don't know why they say these things, because Sugar is quite plain speaking," says Billen.
"I rate myself as the best salesperson in Europe," said Jenny Maguire in series four. It's best to avoid such specific bragging, says Dewberry. "When you see people saying that they're the best sales person you just think 'no'. They may go on and sell nothing in tasks."
Ambition
"My first word wasn't mummy, it was money," said surgeon Shibby Robati in series six. It's a line Times columnist Caitlin Moran will never forget, obviously for all the wrong reasons. "It's the start of a breakdown, not the start of a glittering career," she says. "That's therapy - not a CV."
"Don't tell me the sky is the limit when there's footsteps on the moon." Yes, we've sneaked in a line from one of this year's candidates. Melody Hossani, we look forward to hearing a lot more from you.
"I always win, so it's a natural conclusion I will win," said Lucinda Ledgerwood in Series Four. Funnily enough, all the candidates seem to think it's a natural conclusion that they will win.
Fighting talk
"There are two types of people in the world: Winners and... I don't know how to say the word, I can't say it," said Ian Stringer in series four. He soon learned to say the word "loser" when he was fired in week three.
"For me it is going to be the equivalent of a gladiatorial match and I will come out on top," said Bjayou in series four. The most hideous buzzwords and phrase are a mix of military metaphors, machismo and ruthlessness, says Billen. "The cleverness of the programme is that you have to be a team player but you're completely out for yourself. In the end you knife them in the boardroom, which is what it's really about."
"To me making money is better than sex," said Ben Clarke in Series Five. Too much information, thank you, Ben. Please, no references to sex. It doesn't work for anyone.