The great Olympic personal risk bubble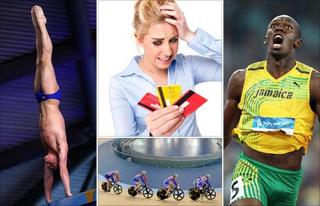 Entries for the London 2012 Olympics lottery have closed, and it's clear some people have gone for many events to avoid drawing a blank. But if they get everything could they be left with a bill of thousands?
Right. The 100m with Usain Bolt. Click. And the opening ceremony. Click. Tom Daley diving and Victoria Pendleton cycling. Click click.
Lots of people will also be applying for these events, so how about adding, um, the canoe slalom preliminary rounds? Click. The men's shot put - at least I'll be in the stadium. Click. Click click. Click.
With the final bill only defined by the outcome of next month's lottery for oversubscribed events, it's all too easy to get carried away.
And when payment is taken next month, some will be in for a nasty surprise if they've won more than expected. Nor will they know for which events until 24 June, and they won't be able to offload unwanted tickets until the official resale portal opens in early 2012.
The organisers insist that, throughout the process, they have urged the public to only bid what they can afford. But anecdotal accounts suggest many risk overstretching themselves.
One person worried about this is Ruth, who has applied for £22,000 worth of tickets.
"What my husband decided was the chances of getting tickets would be low, so we applied to get our 20 lots, and he got his sister to do it and his dad to do it. So we've applied for all these tickets using up three people's quotas," she told BBC Radio 5 live.
"We're a family of four so we've applied for about 240 tickets. We're just really hoping that we won't get them all."
The ticketing system is akin to reverse gambling, says Matt Bath, the technology editor at Which?
"People bet big and hope to win small."
Paul Deighton, chief executive of the London Organising Committee, says most people have been "generally sensible" about their ticket buying. "We have made it clear from the beginning that you should only apply for and budget for the tickets you can afford, and I think that's what people have generally done."
Dinesh Ranasinghe, from London, says he did not get carried away, despite applying for £20,000 worth of tickets.
"It was very well planned, I have spread the money across seven credit cards with the majority on two interest free credit cards so I will not have to pay interest. I did know what I was getting into and I have carefully planned my finance around it."
He admits he cannot actually remember how many tickets he has tried for but has applied for sessions more than once to increase the chance of getting tickets as his "worst case scenario" would be to get no tickets for the "dream show".
"I have carefully planned for 'getting all' as we can re-sell tickets via the dedicated Olympics web next year I think I would be able to survive... also, my friends have shown great interest to join me if I win more than required."
Consumer organisations have some concerns.
"I would say that everyone I've spoken to, it's been the morning after the night before. They've all got an Olympic tickets hangover," says Bath. "That's the thing with lotteries, people tend to bet more than they can afford. We're hearing stories of people putting down £2,000, £3,000, even £5,000. If they win them all, I think they're going to be in for a massive shock."
Many say they became caught up in the Olympic spirit. After applying for events they'd particularly like to attend, they worry that they might not get these tickets, and add less popular events.
"But these are less likely to be oversubscribed, and they are more likely to get tickets for those events," says Bath. And it won't be until 2012 that they can start getting rid of them.
It's "mood" spending, says former bank manager Brian Capon, of the British Bankers' Association.
"The excitement, anticipation and desire to be part of one of the greatest international sporting events in the world focuses people's mind on the goal rather than the consequences."
Tickets were sold via a lottery system for the Games in Beijing and Athens too, but with one crucial difference. People were told which events they'd been allocated before having to pay for the tickets.
"That's why some events were so poorly attended," says Bath. "The 2012 system has been created to encourage people to opt for as many tickets as possible. By taking the money first - and making the tickets only resaleable through the official portal - people are committing to attend. That's good news for the organising committee."
There has been plenty of advice about the ticket buying process, but there has also been a lot of confusion - not least because the payment-first system is unfamiliar.
"I've had people saying they had no idea they couldn't sell their unwanted tickets," says Bath. "It may be that the Olympic committee has not been as clear as they think they've been. And people get caught up in the enthusiasm."
For those in line for a hefty credit card bill, is there any recourse?
"No. The terms and conditions are all there," says Bath. "The only thing you can do is make sure you've got the overdraft limit or the cash in your account to cover it. That, and hold on to any unwanted tickets and really hope you can find a buyer for them once the resale portal reopens."
In the meantime, he says, that money will apparently be gathering interest in the organisers' account.
But the organisers insist that this is the right way to sell tickets. "We looked at all sorts of different ways to do this," says Deighton. "This was the fairest possible way for giving people a chance to apply for all the tickets they might want to think about it in terms of their budgets and assess their own probabilities of getting them."