Casio F-91W: The strangely ubiquitous watch
By Denise Winterman
BBC News Magazine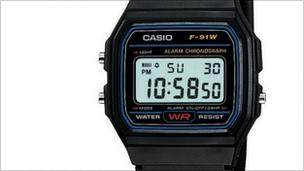 Leaked files reportedly reveal a certain Casio watch was viewed with suspicion by US officials as a possible sign of terrorist links. So how did the humble F-91W find itself in such a position?
They retail for as little as £7 ($12), are water resistant and have a battery life of approximately seven years. Just three things that have helped make the Casio F-91W a global bestseller.
Now this unassuming, black, plastic, digital timepiece has found itself in the news for a different reason. Leaked US documents reportedly advised interrogators at Guantanamo Bay that possession of the F-91W could be a link to bombing by al-Qaeda.
The Guardian, which obtained the leaked files, reports that wearing one has been a contributing factor to the continued detention of some prisoners, with more than 50 detainee reports referring to the watch.
It's an unexpected twist in the tale of this unassuming timepiece, launched by Casio in 1989. The Japanese company was one of the first to produce digital watches, becoming famous for them in the 1980s, along with calculators and electronic keyboards.
The F-91W instantly proved popular, not least because it was cheap and reliable. The company does not release sales figures for the watch, but says it was - and still is - a "huge seller" all over the world.
"It sells globally, from Russia to Asia," says Tim Gould, head of marketing at Casio UK. "It has consistently remained popular because it is functional, affordable and accurate. It's as simple as that."
Its design has not changed since it was first brought out 20 years ago. It is a "modest masterpiece", says design critic Stephen Bayley, one of the founders of the Design Museum in London.
It's the classic Casio shape, with three buttons on the side to use its features. These include a stopwatch, second timer, alarm and the option of an hourly time "beep".
For many adults in the UK, it was the first watch they owned and many will have lost hours of their youth playing the game where you tried to halt the stopwatch on one second dead. Youngsters are still buying them.
"The main market is still among young people," says a spokesman for Zeitgeist Watches in Liverpool. "It's because they are cheap and affordable, they're not a luxury item which they can't afford."
In recent years there has been a resurgence in popularity among trendsetters in the UK. The design has also become a bit of a collectors' item, with rare editions in increasing demand but still only costing around £20.
"It's simply the classic digital watch," says Simon Mellor of Retro Vintage Watches. "In the last few years there's been an increase in demand for rare editions, with frames that are green or gold instead of the usual blue. I think this is down to schooldays nostalgia. I'm 28 and I had one when I was younger. I loved it."
Any "cool" appeal the watch has in certain countries is nothing to do with Casio.
"We purposely don't market it as anything cool or trendy," says Mr Gould. "It's not pretentious and doesn't pretend to be anything it's not. It just a basic watch that is reliable and good value."
Its this refusal to be cool that has made it cool, says Bayley.
"[London's] Hoxton hipsters enjoy the way a £7 plastic watch refutes all that snobbismo, without the inconvenience of sacrificing a reliable timepiece. And it embodies that nice paradoxical conflict which adds an extra dimension of value.
"It's cheap enough to be disposable but, unless you hit it with a hammer, it will never stop."
Correction 6 January 2022: This article originally stated that Casio's model F-91W was launched in 1991. In fact the watch was launched in 1989 and so this line has been amended.
Related Internet Links
The BBC is not responsible for the content of external sites.