Is it ever OK for TV dramas to be all-white?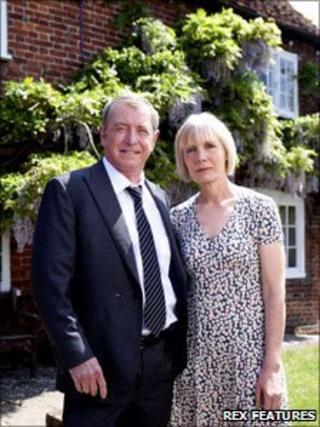 The producer of ITV's detective drama Midsomer Murders has said putting characters of ethnic minorities into the show would "not work". So is it OK to have an all-white television drama in modern Britain?
The rural district of Midsomer has a murder rate that surpasses the most troubled inner-city neighbourhoods.
Yet it's the racial make-up of the villages, not the crimes, that are now in the news.
The show's producer Brian True-May has been suspended by ITV after telling the Radio Times why, over the 14 years the drama has been running, all the leading characters have been white.
"We just don't have ethnic minorities involved, because it wouldn't be the English village with them," he said. "It just wouldn't work."
Asked why "Englishness" could not include other races who are well represented in modern society, he said: "Well, it should do, and maybe I'm not politically correct.
"I'm trying to make something that appeals to a certain audience, which seems to succeed. And I don't want to change it."
Given that much of rural England is predominantly white, is it OK to have a TV drama that has few black or Asian characters?
As long as the programme has that kind of identity, says TV critic Kevin O'Sullivan of the Daily Mirror, it is acceptable.
"There aren't very many black farmers in the country, for example, so it would be fairly ludicrous to take a drama with an English village identity and pack it with black and Asian faces, because that wouldn't accurately reflect the area they're trying to portray."
But to imply the show's success was linked to its racial make-up was offensive, he says, and if it was the case that Midsomer Murders had never had a black character during 14 years of episodes, then it wasn't even reflecting rural Britain.
Many urban dramas have long had black characters, with ITV's Coronation Street creating its first in 1983. And even in rural idylls like the Yorkshire Dales setting of the Last of the Summer Wine, the first black actor came 23 years ago in the form of Louis Emerick as PC Walsh. He then became a well-known face as Mick in Channel 4's Brookside.
After the Last of the Summer Wine audition in Manchester in 1988, the producer and director Alan JW Bell expressed concerns about Emerick's suitability.
"He was worried the audience didn't expect to see a black person in the Yorkshire Dales," says Emerick. "He wasn't being negative, just asking the question. I just said to him 'Is the script good and can I serve it?'"
There are villages that look like those in Midsomer Murders up and down the country, he says, so you could argue it is being realistic, but people watching only want to know the quality is maintained and the actors are good.
"Just putting someone in to be PC does more damage."
In the US, the Cosby Show, about a black family, was a huge hit and hailed as a response to the very white-dominated sitcoms that preceded it. Its spin-off Different World featured a university that was historically black.
But in recent years, shows like Friends have been criticised for their lack of black characters, despite the comedy being set in New York City.
Social realism
Ash Atalla, who produced The Office, says it would be wrong to criticise shows that were simply not aimed at you, or to put black and Asian characters in drama to make up the numbers. You wouldn't expect to see them in Downton Abbey, for example.
But he added that Mr True-May could not pretend to be making a show about social realism, that was just reflecting its community, because of the high number of murders.
Given that it is a fictional place, it's impossible to say what that community's true racial make-up is, but much of Midsomer Murders is filmed in south Oxfordshire, which is 98% white, according to the last census, compared with a figure of 90% across England.
Nationally, ethnic minorities make up 1.4% of England's rural areas but 8% of the country as a whole.
In 2004, Trevor Phillips, then the chairman of the Commission for Racial Equality, said this had created a "passive apartheid" in which black and Asian people felt uncomfortable visiting the countryside.
But people from ethnic minorities do live and work in rural areas, and that should be reflected on television, says Judy Ling Wong, the UK Director of Black Environment Network, which encourages ethnic participation in the natural environment.
Certain professions, even in a rural area, might have ethnic minority staff, she says. "If you look at health professionals, you are more likely to be treated by a nurse who is a Filipino."
It's up to programmes like Midsomer Murders, she says, to be more responsible in using the power they have in shaping national identity.
FURTHER READING
Cristina Odone says in the Telegraph that many English villages are all-white. If media bosses want to change that, they should go into politics and see if they can persuade voters to make society better integrated.
Head of policy research at the UK's leading race equality think tank, the Runnymede Trust, Omar Khan disagrees in the Telegraph. He argues that English village life on television doesn't match the multicultural reality. Mr Khan suggests producers are motivated by wanting to build on the success of a portrayal of quaint English villages and period dramas reflecting a frozen conception of the upper and lower classes.
The Index on Censorship blog suggests that the producer Brian True-May merely admitted a policy held by the Midsomer Murders team for years. It also says the roots of the policy are found in the long culture of the traditional English murder.