Could you defend yourself in court?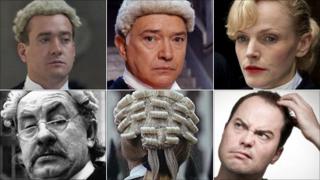 Legal aid changes in England and Wales could mean hundreds of thousands more people representing themselves in court, judges have warned. So how exactly do you become an amateur lawyer?
You know how it works. You've seen the courtroom dramas - Rumpole of the Bailey, Kavanagh QC, Judge John Deed - and, by now, you're surely a fully-fledged legal expert.
There's the wig, of course, and you can't forget the gown. And you have to say things like, "in my submission" and "I put it to you, m'lud".
The case for the prosecution rests. How hard can it be?
Except that thousands of people each year find out just how onerous a task representing oneself in court actually is - and it is a phenomenon that some in the profession believe could be about to become increasingly prevalent.
The Judges' Council, which is chaired by Lord Igor Judge, the head of the judiciary, has warned that government plans to remove £350m from the legal aid budget could result in a surge of amateur barristers clogging up the system.
The Ministry of Justice (MoJ) insists there is "little substantive evidence" that litigants in person delay proceedings and that any increase should not significantly impact proceedings.
No clear statistics are available on how many people actually represent themselves. The Northern Irish courts services say such information is not collated in their jurisdiction and their Scottish equivalents are also not able to provide figures.
However, according to the MoJ, in England and Wales either one party or both did not state that they had legal representation in some 94,672 family cases heard by the High Court and in county courts during 2009/10.
A lawyer who acts for him or herself has a fool for a client, runs the old legal adage - but there have been prominent recent examples of people making the choice.
The Scottish politician Tommy Sheridan sacked his legal team and represented himself during his initially successful civil case against the News of the News of the World in 2006. However, repeating the same strategy did not prove quite so effective during his resulting criminal trial for perjury in 2010 - he was found guilty and jailed for three years.
Heather Mills acted on her own behalf during her divorce proceedings from Sir Paul McCartney in 2006, earning £14m for herself and £2.5m to buy a house in London - but falling way short of the £125m she had been seeking.
For non-celebrities, the situation is similar. According to figures released by Andy Slaughter, the shadow legal aid minister, of the 25,500 incapacity benefit cases in 2009/10, some 60% of people without legal representation lost, compared with just 33% of those who had lawyers.
One less well-known serial litigant-in-person is Lindis Percy, 66, a grandmother and peace activist from Harrogate, North Yorkshire, whose activities have means she has "lost count" of the number of times she has represented herself before magistrates, in Crown and civil courts, at the High Court and in appeals.
Despite working variously as a nurse, midwife and health visitor, Ms Percy, who protests against US military bases in the UK, has spent hours in libraries poring over legal textbooks to prepare her cases.
She admits that stepping into a courtroom to take on an array of highly-trained legal professionals is terrifying. But she says that, without access to legal aid or the financial resources to instruct a barrister every time she ends up in the dock, she has little choice.
"I'd advise anybody, if they're about to represent themselves, just to sit in a court and get a feel for the place," she says.
"You get to understand that a court is like a theatre - you get all these characters, the judges and the ushers and the clerks.
"It's very intimidating. It's very difficult to cross-examine. But you have to be courageous and address your own fear."
Ms Percy acknowledges that, because she has the confidence that comes with being middle class and committed to her cause, she finds it easier than most to swallow her nervousness and face down the opposition.
But, unsurprisingly, legal professionals are less enamoured of her characterisation of the plucky amateur taking on the ritual and flummery of the bench.
Nick Armstrong is a barrister with Matrix chambers whose specialisms include immigration and mental health law. He fears any reductions to the legal aid budget because most of his clients, he says, simply do not have the language skills or the capacity to present their case effectively before a judge.
Quite understandably, he adds, even the most fluent of non-lawyers rarely manage to get to grips with the finer points of law, the standards of evidence and the advocacy techniques that professionals take years of training to develop.
His advice to potential litigants in person - get represented. Quickly.
"It can be a complete disaster for the individuals involved," he says. "I've watched cases implode because someone has under-prepared.
"These cases get won or lost because someone has spent an enormous amount of time with a client who doesn't understand why it's important to dig out every receipt and every telephone call.
"At the end of the day, the judge has to decide on the basis of evidence. If that isn't put before them, you've lost."
Despite the legal profession's doubts, the phenomenon of self-representation is not well studied in the UK.
In 2005, however, Prof Richard Moorhead of Cardiff Law School carried out research on the subject for the then-Department of Constitutional Affairs in 2005.
Typically, he says, professional lawyers tend to characterise litigants-in-person as obsessive cranks who clog up the system with petty grievances.
Such plaintiffs may create problems for the legal process, Prof Moorhead says, but they are small in number.
The bigger issue, he believes, is the lack of support and assistance offered to them in an adversarial system in which the judge relies on both sides putting their cases effectively.
"Emotional distance is a problem for them but the primary problem is is that they don't know know to put their cases in a technical way," he says.
"They are terrified, usually. They don't understand the substantive law, they don't understand the procedure, they don't understand the law of evidence.
"It's a bit like a school pupil going before the headmaster, and the court process and procedures aren't well-developed to help them."
Few of us would welcome the opportunity. But if the Judges' Council is right, more and more Britons could be about to get their day in court.